A three hour transfer from Sofia airport on Saturday and we arrived at Pamporovo in the Rodophi Mountains of Bulgaria. Snezhanka hotel is home predominatly to mainland UK and Northern Irish families at half-term time. The odd Ryanair flight lands at Plodiv Airport with an hour's transfer time.
The resort and mountain roads have closed at times in recent weeks due to heavy snowfall. The snow base is now over three metres. Mountain bars and restaurants have snow steps down to gain access.
Sunday would be best for chasers to gain a healthy 13 points. My dilema whether to bring the FT-857 saw the MCHF/MiniPa50 combination win due to weight and less worries about rucksack transport on chairlifts.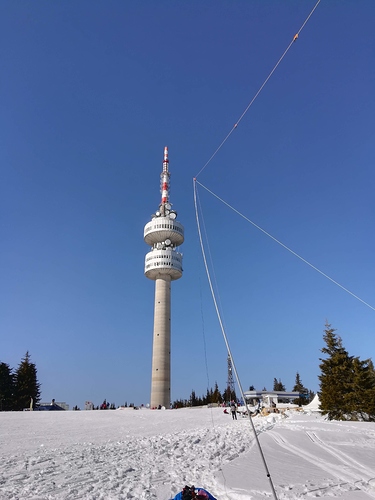 Just after lunch I set up about 100 metres from the Snezhanka Tower off a main ski run. Carrying the compact travel mast caused no issues on chairlifts. Band conditions soon indicated that I was unlikely to get a pile-up. Working 20m I was getting a mixture of mainland Europe contacts, with the furthest being @SA4BLM in Sweden. Nothing heard from the UK. Thanks to @F6BHI for jumping on my frequency for a S2S from F/AM-404. Dropping down to 40m proved fruitless on the chaser front and eventually I dropped to the frequency @S57MS was working and got my second S2S and only 40m contact. There was plenty of SOTA activity in Europe and my 3rd S2S with @HB9NGP and @HB9FZC was back on 20m where I now stayed for the rest of the activation.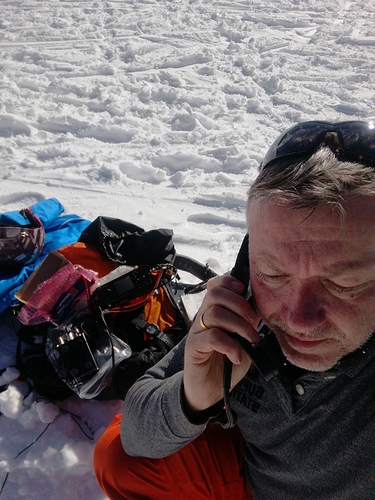 For many minutes I could hear Stavros @SV2RUJ SOTA on LZ/WB-029 ground wave 20m but my calls went unanswered. RF conditions seemed to improve a little just before I packed up and at 12:32 UTC he finally heard me and his excitement at our S2S was brilliant as we got each other in the log.
My final two QSOs were with the consistent chaser Manuel @EA2DT and my only UK contact @2E0ESY.
Challenging radio but lovely weather on the summit.
Thanks to all chasers and those in the UK who may have been listening but couldn't work me. I did hear Karl 2E0FEH call but we couldn't complete the QSO.
A few photo's here
73 Mark M0NOM