The solar / propagation forecasts were for the SFI to rise a litte and perhaps break the 70 mark into "marginal" conditions again but that the bands would be quite with a K of 1 or 2 - RIGHT!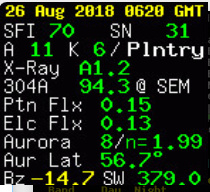 K at 6 at the moment! 0620 UTC 26/08/2018.
I wish any activators who are out today, the best of luck, if the K index stays so high, it's going to be hard work!
73 Ed.