All done. We have normality. Anything you still can't cope with is therefore your own problem.
and in the process, I've broken the backend for newsotadata. Bear with me, there's a reason it's in Beta
EDIT: should be fixed now.
Hi Andrew
Since this morning on SMP can't put any call on Activations mapping page in "Enter activator callsign:". I'm logged and got "no callsign found" at the start !
73 Eric F5JKK
Yep, there's a few little bugs I need to iron out. In short, the dump from the main sota database is now being handled more strictly with the latest patching, so I need to un-strictify it.
Hello Andrew,
It looks like the brand new feature of Elevation profiles in the " Range mapping page" of SMP is gone.
Could you please try to reactivate that feature.
Very much appreciated.
73 Joe
It actually hasn't worked for months and Rob and I had had no complaints so we removed the feature a day or two back as it requires a lot of storage. I imagine the volume the data was on is now toast, so it may take some time to restore
The new version was working fine just two weeks ago.
Thanks for looking into it.
73 Joe
Not sure if this is the place to put it, but the map doesnt seem to be working for me tonight. I went to my association, W4G, and get a window saying there are no records to show. It was working fine earlier today.
Well actually, I noticed that often when you MouseOver one of the mountains on the map, it didnt give you the option to click it, That was a minor inconvenience. Now I see nothing.
Thanks so much for keeping this tool going. It is awesome.
-Steve
W2SWA
Yep, this is my bad. I completely misread an email from Rob and cast aspersions on the operation of SMP. The iotamaps server was hosting the data and that server is moving, requiring us to re-evaluate the usage of the tool
Is there anywhere an online zoomable map showing all the SOTA summits? Just something simple that does not require areas to be selected?
Not "just something simple", but if you have a fast processor, enough memory and patience, you can try "ALL SOTA summits shown on Google Earth" from http://www.on6zq.be/w/index.php/SOTA/SOTA
When the full list is loaded, do not try to move the globe yet, but deselect "ALL" from the left menu and only re-select the Associations you want to see.
You can of course also select individual Associations .kml files that load much faster.
Perfect thanks. In reality I don't need "all" but just one or two associations. The SMP interface makes the selection rather tedious.
You've inspired me to spend some of my lazy Sunday to try to come up with a world-wide SOTA summit map that shows all the summits at once, and can be zoomed nearly without delay on a reasonably modern computer/browser:
https://neon1.net/sota/summits/map/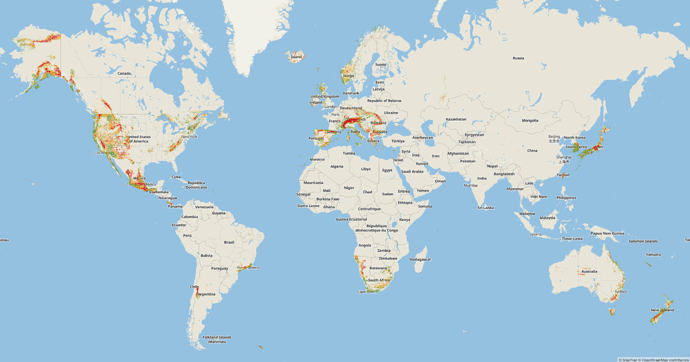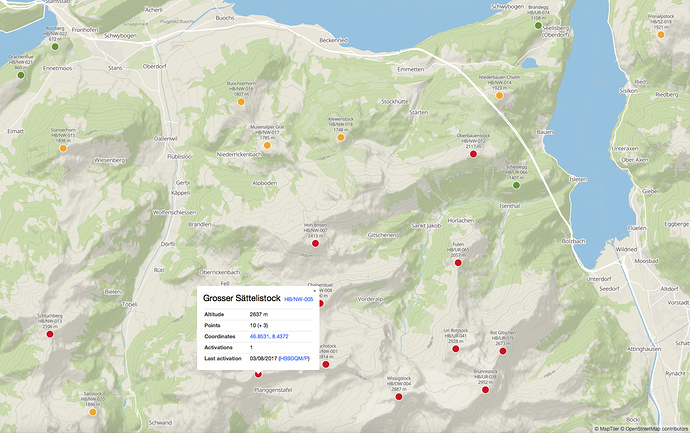 It was just quickly cobbled together, so there are currently no filter options and no further features besides getting a detail popup when you click on a summit. But it shows what could be done…
73,
Manuel HB9DQM
Wow! That's brilliant. Thanks Manuel.
I guess that is just a temporary issue with the summit markers are not showing (but a default one instead)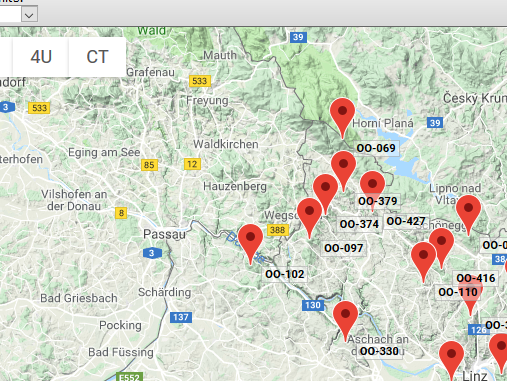 As I was checking out a summit on the SOTA Database for the W7A Association, I saw that a track existed. However when I went to the Mapping section for Tracks and entered in the Region, I got a pop-up that said: "Summits-No Records Match Your Request." I went back and selected some different Regions where I knew for sure there were tracks and got the same message.
Looks like the tracks aren't loading…
Dave, AE9Q
There appear to be multiple issues with the SMP site now. There's another thread running here about it. They're working on it.
I just tried the Range page, and it showed no summits where there are many.
73
George
KX0R
All of these issues were due to a truncated table of points. I've reloaded and they should all work.
Hello Andrew,
Any news on the future of the elevation feature? Does the iotamaps server still has the elevation data service?
Sylvia @OE5YYN was also missing the feature just recently.
I know that there are other issues with the SMP but please don't abandon the elevation profile tool. Thanks.
73 de Joe
Hi Joe, it's on my list to fix. The main problem is time, as I'm in the US for work right now. I should have it sorted by end of next week