It was very cloudy today so no beach for my family this afternoon and so, in a totally unexpected and unplanned way, I found myself free like the wind to go out with our dog Lucho while my family with YL relatives of my wife decided to go to downtown for shopping, cafeteria or whatever they fancied.
>Estaba muy nublado hoy, así que nada de playa para mi familia esta tarde y así, de una manera totalmente inesperada y no planeada, me encontré libre como el viento para salir con nuestro perro Lucho mientras mi familia con parientes YL de mi esposa decidieron ir al centro de la ciudad de compras cafeterías o lo que les apeteciera.
I took my SOTA kit, got into the car and left towards the local SOTA, which I have already activated 3 times this summer. On my way, a light in my head switched on and I recalled there was a SOTA summit I had never activated near the village of Cedeira, so I decided to drive towards Cedeira, which is about 30Km North of Ferrol, and do some searching for that unknown to me SOTA summit.
<Tomé mi kit SOTA, me metí en el coche y salí hacia la cima SOTA local, que ya había activado 3 veces este verano. En mi camino, una luz en mi cabeza se encendió y recordé que había una cima SOTA que nunca había activado cerca del pueblo de Cedeira, así que decidí conducir hacia Cedeira, que está a unos 30Km al Norte de Ferrol, y hacer algo de búsqueda para esa cima SOTA desconocida para mí.
I tried to find on SMP the name and reference of that SOTA with my mobile, but the page didn't work on my old junky Samsung phone. Then, while driving, I dictated a voice message to my whatsapp, which was perfectly converted into text, asking my SOTA friends to try to find the SOTA near the village of Cedeira. Jorge EA2LU quickly found it and by the time I had arrived to Cedeira, he gave me the name, reference and the Lat./Long. coordinates of the summit, which I immediately introduced into my Tomtom car GPS. My car GPS said there was still 9Km to the summit and warned me that there were unpaved roads to get there.
>Intenté encontrar en SMP el nombre y referencia de esa SOTA con mi teléfono móvil, pero la página no funcionó en mi viejo y destartalado teléfono Samsung. Entonces, mientras conducía, dicté un mensaje de voz a mi whatsapp que fue perfectamente convertido a texto, pidiendo a mis amigos SOTA que intentasen encontrar la SOTA cerca del pueblo de Cedeira. Jorge EA2LU rápidamente la encontró y para cuando llegué a Cedeira, él me dió el nombre, referencia y coordenadas Lat/Long de la cima, que inmediatamente introduje en el GPS Tomtom de mi coche. El GPS de mi coche dijo que aún había 9Km hasta la cima y me avisó de que había caminos sin asfaltar para llegar allí.

I accepted and while driving on some curvy narrow roads, I got a severe drizzle which made me fear that the activation would not finally be possible. I finally stopped at the village of Vilar when it was not anymore possible to drive on asphalt road and my Tomtom car GPS said the summit was 1.4Km ahead. At that point, the rain had stopped so after a little hesitation, I decided to get out of the car and try it. Dog out, boots on, rucksack to my back and there we headed for the summit.
>Acepté y mientras conducía por unas estrechas y curvosas carreteras, tuve una severa borrasca que me hizo temer que la activación no sería finalmente posible. Al final paré en el pueblo de Vilar cuando ya no era posible seguir conduciendo por carretera asfaltada y my GPS Tomtom del coche decía que la cima estaba 1,4 Km más adelante.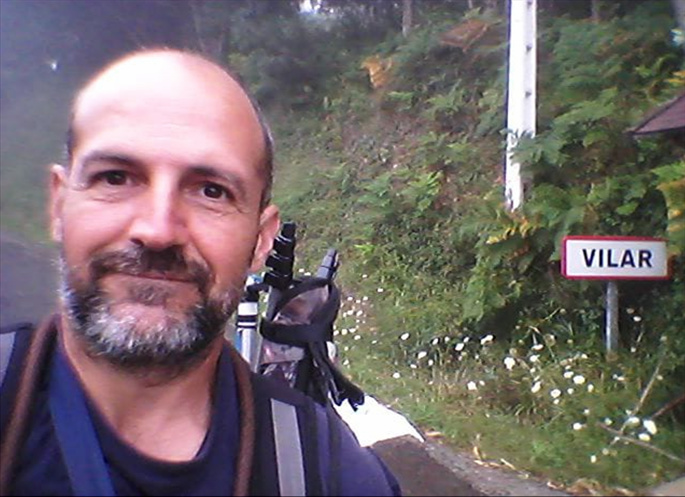 The narrow street at the right hand side soon took us to the track towards the summit:
>La estrecha calle a la derecha nos llevó enseguida a la pista hacia la cima:

This is the track:
>Esta es la pista:

Logging works were taking place but I had not any problems to go ahead:
>Se estaban llevando a cabo trabajos de corte de árboles y troncos pero no tuve ningún problema para seguir:

This track goes like that upwards until it gets more or less horizontal for a while. Then a narrower track starts to the right upwards and of course I took it until the summit was reached 30 minutes after starting the hike. Most of this later narrower track towards the summit was covered in a low cloud and under a new drizzle.
>Esta pista va así hacia arriba hasta que llega a una zona más o menos horizontal por un ratito. Entonces una pista más estrecha arranca hacia la derecha y hacia arriba y por supuesto la tomé hasta que alcancé la cima 30 minutos después de haber empezado la subida. La mayor parte de esta pista más estrecha hacia la cima fue recorrida en la niebla de una nube baja y bajo una nueva borrasca de fina lluvia.
I had an umbrella with me but I was using a wooden walking stick in my right hand and my telescopic fishing rod was serving me as a second walking stick in my left hand, so I had not more hands to hold the umbrella and I kept hiking while getting wet until the summit was reached.
>Tenía un paraguas conmigo pero estaba caminando usando un palo de madera en mi mano derecha y mi caña de pescar telescópica me servía como un segundo bastón de paseo en mi mano izquierda, así que no tenía más manos para sostener el paraguas y seguí subiendo mientras me calaba hasta que alcancé la cima.
I found shelter from the wind close to some rocks in the summit and could finally open and hold my umbrella to get out of the rain, but I hesitated on whether activating under the rain or not.
>Encontré abrigo del viento pegado a unas rocas en la cima y pude finalmente abrir y sostener mi paraguas para quitarme la lluvia, pero dudé sobre si activar bajo la lluvia o no.
I finally decided that I wouldn't install my fishing rod and I would just extend my endfed wire over the rocks and bushes in the summit. While doing this, I had the idea of using the trypod for the farther end of my antenna wire. My rucksack with the SOTA kit inside was just on a rock as you can see in the following picture:
>Finalmente decidí que no instalaría mi caña de pescar y extendería mi hilo alimentado en el extremo sobre las rocas y arbustos de la cima. Mientras hacía esto, se me ocurrió utilizar el trípode para el extremo más lejano del hilo de antena. Mi mochila con el kit SOTA dentro quedó símplemente sobre una roca como podrán ver en la foto siguiente: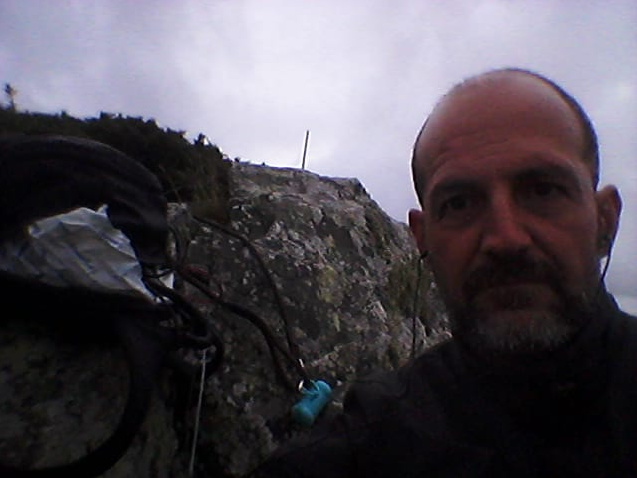 With such pathetic set-up, I had to operate standing and I didn't see an easy way for me to work CW and write on my notepad, so I decided it would be a quick smash and grab SSB activation with the log recorded on my phone.
>Con semejante patético montaje, tuve que operar de pie y no vi una sencilla forma para trabajar CW y escribir en mi libreta, así que decidí que sería una rápida activación "llegar y besar" en SSB con el log grabado en mi teléfono.
I asked Jorge EA2LU through whatsapp to spot me on 14.305, but soon he told me he wasn't copying me there. I saw the spot on SOTAwatch, so I called CQ a number of times, but nobody came back to me and I agreed with Jorge EA2LU to QSY to 40m SSB.
>Pedí a Jorge EA2LU por whatsapp que me anunciara en 14.305, pero enseguida me dijo que no me copiaba allí. Vi el spot en SOTAwatch, así que llamé CQ unas cuantas veces pero nadie me llamó y acordé con Jorge un QSY a 40m SSB.
There I copied him perfectly and so he copied me too.
Jorge asked Manuel EA2DT to contact me and despite having all his antennas disconnected due to a thunderstorm going on in Pamplona, he connected everything and showed up on the frequency for my second QSO of the day.
>Allí le copié perfectamente y así me copió él también.
Jorge pidió a Manuel EA2DT que me contactara y a pesar de tener todas sus antenas desconectadas debido a una tormenta que estaba teniendo lugar en Pamplona, él conectó todo y apareció en la frecuencia para mi segundo QSO del día.
Manuel spotted me and soon other EA stations showed up with very good signals.
Unfortunately, the chosen frequency which was initially clear, soon got busy with traffic of Russian stations making it difficult for the EA stations to copy me.
With some difficulties due to QRM, but I finally managed to complete more than the minimum number of 4 QSOs required to qualify the summit for the point it worths.
>Manuel me anunció y enseguida otras estaciones EA aparecieron con muy buenas señales. Desgraciadamente la frecuencia que inicialmente estaba libre, se ocupó enseguida con tráfico de estaciones rusas haciendo difícil copiarme para las estaciones EA.
Con algunas dificultades por el QRM, pero al final conseguí completar más que el mínimo número de 4 QSOs requeridos para obtener el punto que vale la cima.


It was slightly raining and I decided to QRT for a quick pack up before that light rain became something more serious.
When I finished packing up and taking the following pictures, I had the feel that the weather had improved a bit, but I had already packed up and dusk would come shortly, so I decided to call it a day and descend.
>Estaba lloviendo ligeramente y decidíi quedar QRT para empaquetar ráidamente antes de que la ligera lluvia se volviera algo más serio.
Cuando terminé de empaquetar y tomar las fotos siguientes, tuve la sensación de que el tiempo había mejorado un poco, pero ya había empaquetado y el sol se pondría en breve, así que decidí darlo por terminado y descender.

I will come back to this summit some other day for a longer activation to give you all the chance to chase me and get this SOTA reference.
>Volveré a esta cima algún otro día para una activación más larga y para darles a todos ustedes la oportunidad de cazarme y conseguir esta referencia SOTA.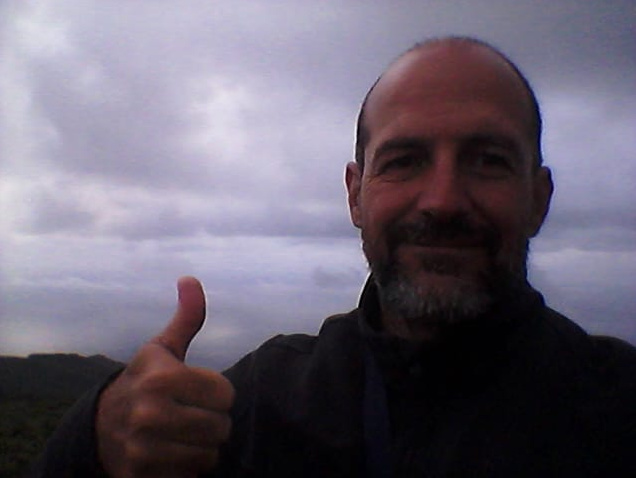 Thanks dear chasers for your calls and QSOs.
Many thanks to Jorge EA2LU for his key support today on summit info and spots.
Thanks to Manuel EA2DT for his QSO and spots.
And also thanks both for taking the risk to be on air despite the thunderstorm going on in Pamplona at that time.
>Gracias estimados cazadores por sus llamadas y QSOs.
Muchas gracias a Jorge EA2LU por su apoyo clave hoy con información de la cima y spots.
Gracias a Manuel EA2DT por su QSO y spots.
Y también gracias a ambos por asumir el riesgo de salir al aire a pesar de la tormenta que estaba ocurriendo en Pamplona en este momento.
73,
Guru