This morning I was brewing beer so I wasn't sure if I'd have chance to get out today. The brew went well and I was all cleaned up by about 1130 so I decided to activate my second nearest summit Sharp Haw G/NP-029 for one point (no winter bonus, boo hoo). I set the alert, found my gear, made a flask of tea and was off and soon parked up on the appropriately name Bog Lane.
Colin @M1BUU had suggested to me that wellies would be a good idea but I don't like walking in them so stuck to my usual walking boots and gaiters. It wasn't too bad. There were plenty of boggy bits to cross but with two walking poles and long legs it wasn't so bad. The wind was stronger than I expected though.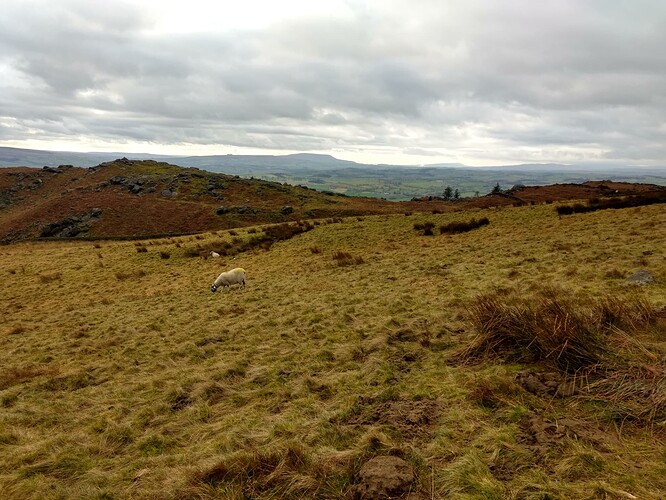 Obligatory sheep shot with Pendle Hill G/SP-005 in the distance
I set up the tarp in the usual activating dip which was definitely needed as the wind was quite stiff. For such a low hill it always seems to be windy. I put up the EFHW and managed 16 QSOs on 40m CW. On 20m CW Manuel @EA2DT was first in the log as usual. There was now quite a pile up and it was very hard to make out callsigns. Along with 3 Stateside stations I made 25 contacts on the band. This was quite surprising since part way through my pole partially collapsed and the wire was mostly just lying on the ground! Perhaps if it had stayed in the air I would have made a few more.
I was getting a bit cold so it was time to replace the EFHW with the 2m slimjim. FM gave me 9 QSOs mostly local but did include Phil @G4OBK who I was struggling to hear. I gave him 33 and received 43. I think he was telling me he was using a reasonable amount of power and a beam but I think he may have been horizontally polarised which wouldn't have helped. At the end there was another station trying to call me but he was too weak.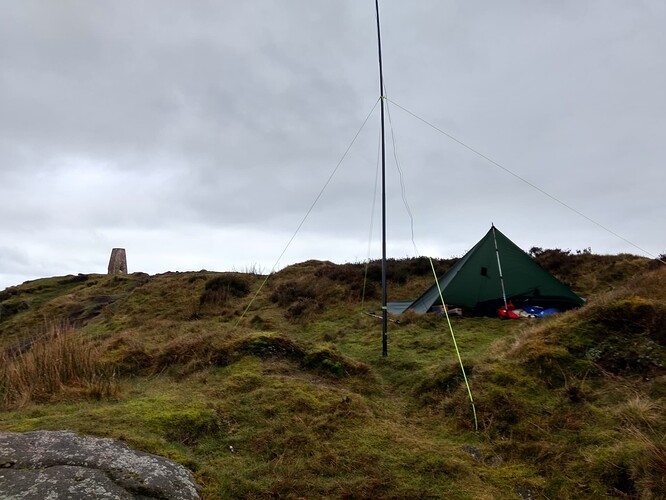 I was glad of the shelter from my new tarp
Instead of returning the way I came I carried on along the top and followed the path to the left that enters the woodland. It goes through some cleared forestry and meets the track from Flasby. There's a very nice bench here and it was a great sheltered spot for some more tea and a Kitkat before carrying on to the car. Last time I used this route I went a bit wrong but I managed to find the right path across fields and it's a nice route. There were still a few boggy spots but it was probably better than the way up, although longer.
I first activated Sharp Haw in 2018 and struggled to get 4 QSOs so today's 50 was a nice surprise and is my highest ever total for an activation. Not bad for the lowest summit in G/NP. Thanks again to all the chasers.