For this activation I selected Monte do Oural EA1/CR-018, which is new for me and it hadn't been activated since 2011.
It was a 44 Km drive from my holiday QTH in Ferrol to where I parked the car by the road DP-3901 at Lat. 43.29731 N and Long. -8.078054 W.
This is how the road in this area looked like.
The hike was just some 25 minutes or so through an easy track looking like this.
When I got to the top, I chose the place to set-up tieing the telescopic fishing pole to this young eucaliptus tree.
I'm going to take some time today to show you on pictures and explain how I usually do my set-up.
Once the right place is selected, I take out of my rucksac a couple of cords to tie the fishing pole to the selected tree. I usualy have with me various cords with different random lengths along with a couple of bungees.
Then I take out my zipped plastic bag with the antenna inside.
At this point I take my pole and remove the top cap. Since I lost the original one some years ago, I now have one made with the top part of a water bottle (the idea was taken from this Reflector).
I extract the top section of the telescopic pole to which cut end I fitted 2 plastic sleeves one inside the other. The soft inner one is fitted outside the cut top end of the fishing pole top section. The stiffer and thicker outside one provides some strength to the assembly.
On the top of this double plastic sleeve, I have a tanka, which is the red thing you'll see in the picture. Tanka is the only name I know for these things.
I remove the tanka.
I take the endfed antenna wire top end
and insert about 10mm inside the inner plastic sleeve.
Then I put the tanka back holding the wire in place.
Now it's time to extend the telescopic fishing pole and attach it to the tree with the help of the cords.
This is the bottom cord:

This is the top cord:

The endfed antenna wire got extended towards the North today and the bottom end got strapped with a velcro strap to the PVC tube in my tripod.
The endfed wire gets connected to the red plug in the metal box holding a 9:1 un-un inside.
Its now time to extend the counterpoise wire, which has a random length of about 6 or 7 meters and is a key factor to enhance the performance of this antenna.
Whenever possible, I extend the counterpoise wire elevated from the ground about 1 meter and so I did in this set-up.
Then the coax with PL-259 coming from the ATU and the FT-817 rig gets connected to the little box with the 9:1 un-un inside.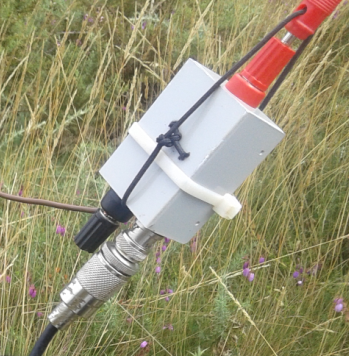 and we are ready to start the activation.
Well, this is how the complete set-up looked like.
The Estuary of Betanzos seen far in the distance.
I was in touch with Ignacio EA2BD through whatsapp and he told me he had to leave home pretty soon, so I started my activation on 30m in order to give him the chance to chase me, in case the 20m band was not in short skip condition.
So he was the 1st QSO of the day and I'm glad for having given him this new summit.
The band sounded pretty quiet today as it did when I activated Mt. Bréamo the other day.
As it happened when I activated Mt. Bréamo, most of the signals received here today were weak and the QSB was severe.
After some minutes CQing and making QSOs, I lost my frequency of 10.118 when a HB9 activator started his CQ SOTA ignoring that I was activating there. I stopped my CQing to call him in order to try to work the S2S, but I then realised that he wasn't copying me at all, despite one kind chaser warning him about my presence.
Clearly not to blame him that he started CQing on my frequency.
Finally I logged 12 QSOs on the 30m band in 34 minutes, one of which was a S2S with Chris F6FTB/P from F/MC-235.
At this point I QSYed to 20m CW, where I logged 9 QSOs in 10 minutes, 2 of which were S2S, one with HB9/DL1DUS/P and the other with HB9/DJ5AA/P, both activating HB/BE-134.
Now I QSYed to 20m SSB and 8 QSOs were logged, 2 of which were S2S, one with ON4UP/P activating ON/ON-018 and the other with F/OE5JKL/P activating FL/VO-125.
After 20m I had a look to the 17m but the band was absolutely quiet and I didn't even try to CQ.
I had a brief activity on 40m CW, where 2 French stations were logged.
Then back to 20m CW and 11 more QSOs got down to the log, one of which was the DX USA of the day with Leslie K4DY. Thank you!
Then I checked Sotawatch and QSYed back to 40m CW to make a S2S QSO with DL/OK1CZ/P activating DM/BW-019.
After this brief 40m CW activity, I QSYed back to 20m CW, where 4 more QSOs were logged.
It was 12h02 utc and it should be the right time for some Northamericans to show up but after some minutes CQing, none was heard.
A new check of Sotawatch made me QSY to 40m SSB, where I made S2S QSO with ON/PA3FYG/P activating ON/ON-009.
I also saw on Sotawatch a spot for Nuno CT2HOV/P activating on 40m SSB and I went to the frequency to try the S2S. I was copying him with severe QSB but workable, so I called him several times, but couldn't succeed, even with the help of Enrique EA1DFP, who warned him about my presence on the frequency. Thanks Quique! Nuno didn't copy me at all.
Since Nuno wasn't copying me, while he was CQing and no chasers were coming back to him, I took the opportunity to make, on his same frequency, a quick QSO with Enrique EA1DFP and also with Karl M3FEH. Then I QSYed.
I had been in the summit for 3 hours and I was feeling like making QRT but a final check of Sotawatch made me QSY to 20m SSB to make the 8th and last S2S QSO of the day with ON4UP/P activating now ON/ON-010.
Finally, I switched off, packed up and descended to go home for a late lunch.
All in all, 51 QSOs in the log and 8 S2S despite the pretty difficult propagation conditions.
This is the full log: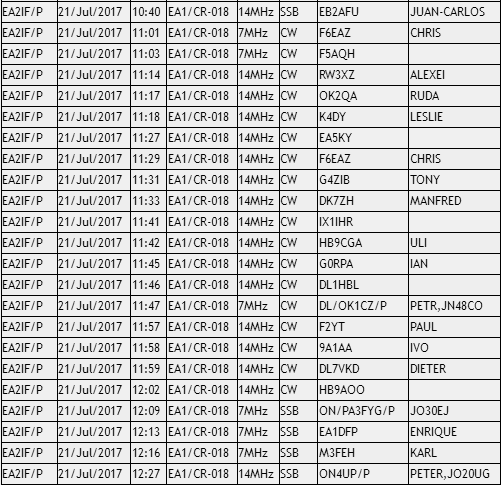 And this is the S2S log:


Thanks dear chasers for your calls and QSOs.
I'll be looking forward to copying you again soon from another summit.
In the afternoon, I took my family to the beach and we remained there until almost 20h30 hours local.
This is a picture I took right before leaving the beach.
Best 73,
Guru