SOTA in the dark?? Well… the wife decided herself and her niece wanted to go to play Bingo and I dropped them off at the Bingo hall around 1715 (BST). all dropped off, i sat in the car and pondered what to do with myself for the next 3 and half or so hours till the needed collecting! Anyhow, I had all my portable kit in the car so decided to have a go at a SOTA in the dark!
I needed an easy hill, one that wouldn't get too technical, could be done fairly quickly and preferably one I wouldn't have to put the antenna up! only 1 fitted this bill… The Cloud! so off I went… just a smidge over an hours drive to get there after a satnav fail I was in the parking area at SJ907633, follow the track up the hill to the steps on the right, and follow your nose to the trig! now, let me talk about them steps… They are HORRIBLE in my opinion, each step is a different height and shape from the previous, and its damn near impossible to get a rhythm going on them, and they seem to go on FOREVER! anyway, once up the steps its a well defined marked path for about 6 or so mins walking up to the Trig and Viewing area…it was at this point I expected bumping into Tom - M1EYP but he mustn't have been at home…
I didn't bother chucking the antenna up, went for a handheld activation… spotted on the app and then called CQ… Nothing… UH OH!! this surprised me considering the views and the area's i was potentially transmitting over!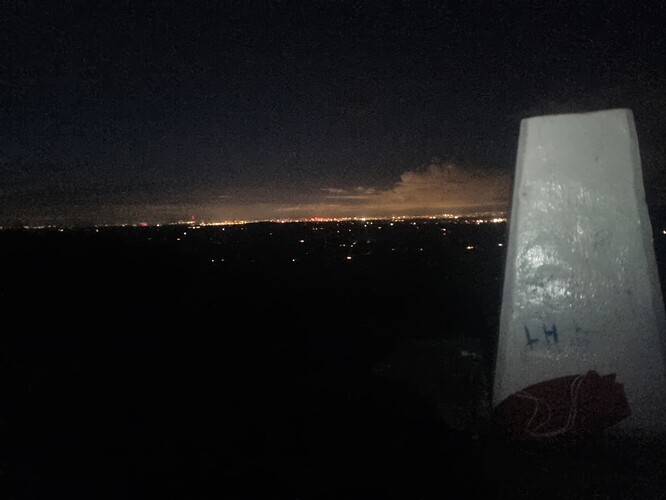 I had a pause, and decided to let the spot do its "thing" as i sat there, a HUGE lightning storm caught my eye to the east, over the hills… I later found out it was over Leicester and it looked spectacular!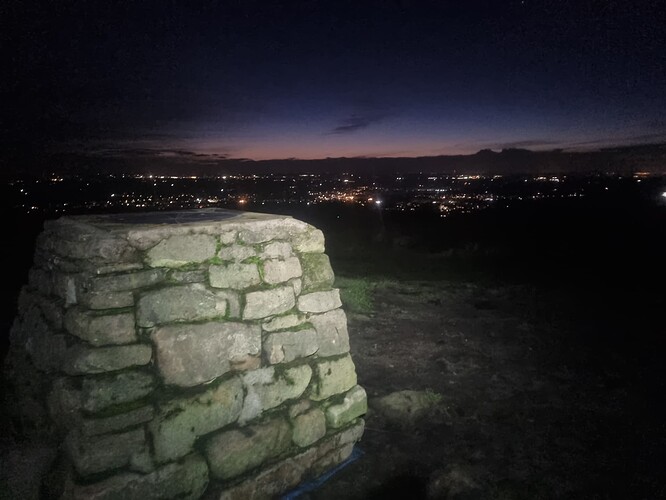 Ok, time for another CQ… THANK THE LORD! there was life… first call 2E0LKC-Mark in Heald Green followed by his wife 2E0LMD-Anne. a quick recall produced 2E0NRL-Ethan in Sandbach and then finally 2E0DIJ-Duane in Prestwich. PHEW! Activation complete! WAHEY! few more CQs came to nought and the lightening storm appeared to be on the move and getting brighter, so a quick exit was decided upon. Ascend - Activate - Descend all done in 40mins perfect! so I hit the car, and headed back to the Bingo hall to collect the girls and arrived back with time to spare! Short and sweet, the plan worked with the exception of Tom letting me down


next time maybe pal!
As usual thanks to the chasers for the dedication to be listening at 1900BST on a Sunday night and coming back to me.
Till next time 73 for now and cheers! Alan