Well, I haven't succeeded in making it up to this unactivated peak in the San Gabriel Wilderness, but I've learned a few things so I figure I'd put them down and others may succeed where I've failed.
Noting 127's lack of activations I was attracted to it and came up with a plan. The only reference I could find was Chiky De Las Torres's  Ascent of Peak 4654 on 2016-05-21 - Peakbagger.com which wasn't a successful attempt. After looking at the topo for a while I decided that I'd attempt an entry via the Devil's Canyon Dam truck trail and the Chileno Canyon. 
To date I've taken three trips to path find this summit.
The first was pure scouting in December 2016. Parking is available at the day use area at the confluence of the West and North forks of the San Gabriel River. I wanted to see what the West fork looked like at the point the Chileno Canyon joined it. I brought my 4 year old daughter and we bicycled the 6 miles to the Chileno Canyon. The West Fork is about knee deep there and I didn't see any simple way to boulder hop over it, but didn't rule it out (should have looked harder or ruled it out). After a picnic just around the corner at the Glenn Camp campground we headed back. 
My second trip in March 2017 I took my normal SOTA gear, some webbing for light canyoneering, and frame pack and intended to summit. I went multimodal and biked the first 6 miles and locking my bike to a tree on the truck trail. Crossing the West Fork was tricky as I didn't bring water shoes and could not find a place to boulder hop after all. I went carefully barefoot and made it to the Chileno Canyon entry. The creek there was running still from the significant winter rains we received that season. The canyon is high sided, but passable up to about 0.8 miles in. A fresh rock fall had created a significant dam and lake which continued around a bend which I couldn't see past. I wasn't prepared for amphibious hiking and had only basic waterproofing of my gear. Despite the water being quite clear (and freezing cold btw) I couldn't really tell how deep it was. I decided to wade in and if it came above my waist I'd turn around. I made it almost to the bend hoping to peer around and see if the way was passable. I was in up to my waist at that point and there was a downward trend to the bottom. I estimated the lake was chest deep on my 5'7" frame (I was wrong). Considering I was now cold and wet I changed into what backup clothes I had and sloshed back to my bike in my soggy boots. 
Spring Lake View: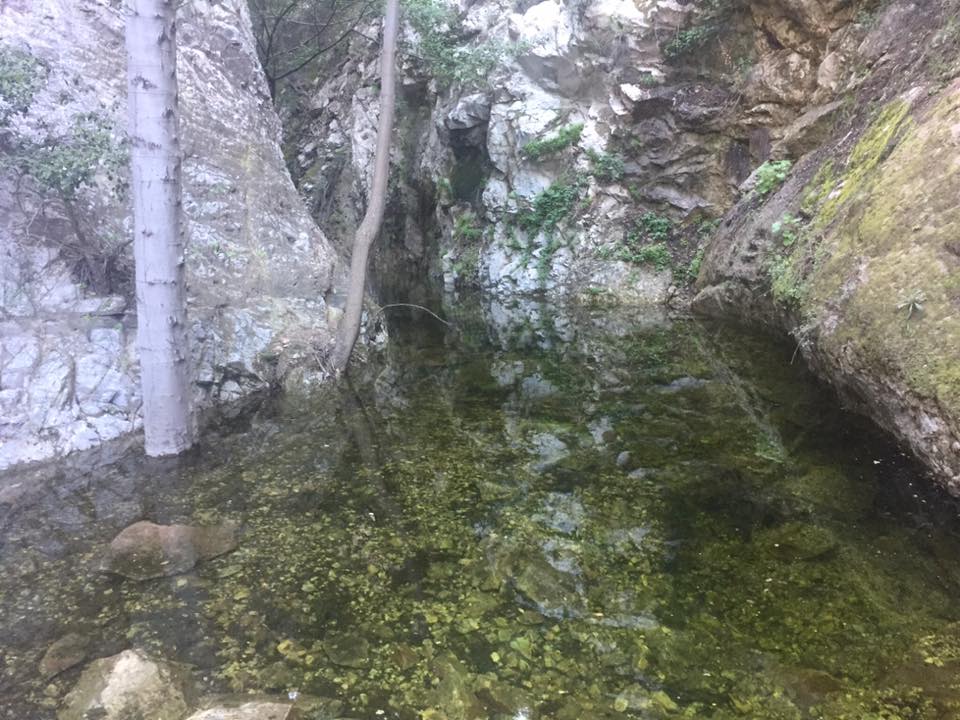 My third attempt in September 2017 was inspired by comments I received that perhaps the fall would make for a dryer trail. This time knowing the potential for water hazards I downsized my gear to the bare minimum of an Osprey 15 and triple waterproofed the critical components (radios etc.) and brought water shoes. I biked out and hiked back, the now mostly dry creekbed, to the lake which was at this point only a third of the size it had been in the Spring. Encouraged I put on my water shoes and waded around the bend. There I found a low waterfall which had eroded the bottom significantly. I could stand there with my pack on and have it only slightly touch the water. I scrambled over the waterfall and made my way up trail about 30 ft where I found myself surrounded by 60 or 70 ft high waterfall and sheer walls on all sides except the way I had come. The extreme left side looked the most promising so I converted back from wet foot to dry foot and attempted to scramble up. The rock was very crumbly and although I made it 40 ft up I could not see how to connect with the canyon which was on the other side of a sheer rock face. After giving myself a talking to about safety I clamored back down and made my way down the canyon. Someone with proper canyoneering gear could scale this falls, but I donot believe it is passable without. I headed out and dried out at the day use area and had a picnic while listening to the Texas QSO party.
Fall Lake View: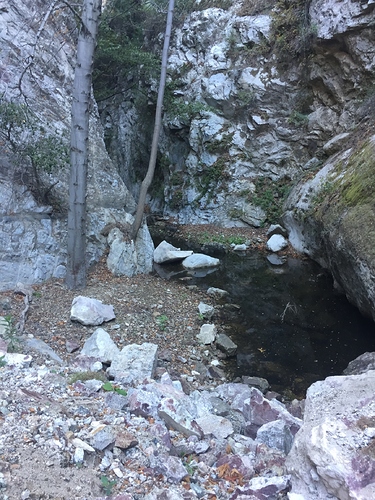 Blocking Waterfall: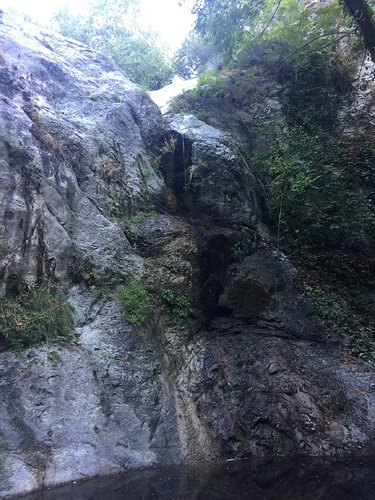 If anyone is interested in attempting I am game for another attempt, but we are going to need gear and skills I do not have yet. 73 KB9ENS