The end of the winter bonus season is getting closer and closer and I had long wanted to do this hat trick with a couple of 6-pointers and one 4-pointer, which would give me an optimum use of my time and fuel, providing 25 points in just one single outing.
>El final de la temporada de bonus invernal se acerca más y más y yo largamente había querido hacer este "hat trick" con un par de cimas de 6 puntos y una de 4 puntos, que me darían un óptimo uso de mi tiempo y combustible, aportándome 25 puntos en una sola salida.
Here you can see where these summits are with respect to my QTH in Pamplona:
>Aquí pueden ver dónde están estas cimas con respecto a mi QTH en Pamplona: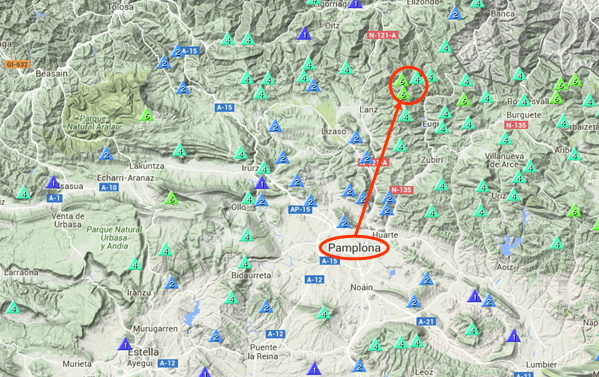 I got up at 5h30 utc (6h30 local) and I was leaving home with my SOTA-kit and our dog Lucho in the boot of the car by 6h35 utc.
The drive to the hiking start point is 40 Km but it took me nearly 50 minutes to get there.
The outside temperature measured by the sensor in my car was 0 deg. C but the weather forecast was for a warm sunny day. We'll see…
>Me levanté a las 5h30 utc (6h30 local) y estaba saliendo de casa con mi equipo SOTA y nuestro perro Lucho en el maletero del coche para las 6h35 utc.
El trayecto hasta el punto de arranque de la subida está a 40Km pero me llevó casi 50 minutos llegar allí. La temperatura exterior medida por el sensor de mi coche era de 0 grados C, pero la predicción del tiempo era de un día soleado. Veremos…
The parking spot is at the Alto de Artesiaga and you'll see it marked by the red arrow in the following image:
>El aparcamiento está en el Alto de Artesiaga y lo verán marcado con una flecha roja en la imagen siguiente: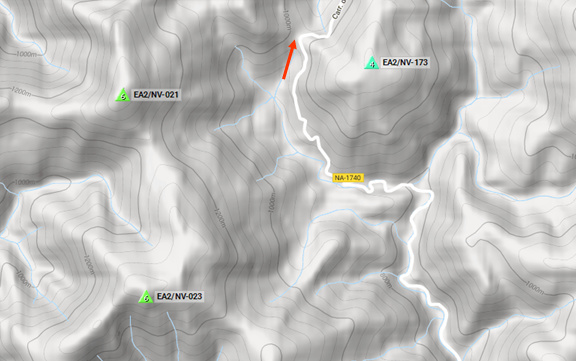 I started the hike and I was soon delighted with the first very nice view of the low clouds in the nearby valley:
>Empecé la subida y pronto estuve encantado con la bonita primera vista de las nubes bajas en el valle cercano:

The air is pretty hazy but notice that the Cantabric Sea -which is part of the Atlantic Ocean- can be seen far in the distance.
>El aire está bastante brumoso pero fíjense que el mar Cantábrico - que es parte del océano Atlántico- puede verse lejos en la distancia.
Mt. Saioa EA2/NV-021

I took this picture from the summit of Mt. Zuriain EA2/NV-023
>Tomé esta foto desde la cima del Mt. Zuriain EA2/NV-023
After a zig-zagging hike of the steep slopes, I reached the summit, which was very windy.
>Tras una subida zigzagueante de las empinadas pendientes, alcancé la cima que estaba muy ventosa.

It was so very windy that I decided to sit down close to the trig point base in order to get some shelter, so the antenna was making a D shape, with one end of my 10m long wire tied to the top end of my 7m telescopic fishing rod and the other end of the wire tied to the bottom of the fishing rod. The constant strong wing kept the antenna wire and the fishing rod looking like a D. It performed very well on 40m CW.
>Estaba tan ventosa que decidí sentarme pegado a la base del vértice geodésico para tener algo de abrigo, así que la antena estuvo haciendo una forma de D, con un extremo del cable de 10m en el extremo superior de la caña de pescar telescópica de 7m y el otro extremo atado a la base de la caña de pescar. El fuerte y constante viento mantuvo el cable de antena y la caña de pescar como una D. Rindió muy bien en 40m CW.
I must apologize because after my last QSO, the receptor became totally silent, I transmitted a couple of morse dots and immediately saw the SWR indicator in my FT-817 going full scale, so I knew there was an OC or a SC problem somewhere in the coax line.
>Debo pedir disculpas porque tras mi último QSO, el receptor se quedó totalmente silencioso, transmití un par de puntos de morse e inmediataente vi el indicador ROE de mi FT-817 a fondo de escala, así que supe que había un problema de circuito abierto o cortocircuito en algún lado de la línea coaxial.
After a few checks, I found the problem in one of the PL259 between my antenna tunner and the transceiver and I got it quickly solved because it is a known problem I had had some few times in the past. There seems to be a failing contact between the PL259 and the SO239 and it got quickly solved with the gentle touch of my fingers. I'll have to look at this closer and try to find a more robust solution. However, I admit that given the low occurrence of this failure and how easily it can be solved, I may decide not spend any time at it.
>Tras algunas comprobaciones, encontré el problema en uno de los PL259 entre mi acoplador de antena y el transceptor y lo solucioné rápidamente porque es un problema conocido que había tenido algunas pocas veces en el pasado. Parece haber un contacto que falla entre el PL259 y el SO239 y lo resolví rápidamente mediante un ligero toque con mis dedos. Tendré que mirar esto más de cerca y tratar de encontrar una solución más robusta. No obstante, admito que dada la baja ocurrencia de este fallo y lo fácilmente que puede resolverse, podría decidir no gastar nada de tiempo en ello.
After this problem got solved, I found my frequency occuppied, so I decided to QRT, dismantle, pack up and head towards the next summit.
>Tras resolver este problema, encontré que mi frecuencia estaba ocupada, así que decidí hacer QRT, desmontar, empaquetar y dirigirme hacia la próxima cima.
This is the full log with 24 QSOs and 2 S2S:
>Este es el log completo con 24 QSOs y 2 SaS

This is the S2S log:
>Este es el log SaS


I forgot taking a picture of the setup but, before leaving, I took this picture of the very nice views from this summit.
>Olvidé tomar una foto del montaje pero, antes de marchar, tomé esta foto de las muy bonitas vistas desde esta cima.

In the foreground, Mt. Adi -my first activated SOTA summit- with the impressive and always beautiful Pyrenees wall in the background.
>En primer plano el monte Adi -mi primera activación SOTA- con el impresionante y siempre precioso muro de los Pirineos al fondo.
Descencing Mt. Saioa towards Mt. Zuriain had to be done with care due to having some wet snow on the very steep slope. Then a nice hike along the ridge and I finally reached the second summit of the day.
>Tuve que descender el monte Saioa hacia el monte Zuriain con cuidado debido a la nieve húmeda en la pronunciada pendiente. Después una agradable subida a lo largo del collado y finalmente alcancé la segunda cima del día.
Mt. Zuriain EA2/NV-023

I took this picture of Mt. Zuriain from the summit of Mt. Saioa.
>Tomé esta foto del monte Zuriain desde la cima del monte Saioa.
I reached the summit of Mt. Zuriain at 10h24 utc (11h24 local) and it was also windy.
>Alcancé la cima del monte Zuriain a las 10h24 utc (11h24 local) y también estaba ventosa.

I managed to setup the endfed wire as a sloper with the fishing rod tied to the trig point cylinder and myself sitting a bit lower, thus getting some shelter from the wind. The sunshine was really nice.
I decided to operate on 30m CW from this summit.
>Conseguí montar el hilo alimentado en el extremo como una sloper con la caña de pescar atada al cilindro del vértice geodésico y yo un poco más abajo, teniendo así algo de abrigo del viento. El Sol era realmente agradable.
Decidí operar en 30m CW desde esta cima.
This is the full log with 22 QSOs, 1 S2S and 1 unexpected DX with the USA.
>Este es ellog completo con 22 QSOs, 1 SaS y un inesperado DX con los EE.UU.

This is the S2S log:
>Este es el log SaS


Before leaving the summit, I took a few pictures:
>Antes de dejar la cima, tomé unas pocas fotos.

The last time I activated this summit back in 2014, I very badly bent my ankle at the beginning of descent, so I was very careful today to avoid any incident. I had been descending the very steep initial slope for a short while when a couple of mountaneers crossed me on their way up to the summit. I guess I lost a bit of my concentration with the greetings and few words that we exchanged as we crossed each other and I slipped on the mud which was forming with the melting snow. I landed with my bottom on the ground and rocks and my metal bottle of water inside my rucksack got the only serious damage with that falling, as it got badly bumped in a couple of spots. It looks like it's made of Aluminum and I'd say it's got the time for it to be recycled into something else. Fortunately, I didn't suffer any damage from that unfortunate slip and fall, so I could continue with care my descent towards the next target of the day.
>La última vez que activé esta cima en 2014, me torcí muy malamente el tobillo al inicio de la bajada, así que tuve mucho cuidado hoy para evitar cualquier incidente. Había estado bajando la empinada pendiente inicial por un breve momento cuando 2 montañeros que subían hacia la cima se cruzaron conmigo. Debí de perder un poco la concentración con los saludos y unas pocas palabras que intercambiamos al cruzarnos y resbalé en el barro que se estaba formando con la nieve que se fundía. Aterricé con mi trasero en la tierra y rocas y mi botella metálica de agua dentro de la mochila tuvo los únicos daños serios con esa caída, pues se quedó malamente abollada por un par de sitios. Parece que está hecha de Aluminio y diria que ha llegado la hora de que sea reciclada a alguna otra cosa.
Afortunadamente, yo no sufrí daño alguno de ese infortunado resbalón y caída, así que pude continuar con cuidado mi descenso hacia la próxima cima del día.
Larrakarte EA2/NV-173

The ascent didn't feel too hard despite having been hiking for a while so far and being this one the third summit of the day.
When I reached the top, again it was windy, but this time it was very, very windy.
See how Lucho, the dog, was heading the strong wind:
>El ascenso no me pareció demasiado duro a pesar de llevar un rato andando por el monte hasta entonces y de ser esta la tercera cima del día.
Cuando llegué arriba, otra vez había viento, pero esta vez mucho, mucho viento.
Vean como Lucho, el perro, encaraba el fuerte viento: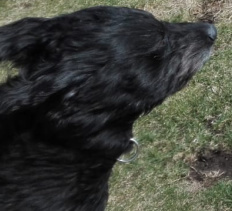 I decided not to setup at the summit and descend a few meters trying to get some shelter (not much). I had nothing to tie my fishing rod to and I had to do it with 3 guy ropes conveniently secured to the soft ground by 3 tent pegs.
>Decidí no instalar en la cima y descender unos pocos metros intentando conseguir algo de abrigo (no mucho). No tenía nada a lo que atar mi caña de pescar y tuve que hacerlo con 3 vientos convenientemente asegurados a la blanda tierra con 3 ganchos de tienda de campaña.

I had the intention to operate on 20m from this summit, but I found traffic from the Russian contest both on SSB and CW, so I finally activated again on 30m CW.
>Tenía la intención de operar en 20m desde esta cima, pero encontré tráfico del Russian contest tanto en SSB como en CW, así que finalmente activé otra vez en 30m CW.
This is the full log with 17 QSOs and 3 S2S.
>Este es el log completo con 17 QSOs y 3 SaS.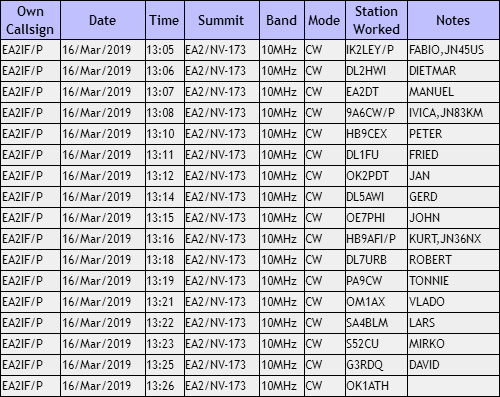 This is the S2S log:
>Este es el log SaS


A picture from the summit before leaving:
>Una foto desde la cima antes de marchar:

Thanks dear chasers for your calls, QSOs and spots. I'll be looking forward to copying you all soon again from another summit.
>Gracias estimados cazadores por sus llamadas, QSOs y spots. Estaré esperando copiarles a todos pronto otra vez desde otra cima
73,
Guru
P.D. Since my 9 years old son has been studying at school this week the minerals and their properties as well as the 3 types of rocks: igneous, sedimentary and metamorphic rocks, I took these pictures of sedimentary rocks for him to see. It's amazing that these rocks are currently about 1000 meters a.s.l. and sometime in the very ancient past were part of the ocean floor.
>P.D. Dado que mi hijo de 9 años ha estado estudiando en el colegio esta semana los minerales y sus propiedades, así como los 3 tipos de rocas: igneas, sedimentarias y metamórficas, tomé estas fotos de rocas sedimentarias para que las viera. Es alucinante que estas rocas están actualmente a unos 1000 metros sobre el nivel del mar y en algún momento en el pasado muy antiguo eran parte del fondo del océano.