Whilst summer seemed to have arrived in some parts of the UK it was missing from Urra Moor (Yorkshire) on Friday. The weather forcast from the met office suggested a 10% chance of rain, so I suppose it was only 90% wrong!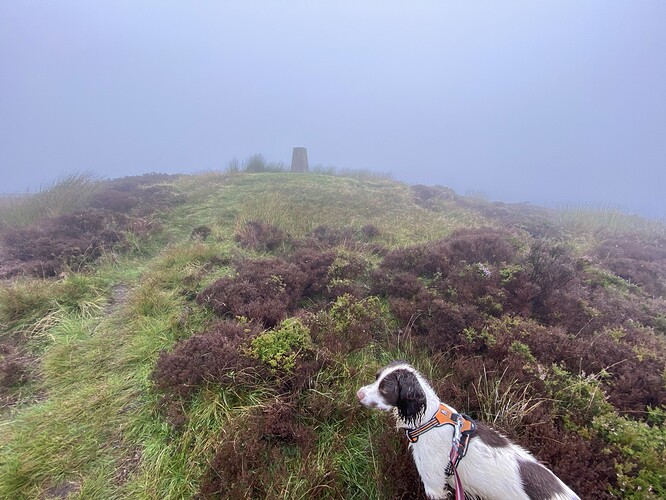 Unlike the lakes I only saw a few other walkers, and - although possibly due to the poor visability no one at the summit at all despite my 90 min stay.
I took my KX2, a MX-P50M amp, a linked dipole (80/60/40), a roll up J-pole for 2m along with an FT270, and of course Woody!
I also took a lightweight tarp and pole which made it possible to keep the radio dry-ish. After having had a few less sucessful attempts I am now reasonably proficient at creating a dryish space out of the wind.
In the past I took one of those stakes that attach to the ground to stop Woody wandering off to find things that are more interesting (Grouse…) , however he does get very vocal so the last couple of solo activations I have just left him attached - his lead has a waist buckle so we wander round together.
Last year I made a rather pathetic (sub-optimal) show of putting up the antenna on a vary crowded High Street in the lates. We were in the AZ but away from the summit in full view as I managed to get everything knotted together, and managed to collape the mast on at least two occasions as well as tying myself in knots. Lesson learned I now have it down to a few mins and until Friday it had a 100% sucess rate. The calculation I had failed to make was how many times it is possible for a Springer Spaniel to wrap itself around an 80m linked dipole, so the combination of Woody, the lead and waistbelt, the guy lines and what felt like a mile of 80m dipole wrapped around his legs made the process quite(!) difficult.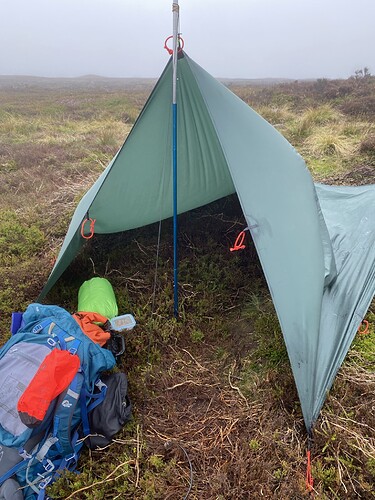 After unkitting the dog I managed to get the antenna up and was very pleasantly suprised about how well the shelter worked, and how well behaved he was in the shelter, although I don't think he appreciated the walk for the band changes.
On 60 and 80 I just used the KX2, but added the amp for 40m. ( The SWR was a bit high on the other bands - the internal tuner in the KX2 allowed a match but I didn't think the amp would like the SWR - broken joint on the antenna now repaired )
I started on 60m with a S2S with Phil and then went to 80 and 40. On this occasion I also took the LiFEPO4 4ah battery to power the amp, and having specially made a the right lead up to split it for the amp and the KX2 left it at home! Although it is nice to have a bit more "clout" the weight advantage of just using the KX2 with an internal battery rather than bringing an amp and another battery up the hill mean that in future for longer walks the KX2 will go barefoot.
So Kit :-
KX2 with internal battery (and a spare internal battery)
PX50M amp, leads and 4ah LiFePO4 battery()
40/60/80m linked dipole()
20m EFHW (not used)(*)
6m Tactical Mast (Sotabeams)
Rite in the rain pad and pencils
Paper map
J Pole roll up antenna - positioned about half way up the mast
FT 270
Lightweight Tarp (DD Superight), bag and adjustable tarp pole)
Phone (iphone)
Dog Biscuits and dog bowl
Carried but not used multitool, battery pack and charge cable, blizzard bag (survival bag), Garmin inReach mini (which is an overkill for this hill, and I'm hoping never to use it but Slightly Crag is on my to-do list and It isn't very popular…), first aid kit, water filter, hat and spare fleece)
(*) Not being taken on the lakes w/e - antenna will be 60/40/20/17 linked dipole
Mystery additional item - probably the 20m efhw antenna
Missing item 1… A dog coat. It was 12C and he was wet, and it was both colder and wetter than anticipated, which might explain why he sat quietly next to me in the shelter!
Missing Item 2 - A dog towel for the car which took a couple of days to dry out after the journey!
Lesson (re) learned - the weather can be worse than the forcast!
Second Lesson. I have a habit of knocking the tuning on the KX2 so I try to remember to lock the frequency. Once again I forgot and ended up 500hz down, so then attempted to QSY and lock the frequency, but instead powered down the radio…so apologies for disappearing breifly.
Thanks again to all the chasers - your patience is much appreciated as I fumble around dropping the pencil, microphone and dog biscuits…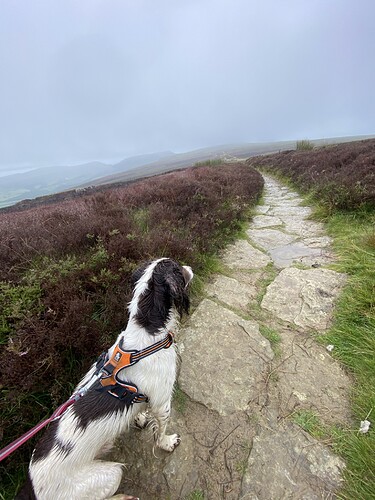 (Woody ready for home)
73 Paul