Well, my earlier measurements were made at 12v supply - typical of what I would use when activating.
The RF output is greater with a higher voltage, but still rather low.
The 30m QCX will tune a few Mhz each side of the band, so I decided to do a frequency run, and plot the RF output at 200KHz intervals, from 8 to 11 MHz.
I did this with a 13.8V supply, using the built in power meter connected to the output, and with a good 50 ohm dummy load. The result is shown below.
Interestingly, it suggests that the low pass filter is cutting off a bit sharply at 10MHz, but also that taking a turn or two off each toroid and shifting the response higher might well increase the output at 10MHz.
I guess there is more to this than simply the filter frequency response, as I think class E amplifiers are quite fussy about the reactance of the load presented to them, but without a lot more reading up, I'm not qualified to comment!
Anyway, I think there is probably no hard fault with my unit, just a bit of tweaking to do…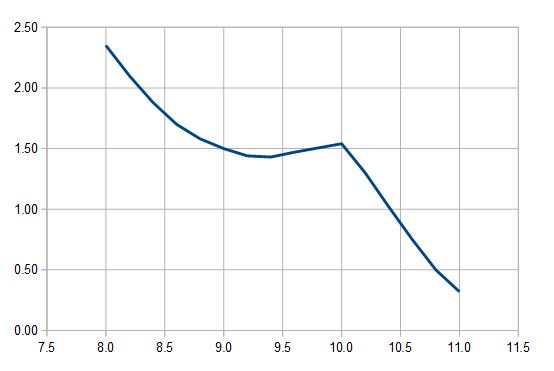 73
Adrian
G4AZS