On 1st April 2016 we celebrate five years of SOTA program in Portugal.

So, we invite all amateur radio operators to take part in those celebrations named National SOTA Day 2016, which will take place on April 2, 2016 (Saturday).
The essence of the celebrations is to have multiple summit activations all over the country on this day.
The activity aims to promote the SOTA program and allow sensitize the amateur radio community for this kind of healthy and funny activity.
Although there are certificates to the participants (activators and chasers), the National SOAT Day - 2016, as well as the SOTA program, it's not a contest.
It will be a "SOTA party on-the-air" and therefore all amateur radio operators are invited.
All Portuguese clubs were invited to join the activity.
All amateur radio operators who are Activators are specially invited and encouraged to bring other hams or prospective hams for activation, enabling others to experience a SOTA activation.
It is suggested that the activations should be made :
• From 09.00 and 18.30 (local time) on April 2, 2016;
• Using their own call sign (/ p);
• Using the simplest possible equipment (QRP in most cases, including portable radios V / UHF);
• In SOTA summits with the highest possible score:
• In the amateur's radio operator area;
or
• In any CT/CU/CT3 summit.
The KISS concept (simplicity, simplicity, simplicity …) will be used throughout the activity: The only rule is to comply with SOTA rules and having fun!
As explained before, there will be certificates to the participants who activate a summit (by SOTA rules) or have a QSO with one activator/summit on that day (chasers or SWL). Other than that, they should send photos or videos of their SOTA activity to CTsotaday@gmail.com
This will be a great opportunity to chasers abroad Portugal.

Please feel free to ask any questions to the above email.
In behalf of National SOTA day organization
Vy 73
Pedro, CT1DBS/CU3HF
National SOTA day 2016 logo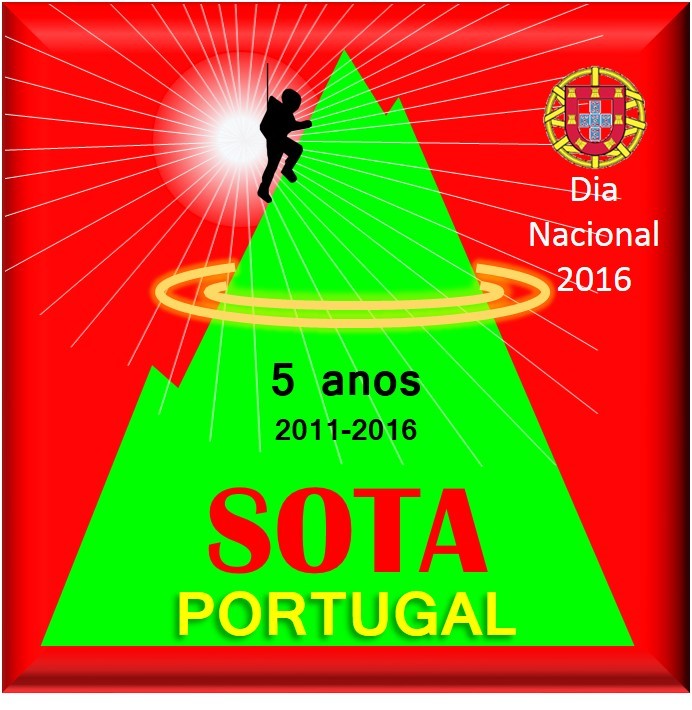 Activator certificate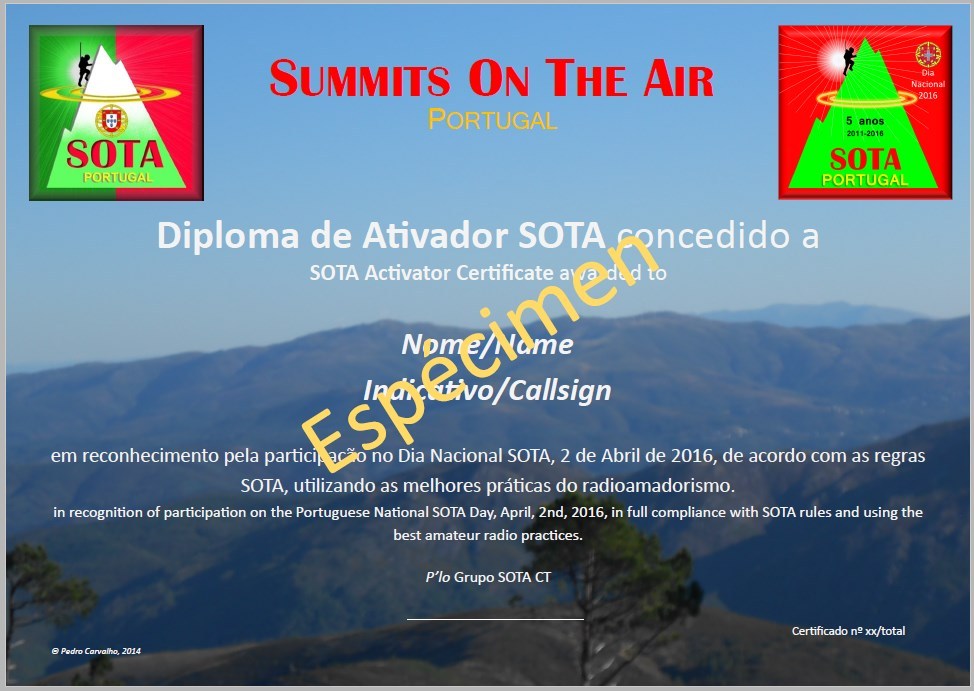 Chaser certificate