Sorry for the off-topic post - at least it's about antennas.
Can't really say I enjoyed watching this one.
Rick
In reply to M0RCP:
Thanks Rick - wished I hadn't watched that, but for some reason I couldn't look away. The muscles in my legs now seem to have locked up! Hopefully they will have recovered before my next activation.
73, Gerald G4OIG
In reply to M0RCP:
It was good, unfortunately the page now says:
This video is no longer available due to a copyright claim by TheOnLineEngineer.org.
In reply to G8TMV:
That's all right Colin. Every forum about radio in the whole world contains a slightly different link to one of the many copies of this video now doing the rounds. As does my email inbox. I think I had 11 mails with the link in it!
If thou seekest then verily ye shall find a copy on YouTube.
Andy
MM0FMF
After Going up the side of a 50ft antenna mast in a cherry picker and taking it down section by section for a local repeater group then to be faced with wind and rain while up there i dont think i shall be attempting one of that height lol
the worrying factor was they were climbing that with next to no safety gear one slip and thats the end of that
73
Matt M3WDS
In reply to M3WDS:
I have climbed masts to 500ft for work but nothing even remotely as scary as the one on the video. I would be surprised if climbing like that was even legal here. All the masts I climbed had Railock fall-arrest systems.
My tallest was:
http://www.picturesofengland.com/img/L/1096780.jpg
73
Richard
G3CWI
PS Getting down is easier: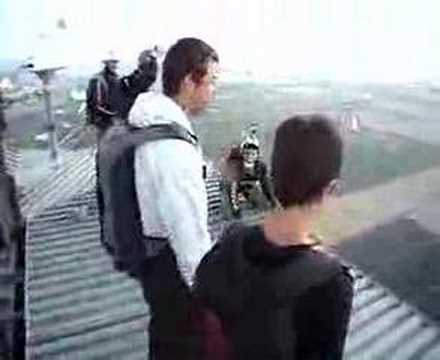 In reply to M3WDS:
I don't know if it is any comfort, but falls of any height above a certain value lead to the same size of crater, due to a balance between air resistance and gravity. This means that on a longer drop you have more time to work out what you did wrong!
On a more serious note, look at his ladder technique, four points of attachment, one point moves at a time in a rhythmic manner, this is equally good technique whether you are ascending a ladder or a rocky scramble on a Marilyn!
73
Brian G8ADD
In reply to M0RCP:
Just felt sick watching it… Whatever money they get paid they deserve it - and more !!!
Keith.
In reply to M0RCP:
Just felt sick watching it… Whatever money they get paid they deserve it - and more !!!
Keith.