Hi Brian
That's not a bad idea. I'm within the safe OFCOM separation distance here to my neighbours using the RSGB Spreadsheet on the 20m to 6m bands at 450 watts CW from the TX up to 6m and at 150 watts on 4m. On the 2m band where I have 50 watts into a 7 element Yagi I am also well within the OFCOM separation distance. I don't have more power than that on 2m but I also calculated that if I ran 400 watts and did not include a -3 dB sidelobe loss I would likely be in breach of the OFCOM separation distance to one neighbours bedroom. Whether OFCOM accept sidelobe loss is unclear at this stage, although the RSGB include it in their spreadsheet and the author of the spreadsheet tells me when I enquired that -3 dB is the minimum attenuation that could be entered.
On bands below 20m I need to perform near field calculations I believe, so as you are doing, I plan to wait until the pre-calculated spreadsheet or some other tools provided by the RSGB are finalised.
Andy is right about my vexatious neighbours, who could have been likened to a lynching party when I faced up to them at a Town Council planning meeting last year! They weren't impressed when my planning application for a Hexbeam was passed unanimously at an online virtual District Council planning meeting a few weeks later. I feel the only way OFCOM are likely to investigate EMF safe limits on amateur radio stations is when they have to because of complaints from neighbours trying to get aerials or masts removed from amateurs gardens and houses.
I don't see anything to fear from this extra burden of regulation on activators, although we may be asked to display this sign a safe distance from the antenna.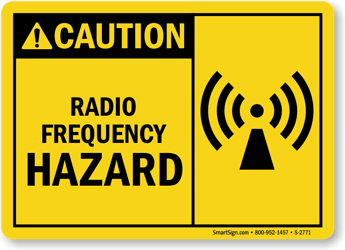 73 Phil