Thanks all chaser for calling me today from F/AM-614.Condx were not so good!
May be tomorrow it will be better.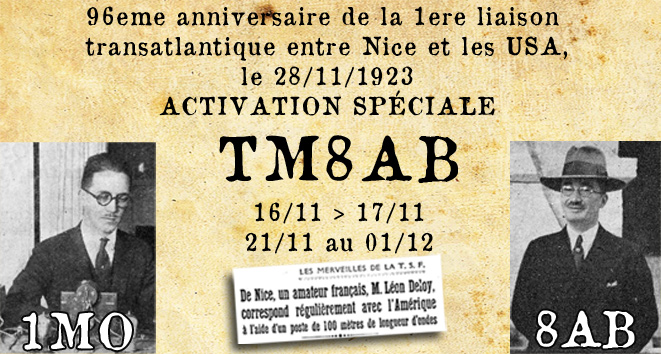 Thanks for qso. Good signal.
73, Tonnie de PA9CW
Hi Gerald,
I tried to copy you today without success. I hope to copy and chase you tomorrow.
73,
Guru
Hi Gérald
Yours signals were better with the second antenna


Tks for QSO
73 Éric F5JKK
Because of the wind and a problem with the antenna tuner, i swap
the End Fed+ Balun, for the inverted V dipole!
Yes i think that the dipole is better than the LW.
In the next activations i'll use a 1/54 balun + 1/2 wave end fed.
Cu tomorrow from summit.
Gerald F6HBI
Nice to make the contact today. Good luck tomorrow I'll be listening. 73 Mike 2E0ESY
Nice to work you S2S and the other chasers ;-))
73 Chris
Merci pour le QSO ! a très bientôt pour de nouvelles aventures !
Hello some chaser had uploaded TM8AB/P
The right call used is without the /P so you may take off the /P if you want to get the "*"
73 Gerald
Oops, guilty as charged your Honour. I was in Automatic logging mode, whereas I should have been in American logging mode.

Many thanks for the QSO es 73,
Gerald G4OIG
The "*" was discontinued.
The "*" was discontinued.
What a shame!