Here is "the rest of the story" regarding my activation of W7A/CO-094, North Star Peak, and my abandoned activation of W7A/CO-092, Forest Hill, on Wednesday Dec. 6, 2017.
For the past few weeks I have been dealing with trying to come to peace with the fact that my parents are not likely to be alive much longer. I don't know if it's called "grief" before they are gone, but that's what it seems like. There are now situations arising almost daily with their health, lots of ER visits, and my Dad has been referred into hospice. They live in Houston so that's why I made a trip there over Thanksgiving, during which I made 6 SOTA activations in New Mexico and Texas.
My parents raised me to be a lover of the outdoors - I spent more time outside than inside growing up, we camped frequently, and took long cross-country trips. My Mom was a wildlife artist and we often looked for animals and scenery for her to paint. I don't think I stayed in a hotel until I was 19 and no plane flights until I was 20; driving places and enjoying fresh air was a way of life. When I decided to travel to Houston, I planned the trip to include numerous hikes and stops at national and state parks along the way, all the time reflecting on my parents and life in general. When I arrived in Houston, they enjoyed seeing photos of my trip there and we talked about times they had spent in those same places. It was an important time that I'll never forget. On the way home, my final stop was Rock Hound State Park where our family camped 47 years ago. I felt at peace; I know my love of the outdoors is a legacy that my parents wanted to leave with me, and I felt that they are pleased with the paths I have taken in life.
This week, when I realized my work schedule would allow me to take Wednesday off, I did a range search on SOTA Mapping Project to identify candidates for a good hike. North Star Peak and Forest Hill came up and looked to be good ones. They are near each other and on maps it appears that a ring of ridges surrounds a natural "bowl" between them. I used several resources to plan out a hiking route, including Google Earth and MapMyHike. I found what appeared to be a possible loop route that would circle around and allow me to activate both peaks, and saved it into a .gpx file which I then saved onto my GPS. This is a remote area so I felt like I really needed a detail plan to avoid getting lost out there. With printed maps as backup, a spare battery for the GPS, and my radio, I felt safe enough. My planned route was not the shortest possible, but appeared to be the cleanest route with gradual climbs instead of steep and rocky.
I knew it was a very ambitious plan to activate both North Star and Forest Hill in a single day - it was going to be at least 10 miles of bushwhacking. That's why I didn't post a separate alert for Forest Hill. I figured if I got to North Star and knew I couldn't go further, I could turn back and make it about a 6-mile hike. I did make it to North Star, which was challenging but not crazy hard, and kept my activation there very short in order to give plenty of time to continue the route. It was beautiful up there, and in hindsight I wish I had just stayed longer, made more contacts, and hiked out the same way I came in. But I was having fun, and wanted to head onward and activate Forest Hill.
On leaving North Star, I immediately found myself in very difficult terrain. It was filled with large boulders, cliffs, and heavy growth. There were chest-high thorn bushes. And the descent was perhaps the steepest I have ever experienced. At times I found myself growing concerned for safety; this is a hard place to be in during a hike, because once you are feeling unsafe it causes you to lose confidence, and it may feel too late to turn back. I dropped 1,070 feet in about 0.8 miles, which includes lots of zig-zagging to limit the steepness. But if was certainly not safe. At one point, I was sideways on the hill and my right foot slipped downward, taking my body along with it; unfortunately my left foot twisted the wrong way, I heard a loud "crack", and thought for sure I had snapped my ankle. It throbbed with pain but I had to continue. A while later, my left foot slipped in a similar situation; my whole body slammed hard against rock, my side cried out in pain, and I thought that I had either bruised or cracked a rib. Both of these events caused me to stop, assess, and decide I could move onward. But by the time I reached the bottom of the hill, I was feeling very concerned because the ascent to Forest Hill appeared to be more of the same type of dangerous terrain. At this point I had already been hiking for over 5 hours, plus the time spent on the first activation, so I was feeling weary and sore. The thorns had turned my hands into a mess of scratches and blood, but fortunately I was wearing jeans and snake gaitors so my legs had only received a few scrapes.
I checked my watch and realized I had less than 4 hours until sunset. Given that the descent had taken me close to two hours, I knew that pushing on to reach Forest Hill would be a huge mistake. I'm certain I could have reached it, but I'm also certain I would not have made it out by dark. So, I decided to abort. Although it sounds like an easy, obvious choice, when you are in the middle of it and have already invested so much effort, it's not so easy. You find yourself trying to justify going on with the plan. "I have a flashlight"; "maybe it will get easier"; "I've got enough water"; etc., etc. By the way, at this point, my ankle and rib were not in terrible pain. I think the endorphins were working their magic and limiting that.
I knew that the valley between these two peaks would lead me back out to the dirt road, so I could start heading down along it. There is a wash to follow. It's mostly a gradual downward hike out, although it's about 4 more miles of hiking. And the valley is one of the most boulder-strewn fields I have ever hiked in. Working my way through it wasn't easy, but at least it did not have the crazy steep factor involved. Desert "washes" are basically riverbeds and sometimes they flow incredibly strong with water. Fortunately it was mostly dry with little chance of a flash flood on this day. I did reach waterfall drops about 6 or 7 times long my hike, where the wash suddently dropped 20 - 40 feet into a small pool below. When I reached those points, I had to turn back and find a route around. There were many, many animal tracks around these pools - wildlife always seems to know where the water sources are!
An interesting side note was that as I hiked out, I looked up to see some of the ridges that I had originally planned to use to as part of my planned route down from Forest Hill. They looked far worse that what appeared on Google Earth! I've learned that the images from Google Earth are based on low-resolution satellite imagery and have often been "smoothed", making them appear to be far easier for bushwhacking that they really are.
When I finally made it out, the sun had set behind the Rincon mountain range, and I was hiking in early twilight. I still had another mile plus to hike down the dirt road to reach my vehicle. I finished up just before true darkness set in, much to my relief. My total hike for the day was just under 10 miles, and it took just about 10 hours total.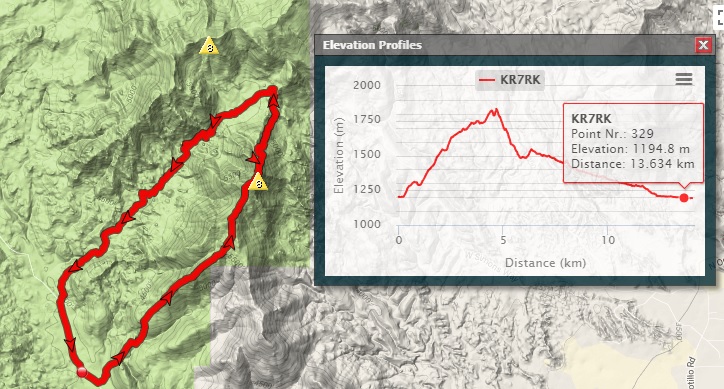 Will I return to take on Forest Hill another day? Yes, I hope to. But I don't think it will be part of a double activation day, and I think I'll review my route plans and attempt to identify a better approach.
And my injuries? My ankle is swollen but I think it's just a sprain and I'm able to walk on it. As a runner I've had plenty of ankle injuries and I know it will heal up before long. As for the rib, there's still quite a lot of pain but this, too, is an injury I've experienced before and I'm confident it won't keep me down. Time marches on, and time has a tendency to heal and bring acceptance of the things in life that happen to us all. Certainly I learned a bit and will be more cautious about hiking in the future, especially on bushwhack routes. And once again, I was reminded how incredibly blessed we are to have places like this available to explore and enjoy, and how thankful I am to my parents for teaching me that.