After two big storms, strong winds and terrible rains, the forecast for today looked good, sunny and not windy. This was optimistic. Or wrong depending how much Christmas cheer remains in you.
It's still dark here at 830am and by 930 it did look like a good day. However, breakfast and playing with the dog took some time. The dog is a rescue home Staffie-Whippet cross we have on a dog-share basis. Both Mrs. FMF and my son (in his own home now) wanted a dog but not full time. So we have a dog-share where typically we have her at weekends and he has her during the week. Playing with the dog is a euphemism really, she bites and chews my hands and tries to pull them off instead of the toy I hold for her. It was 1030 by the time I left and 1045 by the time masts and walking poles where transferred into the car I was using.
So I received a late Christmas present about 10 miles en route… the DID (driver information display) decided to work. It first failed in June, serious turning off and on of the magic car computers fixed that then it failed just after I got back from Berlin in October. Off to the really good independent Audi garage and 30mins later back in business. It went off the next day.

There's an intermittent connection. It's annoying but I can live with it especially when you see how much it may cost to fix. Sure you can't see the trip miles, outside temp, suggested best gear, MPG etc.but everything else is working. More annoying is all the Audi driver special numbers which you can't check, like how many turns you've made without signalling, how many miles driven without checking any mirrors, how many people you've sliced up leaving the motorway at the absolutely last moment, how many times you've flashed your lights to get someone to move over on the motorway or how many miles you've tailgated on the motorway. There's no point having German sports car and not knowing how much consternation and grief you are causing. Hell if I had to count this stuff by hand I'd have bought a BMW! I was wondering why everyone in Scotland was on the roads and why they were all doing 20mph when it lit up and all the info was there. BONA!
Also I got lost. It's embarrassing needing a GPS and Orux maps to find your way to a summit about 35 miles from home. So at the car parking place, high speed kit up and away. 6C, no wind to speak of and a brilliant blue sky. I've done this route many times so it was autopilot to the decision point at the foot of Ben Ever (pronounced eeee-ff-er). It looked hellishly muddy so I took the long route along the track then up to Ben Buck thence Ben Cleuch. Adds a few km but you climb the next 350m much more gently. As I came out of the shelter of the glen I'd walked in the wind hit me. Holly Molly, where did that come from? Well it felt like it came from Siberia. Very strong, so strong you can't even think as you walk and very cold. The ground was like blancmange with lots of very wet snow patches. Absolutely awful. I struggled in the wind and the clouds rolled in turning a bright day into [word that rhymes with bright] day

Also it came to dawn on me that I was far too late in starting this, by the time I got to the top I'd have 45mins tops for operating.
The WX at the summit was epic and not in a good way. A couple of cms of standing water, soft wet earth and lots of snow patches. Then there was the wind, I could hardly stand. I have a good idea what it must be like in an open top plan now. I sat down with the noisiest 4 person family I have ever come across. I had a Toffee Crisp whilst they fought over who had the wrong gloves on, why it was cold, and generally just made a dismal summit experience worse… They left and I decided I really could not be bothered it such awful WX (not like the forecast) to setup for 30mins. There is nowhere to hide from the wind here. I decided to call Ken GM0AXY who lives in Edinburgh and is LOS. 145.500 on and a few calls and someone came back. But it wasn't Ken but Robin. OK so we had a nice S2S, Robin was having difficulties raising anyone. Me, well I had at least one QSO to log. But then Robin told me he was on Cairn Liath ES-020 up Braemar way. And that ladies and gentlemen was my second unexpected Christmas present as it let me complete ES-020. So what, a complete? Well ES-020 is for deletion but I wanted to activate it before I deleted it and I did that last September but I didn't expect to get the complete though. Robin did say he may activate it around Christmas and there he was. So that summit was a complete for me and Robin with both us being the participants of both QSOs. BONA again as my friends Julian and Sandy would say! I had a quick QSO with Jason MM3HQC who couldn't hear Robin and I was off.
The wind was worse on the way out and I'd forgotten how damned steep the descent to the col with Ben Ever is. Not fun when very wet and snowy in places. I ground my up to the top of Ben Ever and then down and back to the track. Of course by the time I'd dropped down 350m the cloud broke up, the sun came out and the wind dropped. Typical. But you know I don't care I didn't get any activator points. I had a much needed 11.3km walk with 725m ascent, important after Christmas eating and no exercise since Friday. And, yes and I completed ES-020 and Robin completed ES-020 and now I can delete it and put its neighbour on and do it all over again. And, the DID is still working. I nearly drove off the M9 playing with the features I'd been missing for 2 months.
Here's the view on the way in… looks great after the WX of the last days.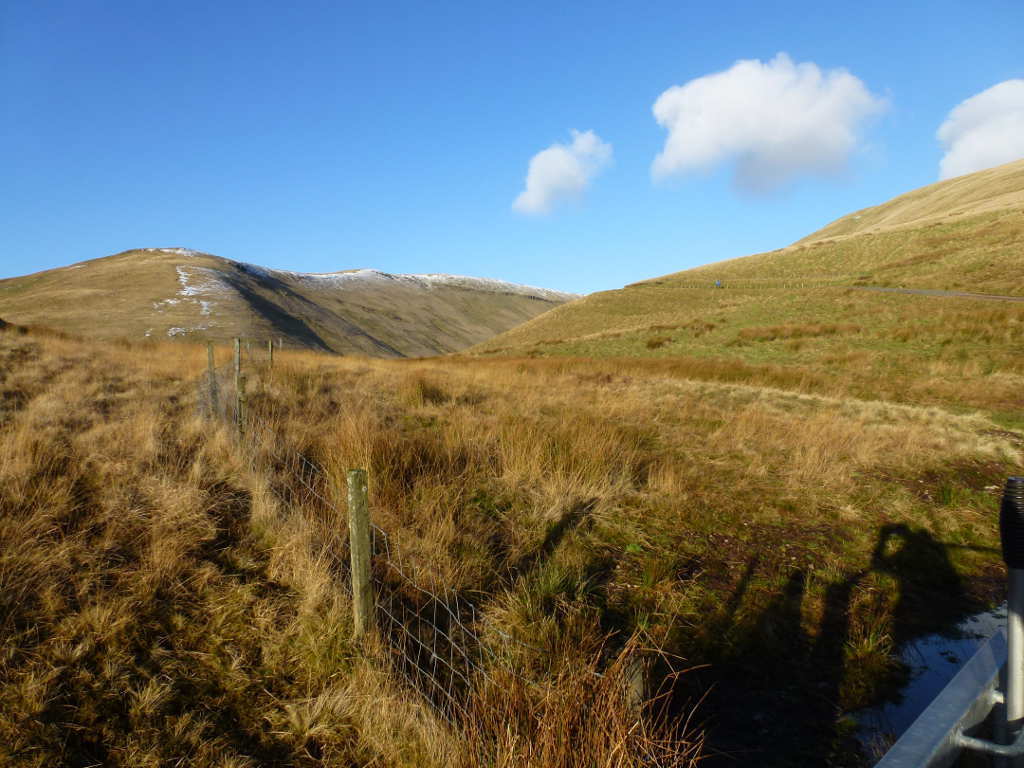 And here's what it was like just before dropping down to the town Alva where the car was parked.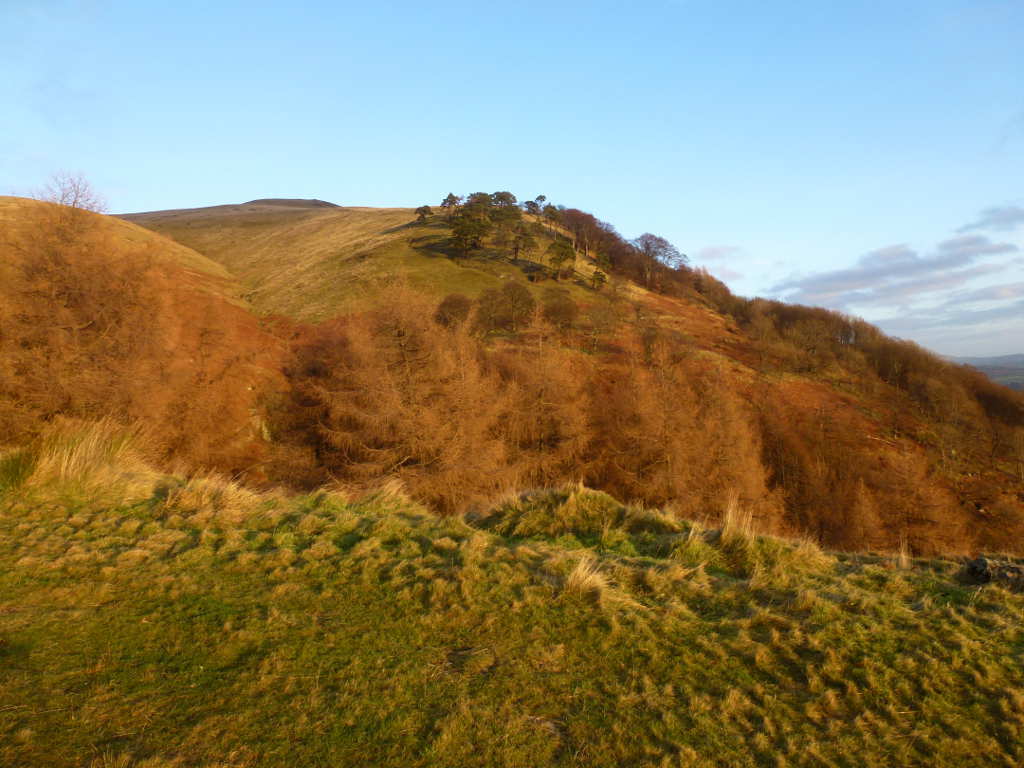 And here is the fastest dog on earth, she runs so fast there is a sonic boom as she passes. Yes, she is wearing a "Shocking Pink" fleece for a dog, don't ask why. Just keep your fingers away from the mouth!