This was my Alert:

This is the location of this summit w.r.t. my QTH:

This is the GPS track I followed from the Col of Gorostieta located 45Km North from my QTH in Pamplona:

The hike was about 4Km long with an elevation gain of slighly over 225m.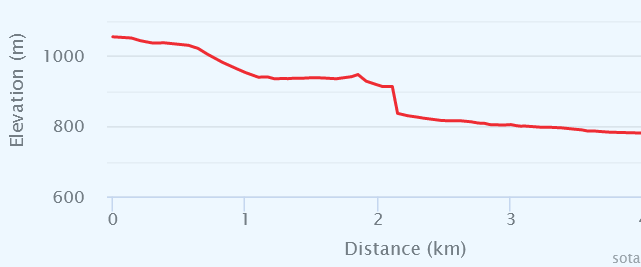 I parked in the nice picnic area at the Col of Gorostieta and started the hike by about 8h10 utc:

The first part was along a mountain dirt road which I could have perfectly driven with my car, but I fancied a nice walk through the forest.

After a while, the mountain dirt road ended. The track and views changed to this:

And this a while further:

The final part is on a nice, soft grassy surface. In this picture, the summit became finally visible:

I reached the summit at 9h25 utc:

I prepared my setup as usual:

But once I had everything connected, I found that my FT-817ND rig didn't switch ON.
Without a multimeter and tools, all I could do is double checking the connectors from my LiFePo4 battery to my SOTAkit and also the power connector at the back of my rig.
Nothing produce any response and my rig remained OFF at all times.
It's very surprising because I activated SOTA just 2 days ago and everything worked fine. I'll investigate later and will update you with my findings.
I knew the Leurtza dam should be down there but it wasn't possible to see it from the summit because of the forest, so I moved to the secondary summit pointed with the red arrow in the following picture:

And it was slightly visible from this other summit:

The views from this secondary summit were even nicer than from the principal one.

SOTA wasn't possible for me today but I had a very nice time in the mountains with a perfect weather.
I hope to find and solve the problem soon.
73,
Guru