This is all assuming I do not do anything stupid during the next 60 days to put myself on the sidelines:; Some know I love a good challenge, I also like to escape during my birthday so in May I am off to do the West Highland Way. I hear the midges are most tolerable and weather most pleasant during this time of the year and it looks like Scotland is having a low snow year

(Same as here in the Sierras).
I am not planning on just the 96 miles of the Way though, I will also be activating SOTA as I go. There are close to 20 peaks, but I am going after 13-15 of them and will put in approximately 145 miles. Landing in Glasgow near the beginning of May, and not leaving till the 17th so I should have plenty of time to make it up to Fort William unless I get a little too lost with this dynamic duo at Glengoyne…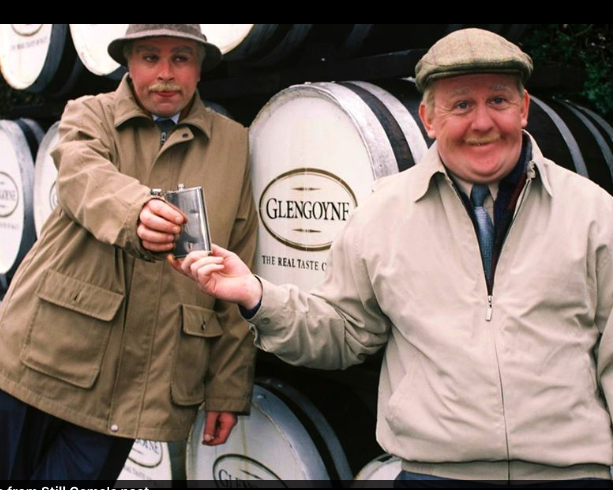 "Filtered thru the heather" (yes this is one yank that loves Jack and Victor, even saw them at the Hydro last fall).
My goal will be to do 2m as much as possible just to cut down on summit time, but I will have my lightweight HF setup along for the ride (MTR3b and Kimmer-tenna) just in case.
My full plan as it sits now is up on my blog (n6jfd.net) but here is the condensed version:
Day 1: to Drymen (no SOTA), stop at Glengoyne and pick up something for the trail.
Day 2: to Rowardennan, Conic Hill
Day 3: Stay In Rowardennan: Ben Lomond
Day 4: Walk to Crainlairich (no SOTA)
Day 5: GM/SS-001, GM/SS-002 and stay in Crainlarich (one of those added miles side trips)
Day 6: Walk to Tyndrum and bag GM/CS-050
Day 7: Off to Bridge of Orchy and GM/CS-008, maybe GM/CS-025
Day 8: Move up to Glencoe Mountain Resort
Day 9: Those two peaks above GMR… (staying here one more night)
Day 10: Move into the hills North of Kinlochleven, and this is where things are most up in the air. I will probably be up in this zone for 2-3 days.
My goal is to leave the Way and head up into the open country and work my way over towards Ben Nevis then walk out to Fort William. Technically I am leaving the Way for this. I would like to get all 7 of the SOTA summits that are in this zone. First night in proximity to Sgor an Iubhair so I can pick up GM/WS-058, GM/WS-020 and GM/WS-037, Move over towards the saddle between GM/WS-002 and GM/WS-003 picking up GM/WS-069 on the way, and then walk out bagging Ben Nevis last.
Some of you I have talked to as part of the planning process as well. Thanks for all the info you provided. I'll start posting alerts onto sotawatch in April once things get closer. Oh and I am MORE than happy to meet up with folks either at the pub or on the peak!
73 de N6JFD