by Paul, Mx/HB9DST/p
In my efforts to add to my list of activated associations, during October I took a 2-week trip to add another six, bringing my new total to 37. I knew full well that autumn weather in the UK and Ireland could be tricky. A good way to describe the weather I experienced is this: I never needed my sunglasses, but I also never needed my rain pants. And while the first week had on and off rain (amazing: sunny skies one minute, pouring rain half an hour later, sunny skies again, rain again, and this all day long), the second week turned out to be much nicer.
At this point I would like to extend my thanks to all those SOTA activators and chasers in the UK and Ireland who kindly provided assistance during my planning stages; that early planning proved invaluable in being able to largely meet my goal. I also thank those chasers who gave me a QSO (or many QSOs) during my trip.
As for equipment, I used my brand new KX2 that my partner Marge had "imported" for me from the US in her luggage. For an antenna, I had a 6 meter fiberglass mast and an LNR 40/20/10 meter end-fed antenna that the KX2 easily loaded on 30 meters. Logging was done by hand, and only on several occasions did I feel it was necessary to use my Write-in-the-Rain waterproof paper. In all our flights, neither of us had any special trouble with the radios at security, although my fiberglass mast got some extended looks.
In selecting summits, I chose those that would be relatively easy to activate – no matter what the weather – knowing that in some cases I might never get to this association again. So in each case I looked for at least one drive-up summit or one with a relatively easy hike. In addition, for each association I identified a primary target and a backup summit.
The trip started in Newcastle, where my partner has some friends whom we visited in Allendale. We didn't do a SOTA with them, but we did visit Hadrian's Wall and the brewery that is a 5-minute walk from their cottage. We then headed north towards Edinburgh, and on the way I activated G/SB-009 (Ros Castle). Once you find the parking lot, it's just a short hike. Despite recent rain we didn't have to deal with too much mud, but it was uncomfortably windy that day. After that summit, we then continued on our route and got our first activation in Scotland, GM/SS-244 (Belling Hill). It's a pretty nondescript hill, but I did get my second association checked off in one day.
We spent two nights in Edinburgh, and we were close enough to GM/SS-272 (Arthur's Seat) that we could walk directly from our hotel to the summit in about an hour's time. This summit directly overlooks the city with great views. The morning had been rainy, but the clouds started breaking up in the afternoon, so we had plenty of company on the summit. Following advice from other activators, I got advance written permission from the Ranger Service at Historic Environment Scotland. However, no rangers stopped by to ask what I was doing. The actual summit is cramped, rocky and full of visitors, so I dropped down a bit where it was less crowded and I found a post to which I could lash my mast.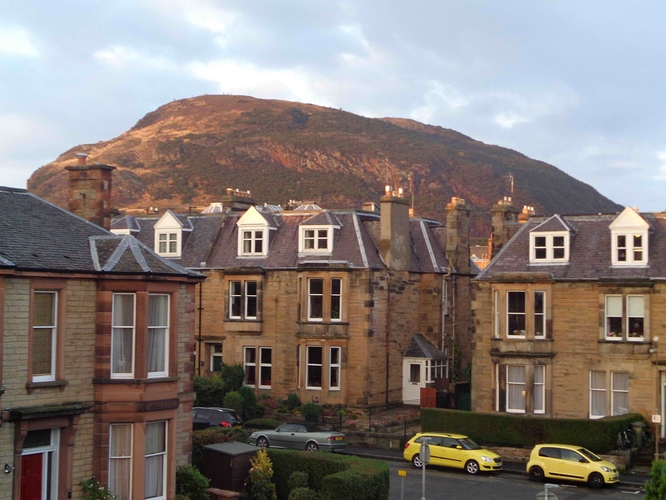 The view to Arthur's Seat GM/SS-272 from our hotel window in Edinburgh.
From Scotland our schedule next took us into Wales. While driving to our hotel in Caernarfon we first stopped at GW/NW-070 (Great Orme) in the late afternoon for a quick activation and checking off another association. There was plenty of room in the parking lot, and I walked up to the highest point in just 3 minutes. The views were great, but it was starting to get dark, and we wanted to navigate to our guest house while there was still some daylight so that led to a short activation. It was a good thing we did activate a GW summit at Great Orme, because the next day took us on the train ride up to Snowden – and circumstances with train schedules so that we had only a short stay on the summit along with the very windy and foggy weather made it impractical to operate from there (this was the only spot where I had planned an activation but did not pull it off).
Next off to the Isle of Man (GD). I would never otherwise have had a reason to travel here – and my partner was not even aware there was an island between the UK and Ireland, knowing only about the Channel Islands – but this was a highlight of the trip. The place is so relaxed in the off-season, the people were extraordinarly friendly and chatty everywhere, we were able to take buses and trains to all our summits (3-day travel pass for 30 euros) and not deal with a car. Because of limited ferry schedules in the off-season, we flew from Liverpool to the island. This plane held about 100 people and felt relatively safe in the high winds. Luckily two days later the weather was perfect when we took a 15-passenger plane from the island to Belfast.
On the day of our arrival, we still had time to take the bus to the southern tip of the island so I could activate GD/GD-005 Mull Hill. It was extremely windy, so much so that my partner opted to wait in a local pub in the town of Port Erin while I hiked up for the activation. On the summit it was even windier than in the harbor, and at times I had to lean into the wind to stay on my feet. Luckily, this spot has several military pill boxes you can walk into, so I set my antenna pole next to one and found welcome shelter in the concrete structure.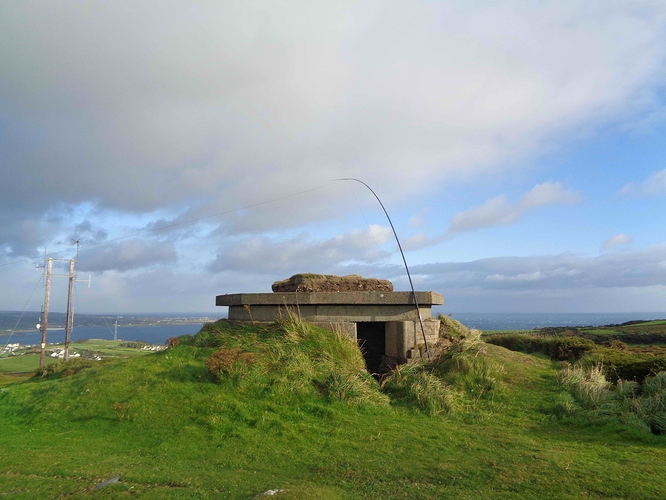 A convenient "shack" on Mull Hill GD/GD-005 on the Isle of Man to protect me from the extremely strong wind.
The next day we took the Snaefell Mountain Railway up to the summit station, where it's a 3-minute hike to the trig point. I moved down a bit to stay away from the crowd. When I started operating the summit was enshrouded entirely by fog (Manannán's Cloak), but during the course of the next hour there were moments when I could peek through the clouds and see the coastline and ocean.
The next day we flew to Belfast, and on the way from the airport to our hotel we stopped at GI/AH-004 (Divis), a hill which overlooks the city. It took about 45 minutes to hike from a large parking lot over mostly paved service roads to the summit. We then spent the night in the university section and found that during our entire trip we got the best "bang for our buck" and our best meal in Belfast.
The next morning we fought the city traffic and made our way to Dublin. Just as we did in Belfast, here too we stopped on the way to our hotel at a summit overlooking the city, this time EI/IE-072 (Ben of Howth). The weather was cooperating better, so we had some wonderful views of the nearby island named Ireland's Eye. The following day was devoted to sightseeing in downtown Dublin.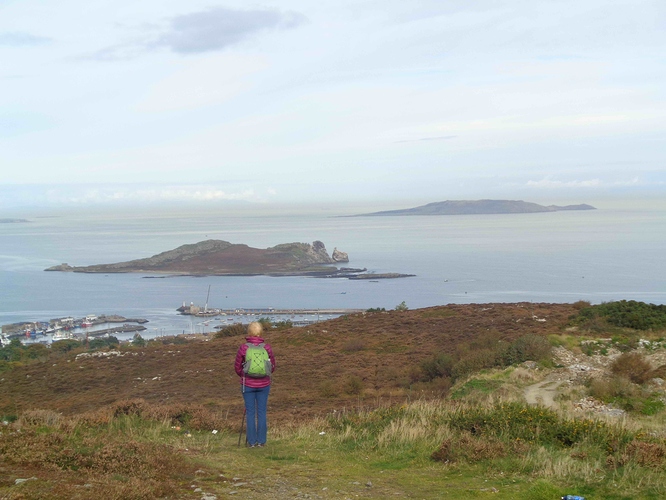 Marge enjoying the view from EI/IE-072 Ben of Howth, near Dublin, looking at Ireland's Eye.
On Sunday Marge flew back to Boston, but I stayed on several extra days to explore southern Ireland, which I had heard so much about over the years. I was going to be staying at Kinsale, a seaside village south of Cork, and on the way I activated EI/IS-065 (Slievereagh). When doing my research for the trip, I discovered that there are a number of summits in southern Ireland that have never been activated, so I chose two reasonably near to Cork and got first activations at EI/IS-103 (Coolsnaghtig) and EI/IS-120 (Currane Hill). Neither was terribly difficult, it seems as if there are not that many Irish SOTA activators quite yet. It's always a treat to be a first activator – and especially in a new country.
On my final full day, I was to drive from Kinsale to Drogheda, a small town north of Dublin where I would have good access to the airport the next morning. En route I did my final activation of the trip, this one at EI/IW-070 (Woodcock Hill). My hotel in Drogheda was particulary charming: the Scholars Townhouse is a former boarding school. My room was quite unusual: it had a 4-poster bed and stained glass windows. Best of all, it was quite affordable by Irish standards.
All in all, a pleasant trip. I got lucky with the weather (no activations in pouring rain) and even got two first activations. SOTA once again brought me to places I would likely never have seen before. What a great hobby!!