I've been wanting to go portable for a while now and finally decided to go. I also wanted to do SOTA, and combined the two. Detling Hill, G/SE-013 is very close to me, around 4-5 miles away so that became my destination.
The drive there was good, no traffic which was even better as Detling Hill can get very busy at times. Parked up and got everything I needed out (I took way too much, so that's a lesson for next time).
From the car park, it was around a 5 minute walk to the SOTA point. I arrived just after 9am local time and it was already quite warm. I found the trig point and the view was really good.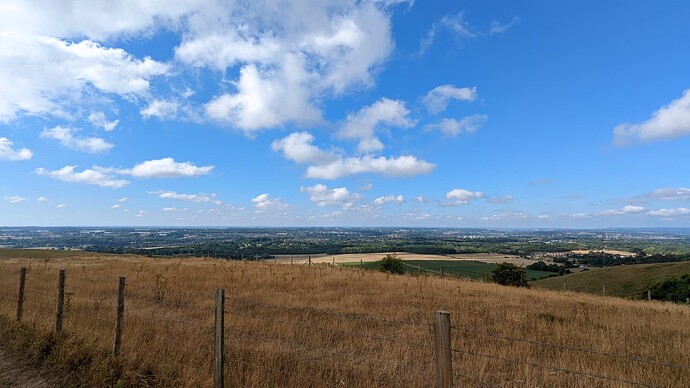 Next thing I had to do was set everything up. I had the Yaesu FT-891 and FC-50 ATU (more about that later) and my Yaesu FT3DE handheld beaconing on APRS which was reliably heard by my own digipeater MB7UQI. The antenna I set up was a simple wire going up a pole and sloping down with a 9:1 unun. Not sure how long the wire was, but it seemed to work fine for 60m, 40m, 20m and 15m. As I hinted at, there was more to mention with the tuner. Somehow the middle pin of the tuner cable had bent and wouldn't work. I had to do the entire SOTA activation with no ATU, which was fine as luckily the SWR was reasonable. When set up, it looked something like this: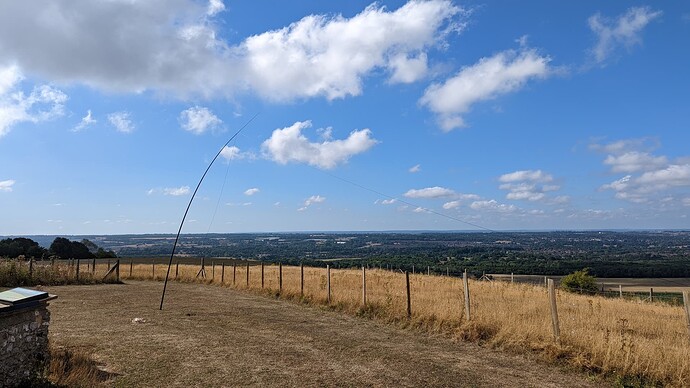 It's a bit hard to see in the photo, but there's the wire sloping from the pole and a 10m counterpoise wire on the grass.
I had my laptop with me for logging, using a program called "HAMRS". No CAT control for the frequency but that wasn't too much of an issue. Running around 10-15 watts out, calling CQ from the call M0LKW/P. Managed to get a total of 10 QSOs on HF, 9 on 40m, 1 on 20m. Stations were giving mixed reports, anywhere from 58 to 33. That could've been down to the low power, no ATU and also potentially poor band conditions.
I had many people ask me what I was doing, and everyone seemed interested. I switched over to 2m on a 3 element yagi but didn't have much luck there. The handheld was going wild with APRS packets, thankfully I had it on APRS Mute.
My favourite contact of the day was a Scottish maritime mobile station. Don't think I've ever worked a /MM station on SSB, so that was a first.
I had to end the trip earlier than I wanted as it was getting quite hot and I didn't have enough water to last that long.
I've learned a few things from the trip. Firstly, I need to take much less with me. I brought a lot of unnecessary things which made it much more awkward. Secondly, I think going on a weekend rather than a weekday may get me more QSOs. Also, bring a lot more water. I had enough, but not enough to stay much longer. I now need to replace the ATU cable that broke for next time and that should let me get some more bands. I will keep the laptop for logging. It's a little bit more weight but made for a much easier logging experience in my opinion.
Well, that was my time at G/SE-013, Detling Hill. Thanks for reading and 73s.