We have just been spending some days with our caravan in Shropshire in the UK, and it seemed an ideal time to try activating a summit.
The summit I chose is G/WB-005 - Pole Bank on the Long Mynd near Church Stretton. The car park is about 0.5km from the summit, and about 40m below. Not such a challenge to get up (I hear you say!), but for a first activation to check out equipment and procedures, it's enough!
I am using a recently purchased new-to-me KX3, and an EFHW antenna in inverted V format on a 7m pole. I used a carbon fibre stake to support the pole, but this will change in the future to guy lines. I wouldn't like to have to carry the pole up a big hill, and I suspect it will be difficult to hammer it on more rugged summits.
First challenge was spotting myself. I have been using sotawatch on my desktop computer, and while I had setup and logged into sotawatch on Outd Log on my phone, when I entered the spot details it informed me that the spot was unsuccessful, but without an error message. I then went to sotawatch on firefox on my phone, but had some challenges with the password and username. Eventually I got in, and entered the spot. I then received an error - saying the frequency was invalid and needed to be entered as MHz. This was probably the reason I had failed with outd log in the first place.
After successfully placing the spot, I started making contacts - 5 in quick succession! Thanks guys! After it quietened down, I spent some more time calling CQ, then moved to 40m. I spotted the new frequency (this time on outd log), and made a further 2 QSOs.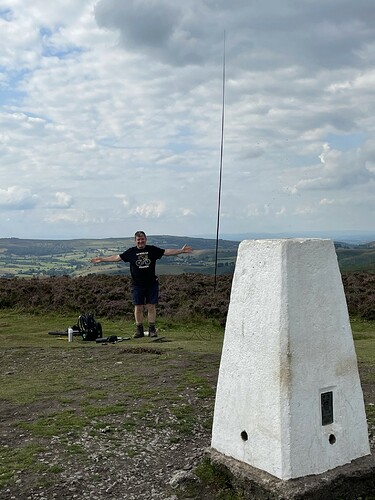 So, happy with the first go at activating a summit, and now I will review my equipment and start to activate some of the summits local to my home in North Wales.
I do have a couple of questions from this activity:
On returning home, I entered the contacts into my QRZ.COM log, and then exported this with a view to importing it into the SOTA database. However, when it summarised the information for me to confirm before uploading the file, it didn't have the summit reference field filled in. Is it possible to use QRZ.com logs to create ADIF files for import into the SOTA database, and if so, where do I enter the summit information? This time, I entered the 7 QSO's manually.
I will try using the outd log for logging next time. I guess these can be uploaded without any issues?
Thanks again to all the chasers, and to those responsible for the infrastructure for SOTA activities.