A stream of consciousness and nonsense moved from the Baofeng UV5 thread.
I think Andy FMF is offering to buy any unwanted BaoFengs

I was… I bought a new MTB specifically to start knocking off the summits which are too far to walk, climb, SOTArate, descend, walk out.
I have a whole host of them but anything with 3km walk in or more is a target for bike induced trauma. Mullwharcher by Jack's route is 12km over forest tracks. The blue route is the 12.5km ride in from Craigencallie House and the green route is the climb proper.
12.5km is about 3hrs walk not factoring in leg and boot issues. Plus 12.5km back. Bike induced trauma is the only way!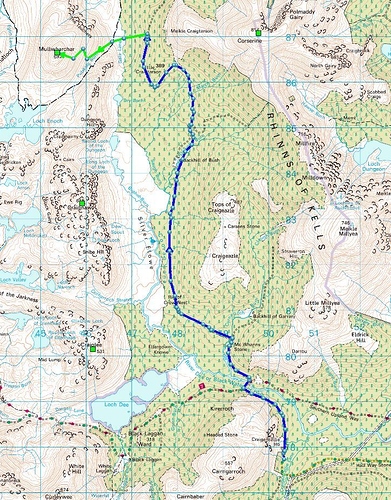 The only reason I can see him doing that is to rid them from the poor souls that use them. ~5x BaoFengs buys you an FT60e !
We use one at G6UW, so that when someone is outside the shack in the car park, you can send a CTSS tone on 70cms. The BeoFeng triggers and turns on the lights allowing a safe passage to the shack in the Winter

Ouch Andy ! How many points is that ?
2! It's a proper hard nut's hill.
Bike ride:
12.5km length, 285m ascent, 157m descent.
Summit walk
2.4km length, 404m ascent, 61m descent.
Hmmm, I have a bike rack and an MTB. Might be worth a punt. Not sure whether Paul fancies biking it though even if we can get him a steed…Oh, I'll be sure to take my Baofeng with me in case I get lost.

Let's move these replies to a better thread…
Motor Torpedo Boats? Scotland seems a lot wetter than I remember!

I fully endorse using mountain and trail bikes to cut down on long approaches. It's worked quite well for me in VE7, most recently on the first activation of Cypress Peak (full report), where long trips up gravel resource roads will reduce both legs and low clearance vehicles to rubble. In particular I found it quite useful on long descents where I could get some speed and cut a few hours off the total trip time. They're also a lot of fun, don't forget to bring a helmet!
That's a fine photo John of not only your trusty "stead" but some great looking countryside.
I have done an activation by bike a long time ago and decided it was time to start doing many more bike activations. I looked at the old and worn components on my 1996 vintage bike and decided a new one would not really cost too much more than updating and fixing the old one. So I have moved right up to the latest MTB fashions with hydraulic disc brakes, 27.5wheels, 1x11 gears and dropper post. Sadly they did not have bottom upgrades available and mine did feel a little weary after getting back in the saddle after 5+ years!
I did think the new one rode well and was very slick but I was remembering how my old bike felt with bent wheels and worn gears/dérailleurs. It's nice to ride something that changes gear when you click the shifters without having to go fishing about for a gear and also something that stops too. I'll post pictures of it on an activation soon.
What's the bike make and model?
Diamondback Heist 2.0 2017
Thanks, Andy! Believe it or not that picture was taken less than 20km from downtown Vancouver during last years SOTA Cycling Week event, and the summit in the background wasn't even the one I was aiming for that day! One of the nice things about SOTA in VE7/GV (Greater Vancouver) is being able to cover the tri-cities area on 2m/70cm. I've had a couple of contacts with amateurs riding their bikes around the city listening on the local calling frequency.
I recommend bike shorts for longer rides to cyclists of all ages, they really take the edge off. The 27.5" wheels really are a great balance between uphill climbing and downhill maneuverability, I'm quite happy with mine. I upgraded to a tubeless setup at the end of last summer and I'm glad I did.
It's a Norco Sight 7.1 (2015), stock except for an upgrade to tubeless tires. It's a trail bike, so it's designed to have good downhill performance while still being able to climb hills thanks to the suspension lockouts. I love this thing, but if you find yourself in a position to pick up a Rocky Mountain Altitude 750 then you should jump on it and never look back.
Interesting John. Why tubeless? I use Kevlar reinforced tyres with inner tubes which dramatically reduced the number of punctures. Though I still get them but it's more down to wear & tear on the inner tube.
73
Jack(;>J
It's to do with when you ride over really rough terrain as opposed to tracks/trails. You can avoid more tube pinch punctures with tubeless. Well that's the theory.
Andy isn't wrong, there's no chance of pinching the tube because there isn't one. Mostly the benefit is in the way that the tire (or tyre) will deflate if it's punctured. Tubeless setups have a small amount of liquid sealant poured into them before they're inflated that coats the inside of the tire and will partially seal small punctures. It's not enough to avoid replacing or patching the tire, but for reasonably small punctures you should be able to keep riding for a few hours to get you back to your car/home/bike shop. If you rip out the sidewall on a rock then you're screwed no matter what kind of tires you're riding. They're also a bit lighter, but I only really notice it on long or steep climbs. For longer rides I'll pack a spare tube and tools anyway just to be safe, which I'd do with a regular tire setup so there's still a small weight savings.
Great Bike Andy 650b wheels with 1 by 11 you should be able to find a gear there to spin and some nice suspension for the down hill bit . Next your manual and bunny hop skills will be as good as your cw skills.
I had tubeless on my Jamis and wore out the tyres and never got a flat, plus you can run slightly lower tyre pressures to make for better tyre grip if you wish. Check out the boys at GMBN they will fill you with all the good information.
take care 73
Ian vk5cz
Bunny hops? At my age?
I did discover just how much "stop" hydraulic disc brakes have on a steepish downhill section with a pair of hairpin bends over a stream. I pulled, the bike stopped, the FMF continued! I did grab hard on the bars and managed to hit the post dropper by mistake, my body dropped a good 8in down and I didn't go over the bars. But I then looked like a clown on a child's bike at a circus.