Being on my own with my family out away in Galicia (NorthWest corner of Spain) and having a beautiful weather, I decided that I would go activate today after work.
I left the office a few minutes after 14h local (12h utc), had lunch in a nearby restaurant and headed right away to my target, which is a nice mountain full of windpower generators, therefore, with a dirtroad up to the summit, something very convenient for the afternoon right after having had lunch

I parked very close to the summit and set up a few meters down from the summit cairn in order to get rid of the wind coming from the South.
Here are a couple of pictures of the set up. First one for the endfed antenna installed approximately like an inverted L and second one for a closer look on the equipment.
The rig is a MTR that Ignacio EA2BD has given me a few days ago after he had upgraded his MTR to a newer model. Over the last few days, in the shrot moments I usually have available, I've been preparing antenna and power cables plus connectors, along with a simple CW paddle I've homebrewed with different materials collected from my several junk boxes.
Here is a closer look of the paddle. Ugly but it's cheap (no cost), small, light and it works

The paddle went well albeit I made some mistakes from time to time due to needing to get used to it, given its poor design and construction standards. My apologies for that.
The MTR went fantastic, although I must say that it's an eardrums killer when receiving strong signals due to not having a volume knob, being its level automatically set by the rig.
Whenever Ignacio EA2BD and Manuel EA2DT -local stations from Pamplona located just about 20 Km from me- were transmitting on my frequency, I felt my eardrums nearly bleeding of pain. That's the worst thing I found in this lightweight little rig. QSYing is also a bit painful in this rig. I guess it's designed to activate on a given frequency without much going to any other frequency.
I got very happy with the log, which included 2 S2S and 6 DX from North America among a total of 19 QSOs logged in almost 2 hours.
After my work with the MTR, I was about to QRT when I finally decided to take my FT-817 out and give SSB a try. Despite Ignacio's kind new spot, I only logged 3 stations on SSB.
During my CW operation with the MTR, I was warned by Ignacio and Manuel about other NorthAmerican activators near my frequency, but after painfully QSYing and looking up, I had to come back to my frequency without having being abe to copy any of them. Conditions were not the best today…
This is today's full log: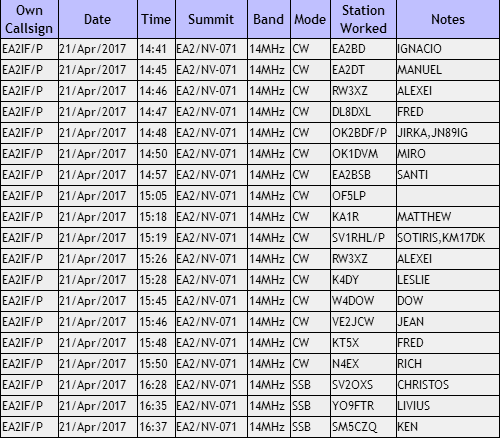 And these are the S2S. Thanks for calling in guys.


Weather wise, the afternoon was absolutely beautiful with just a not too strong wind from the South that I fortunately could get rid of in the operating chosen spot, so I enjoyed my time in the summit and on the air, as well as the views. Let me share with you now some of them:
On my descent I took this picture of a couple nearby summits I've activated in the past. The one in the left, Peña de Untzue or Untzueko Harria EA2/NV-101 has been deleted, so not a SOTA anymore and the one in the right is Peña del Abrigo EA2/NV-117.
I hope you'll enjoy this report.
Thank you very much to all chasers for your calls and QSOs. Special thanks to Manuel EA2DT for telling me about other possible S2S around my frequency and double or triple special thanks to Ignacio EA2BD for the MTR rig he has given me, his several spots today and all the time he spent with me today on the frequency while I was activating. It's been a great pleasure for me.
73,
Guru