A previously non activated summit which is only accessed via farmlands and a rather difficult 4WD track. After parking the car on a small knoll loaded all necessities into a rucksack and walked up a rocky scree slope to the trig point. Made my operating position on a slope just north of the trig.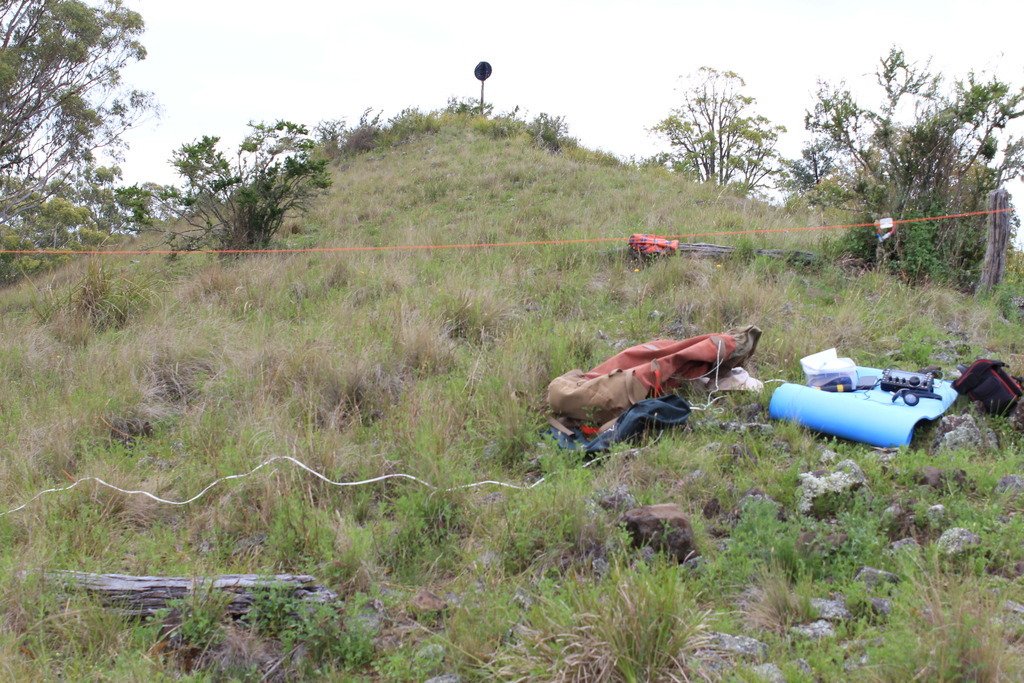 Strung the dipole up between a couple of handy trees and settled myself on a folded up sleeping mat in preparation for a long session.
10 contacts on 40M all VK
6 contacts on 30M all VK
4 contacts on 15M three of which were DX callers.
Interrupted whilst on 15M by the stench of a small herd of feral goats whom had moved in up wind of me.
Had to get up and throw stones at them so they would go somewhere else.
This was annoying as some of the EU callers were very strong and would surely have worked more if it had not been for the stinking goats.
At 0747 moved to 20M and soon had many mostly EU callers. Due to the totally quiet location could hear the hollow sounding long path with quick QSB. Good challenging conditions overall, thanks to OH9XX for the long path spot.
A total of 14 contacts, 12 DX callers and 2 VK's, one VK contact with John VK6NU in W.A which is a long haul.
A cold wind was blowing with condensation settling on everything, was shaking so much with the cold could barely write.
We are supposed to be in summertime at this time of the year.
With such good DX conditions was sorry to have to finish this first time activation.
At about 0820 getting dark with the heavy low cloud closed down barely able to move after being crouched on a folded up sleeping mat. Packed everything up and began the walk back to the car by torchlight. A slow walk over rocky ground up over the trig and down the saddle to the knoll where the car was parked. More than pleased to get back to my campsite and light a fire.
Despite the magnificent views of this remote region photography was pretty much a waste of time with haze and low cloud.