After another surely hard working time in Birmingham, Ángel M0HDF and Eva M0HJV came back to Spain for Christmas time with their respective families and we again took advantage of our proximity to organise and carry out a joint activation.
Ángel and Eva would hike with their 2 little kids, 3 years and 9 months old, so I tried to find a not too tough hike for them, to which we would be able to drive and just hike the few final 15 to 20 minutes.
I believed I had found the right target, which was Mt. Peña, pretty close to the nice midaged village of Sos del Rey Católico, birth place of Fernando the former King of the Aragon kingdom, who in 1469 married Queen Isabel of Castilla kingdom, to join both kingdoms together in 1479, thus creating the seed for what later became the kingdom of Spain, once the Arab Caliphate of Cordoba at the South of the Iberian peninsulae was reconquered in 1492 and the kingdom of Navarra, at the North, close to the Pyrenees, was annexed in 1512 by the newly unified kingdom of Spain, ruled by the Catholic King Fernando and the Catholic Queen Isabel.
The following map shows what the Iberian Peninsulae was like in 1469 and what it happened in the coming few decades: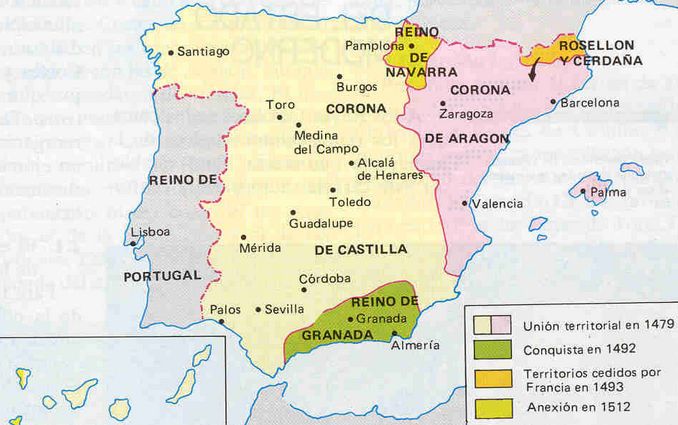 Ángel and Eva drove NorthWest from Zaragoza city, which is Ángel's birth place, and they did the longest journey, while I drove about 70 Km SouthEast from my QTH to the foot of Mt. Peña.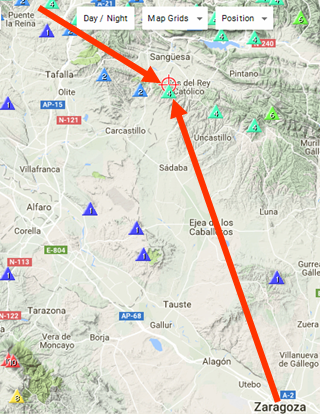 I had studied the access on the maps and satellite images and we were supposed to drive on 4x4 about 4 or 5 Km on a mountain dirt road before starting our final hike to the summit, but we got stucked by the presence of a black big solid steel gate with a clear sign forbidding the access to unauthorised people.
After talking to some people we found around in the area, some of them were hunters, we learnt that it's private land and we needed permit from the land owner to drive across that black door. It's not a problem to access on foot but vehicles are not allowed unless expressely authorised.
We immediately understood we would never have such permit in time for our activation and the 4 Km plus the final hike struck us as a bit too much for the available time we had and Ángel & Eva carrying their 2 little kids, so we quickly changed target, as I recalled having seen another 4 pointer not far from this and still near the town of Sos del Rey Católico, which we wanted to visit afterwards.
The new target was Mt Selva EA2/NV-066, which you can see as the next 4 pointer to the East in the map I showed you before. It's located in the vicinity of the village of Petilla de Aragón, which is an isle of Navarra territory inside the province of Zaragoza.
I phoned Santi EA2BSB because he had activated these 2 summit not too long ago for the first time and I was sure he would be able to give us good advise. He informed me that there is a windmill farm in that mountain and the area with a service track to get to the very trig point by car. That was very good news!
We had a 4x4 vehicle with us, so it was very quick and straight forward to get to the top, thanks to Ángel's summits database on his smartphone with the GPS coordinates of Mt. Selva summit and his great 4x4 car.
It was foggy and nearly freezing down in the valley but we found a beautiful warm sunny day up in the summit. We didn't like the too short trig point cylinder to attach our fishing poles to, so we descended a few meters to a very convenient flat area with a wooden post and a steel one, which were very helpful for us to attach out fishing poles.
Ángel set up his linked dipole and I did the same with my multiband endfed antenna.
The views were great with the not very snowed Pyrenees mountains righ in front of us and the cloud sea covering the valleys to the South.
Despite all these windmills all around and really close to us, we were very lucky with WX and we had not any trace of wind so they were all still all the time during the activation so not QRM from them.
However, during my operation on 30m, I had some difficulties due to bad QRM from Ángel operating on 20m, as we were too close one each other. Ángel told me he had no issues on 20m with my operation on 30m, which means that his monoband dipole + MTR rig had better selectivity than my multiband endfed + FT-817.
Ángel (left) and Guru (right).
The magestic mountain far in the distance looking like an island in the clouds sea is the 10 pointer Mt. Moncayo EA2/ZG-001:
We didn't have the time to work as many bands and modes as wished and initially planned because we were supposed to meet my family later in the village of Sos del Rey Católico. I only worked 30m and a very few contacts on 40m CW. Apologies to the phone chasers. This is the log:
I believe Ángel worked 20m CW and 2m FM, while Eva qualified the summit on 2m FM only.
After the operation we packed up and took some pictures like these:
Then we descended and met my wife and kids at Sos del Rey Católico village, where we had a quick lunch and visited the nice village. Don't miss it if you are some time around.
Thanks for the calls and QSOs dear chasers. We'll be looking forward to copying you again soon from another summit.
Best 73,
Guru