Over this week, I've been unable to find the cord I use for my dog Lucho when we go out to the mountain and after having searched in all the possible places, I thought that I may have forgotten it in the summit of Mt. Seanbe when I activated it last Sunday.
I thought about getting back there today in order to see if it was still there but, before just doing so, I had a look for some possible SOTA in the area of Mt Seanbe and I found two.
After some search, I found there are GPS tracks available on Wikiloc for all three and the amazing good thing is that all of them had a common Way-point which is exactly where I parked my car last Sunday to go activate Seanbe.
My family left yesterday to Madrid, as the kids have a holiday for Carnival on Monday and Tuesday, so I got alone with just our dog and some other pets we have (a bird, a fish and a hamster). It was just the perfect chance for me to try a multiple activation of those 2 mountains in the area of Mt. Seanbe, so I dowloaded last night all three tracks into my GPS and I then raised the alerts for Mt. Begana EA2/NV-175 and Mt Ireber EA2/NV-058. I had no intention to activate Mt. Seanbe because I had done it last Sunday and I only wanted to go there to see if the dog cord I may have forgotten was still there.
For some reason the SOTA mapping is not charging the map onto my PC now, so here I put a map I've got from Wikiloc showing a GPS track, which is not the one I followed today by shows you perfectly the location of the three SOTA summits I visited today.

When I parked at the point marked by the red arrow in the above image, I left my rucksack with all my radio gear in the car and I only took my Baofeng HH, just in case. I followed the same GPS track of last Sunday and it was again a short and easy ascent. As soon as I got to the summit of Seanbe, I searched around and found the cord I had placed of a rock right to the left of the spot where I was operating last Sunday. That was a good start and made me smile.
I called on 2m and Jorge EA2LU replied right away. We exchanged reports and we laughed commenting the good luck of finding the dog's cord there.
After this first QSO, 3 more local friends called in as they wanted their 4 points. I didn't have a paper with me but it was easy to remember just 4 QSO with local friends. Later, once I was home, they informed me about the utc time of our 2m FM QSOs.
I finally left Mt. Seanbe and headed to the car to pick up my rucksack and the fishing pole to go actívate, after quite a long and at times very muddy hike, the next summit, Mt. Begana.
This is the track I followed: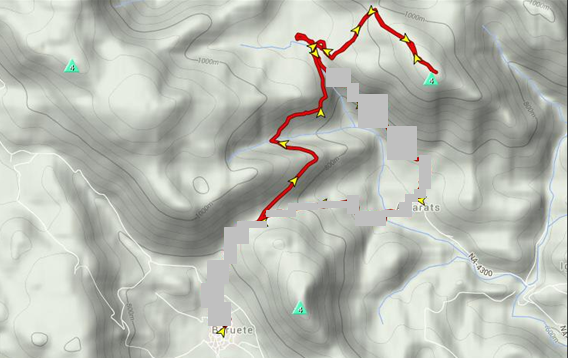 See a couple of pictures I took during the ascent for you to have an idea of how these mountains look like:

When I was approaching the summit from the North side of the mountain, a very thin layer of snow covered the ground, but the summit was luckily clean. It was cold and windy but clear of snow.

On top of my 7m long fishing pole, I hang, as a sloper, a new antenna which has been home brewed and gifted to me by Ignacio EA2BD. It's an endfed wire antenna with a 9:1 un-un current transformer.
It performed very well on 30m, 10m and 20m with 79 QSOs in the log.
After 2 unsuccesful attempts to go QRT due to chasers still calling and myself not willing to leave any one without their SOTA points, I finally could go QRT on the 3rd attempt.
I packed up and headed to my next targetted summit. Mt. Ireber EA2/NV-058.
This is the GPS track I followed: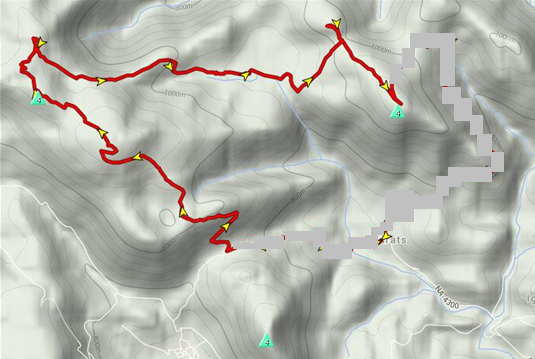 When I was approaching the summit I realised that the sun was getting low and I would not have much time to actívate, as I didn't have a frontlight and I didn't want to descent an unknown mountain in the dark.
As soon as I got to the rocky summit of this mountain, I got delighted with the breathtaking views:

I hang the endfed wire from the top of the fishing pole and quickly tied the pole to the metal rocket post seen in the picture above.
I worked a few chaser on 2m FM while I was preparing the HF antenna. Jorge EA2LU was one of these and he informed me that he was copying Rich N4EX with very strong signals on 10m CW and he was waiting for me on 28.062
As soon as I got on the air on 28.062, Jorge EA2LU chased me, followed by Manuel EA2DT. I sent some more CQ calls but I found not a trace of Rich N4EX. Shame…
Then, I QSYed to 20m SSB, where I worked 18 chasers at a fast pace because I didn't want to hold too long in the Summit due to the late time.
When no more chasers called in, I packet up quickly and started descent at a fast pace with 23 QSOs in the log of this activation


Finally, I got safe and sound to the car at about 17h25 with still some daylight.
A perfect SOTA day with 3 activations and 14 activator points in my bag

Thank you all very much and I'll be looking forward to QSO with you again soon.
Have a nice week.
Best 73 de Guru