After all week with fog in the morning and evening and low clouds covering the sky all day, I was expecting about the same for today but we've been pleased with a beautiful sunny and warm day.
I did the hike in 34 minutes today. Started at 10h05 utc and reached the operating spot at 10h39.
After putting some warmer clothing and my SOTA hat to prevent my sweaty body and head from getting cold in the summit breeze, I set up my usual monoband mobile whip on top of a nearly 1.25m long PVC tube tied to a nearly 1.25m tall wooden pole, with a wire radial sloping down towards the North-NorthEast.
I started CQing on 14.062 and the skimmers picked me up immediately so KU6J raised a spot for me by 10h47.
Roy G4SSH was the first one calling in and many others followed building up an interesting pile up.
I picked up and worked one by one all of the stations calling and by 11h07 utc, the work was done and nobody else called me.
This 20 minutes operation produced a total of 23 QSOs.
This is the log: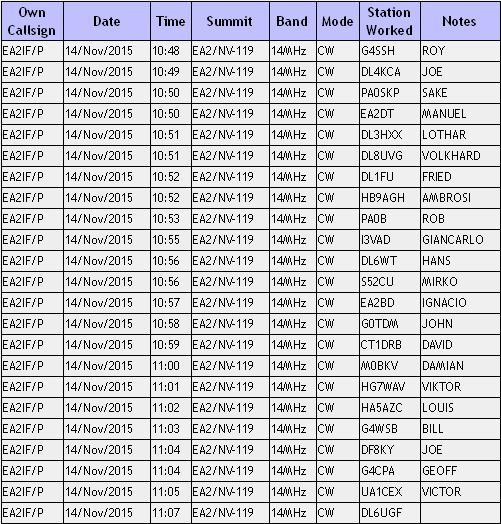 Thanks dear chasers for another great time on the air. It was fun dealing with the pile up and very nice exchanging reports and greetings with you all again.
Best 73 de Guru