The weather forecast for today was for some rain showers and it was raining when I woke up this morning at 7h00 utc. I had to leave home anyway by 8h30 to take my 6 years old son to the rock climbing training place (my daughters, 11 and 13, don't want it anymore) so I took my SOTA kit just in case the rain stop and let me do the activation.
During the 25Km journey from home to the mountain base, the sky looked thickly grey and the tops of all the mountains higher than 1000 meters around Pamplona were wrapped with thick threatening grey clouds, but it didn't rain for the time being and the top of my targetted summit (less than 1000m a.s.l.) was clear without those thick clouds wrapping all the other nearby higher summits, so I decided to go for my 49th SOTA activation of Mt. San Cristóbal EA2/NV-119.
I followed the usual steep route from the old village of Berrio-zahar, with a height difference of about 400m:

I felt very small drops of water falling on me at the beginning of the hike, probably from the misty atmosphere we had, but it held without properly rainning.
During the ascent, I wrongly had the feel that I was hiking slower than in previous ascents, but this was clearly not the case, as it took me again 35 minutes to get to the summit.
It was not cold but very cloudy and windy at the summit, so I put some clothing on as soon as I got to the top in order to avoid getting cold while being sitting on the ground during the activation.
I quickly installed the 20m monoband mobile whip antenna with one single wire radial sloping down with its end slightly elevated about half a meter above the ground.
I had activated on CW most of the last times, so I was going to do it on SSB today, in order to give the phone-only chasers the chance to chase me from this summit after quite a long time not doing so, but, when I was just about to start, a big group of noisy teenagers with their monitor showed up into the summit.
I know I tend to shout out loud to the microphone when I activate QRP on SSB because I want to maximize the power put out of my modulation, so I decided to put the microphone back to the rucksack and take the paddle instead to avoid disturbing the group with my loud shouting.
I guessed RBNHole was working, so I sent a CQ call on 14.062 without having sent a SMS selfspot. John ON4RT immediately answered and I've seen now that RBNHole wasn't apparently working at that time, but John OZ4RT raised a spot for me right after our QSO. Thank you very much!
I had a nice pileup and managed to log 19 QSOs in 20 minutes, 2 of which were S2S.
Thank you very much Marko OH9XX and Bernd DL2DXA for your calls and S2S QSOs at the very end of my activation.
The propagation was a bit unstable with heavy QSB from time to time providing short and long skips at the same time. I got the call from my friend Alfonso EA4CWN with very strong signals from Toledo, just 500 Km South of me, and I also got QSOs with hams in areas as far up North as OH and SM along with other less distant places ranging from OZ, DL, G, PA, ON to the North and HB, OE to the NorthEast.
In the middle of the pile-up, there are usually so many stations calling at the same time, ones on top of the others, that it's sometimes just impossible for the activator to copy a single full callsing, so, I sometimes copy just a part of a callsing and I come back to him/her sending just the part of the callsign I've been able to copy, adding ??? for the rest of the callsign I haven' been able to copy in the hope that the chaser will copy my questionmarks (?) and he/she'll come back to me completing the full callsign for me to copy it right.
This was the case this morning when I just copied FSL in the middle of the pile up and I came back to him saying ??FSL. When he came back to me, he said the full callsign but 2 other chasers called on top of him at the same time, so I only managed to copy the number 5 and the suffix but I missed the preffix. I came back to him sending ??5FSL PSE UR CALL, PSE UR PREFFIX, but he never came back. Only other impatient chasers kept calling when they shouldn't have to. Thanks to these impatient chasers, I didn't manage to copy the preffix of ??5FSL, but, after having checked my SOTA logbook, I'm pretty sure now that he was Franz OE5FSL, so I've decided to log him and I'll check the "WHO CHASED ME" in a few days in order to see whether Franz logged our QSO or not.
This is the full log of today's: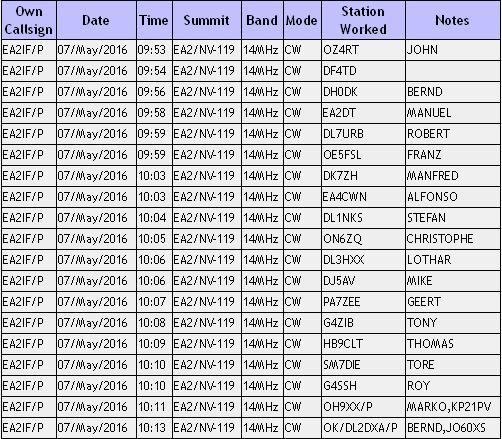 .
And this is the S2S log:

Ascent plus descent took me 59 minutes, during which I burnt 36g of fat and 713 Kcal at an average heart beat rate of 143 BPM, with maximum of 168 BPM.
During descent, when I was nearly getting down to the the car, the very cloudy sky even opened some cracks letting a little sunshine pass through, which was very welcome!
This was the look of the mountain and the sky when I was starting my drive back home after having picked up my son. Everything is beautifully green in these days. I love spring time.

Thank you dear chasers for your calls and QSOs and I hope I'll be able to activate again tomorrow, despite the bad weather forecasted.
Best 73 de Guru