On my way from Madrid to Pamplona, the highway passes by a very tempting drive-on 6 pointer summit. I activated it last December and I've done it again today.

From the following GPS point: Lat 41.106788 Long -2.444831, there is a very rough dirt road which I could pass without any problem with my car in December and again with the hired car I was driving today.
There are many wind power generators in the area so there are dirt roads and all I had to do was driving the right one up to the very top on the Mt. Ministra, park by the generators and walk about 70 meters to the trig point.
I installed the endfed antenna as you'll see in this picture and sat on a rock in a slight shade under the small tree you'll see near the trig point.

This are the views from the top:

In this one you'll see the blue roof of the hire car I had parked by the dirt road.
The temperature in Madrid was 33° C. Too high for me. But it was a nicer (25° C) in the summit.
However it felt warm enough in the sun and that's why I looked for the little shade that tiny tree near the trig point was able to provide.
I got in touch through whatsapp with my close friends first and offered them the 1st contacts on 40m before raising any spot, but only Jorge EA2LU could make it. The others were busy away from the shack at that time. Shame…
So I QSYed to 20m CW and started the party. 24 QSOs in the log in 27 minutes, including a S2S with Jan OK2PDT/P from OK/VY-053. Thanks again, Jan, for a new S2S. The only DX of the day came this time on 20m CW and it was Bob AC1Z.
After CW I moved to SSB, still on 20m and I logged 11 QSOs in 14 minutes.
My butt was starting to tell me that he didn't like the rock I was sitting on, but even though I decided to QSY to 17m CW once there were no more callers on 20m SSB.
17m CW produced 10 QSOs in 11 minutes and this included a new S2S QSO with Jan OK2PDT/P.
When 17m got quiet, I QSYed back to 40m and contacted my close friends through whatsapp again in case they wanted to try now. I only received the very weak with QSB call of Alfonso EA4CWN but he didn't copy my reply at all, so NIL = Not In Log.

Well, I still had quite a long drive home, so I packed up and continued the journey.
Everything went fine on the road and I got home safe and sound with 6 more activator points in my bag and a good satisfaction feel after having given 6 chaser points to many.
I logged 46 QSOs in total. Thanks for your calls and QSOs.
See the full log: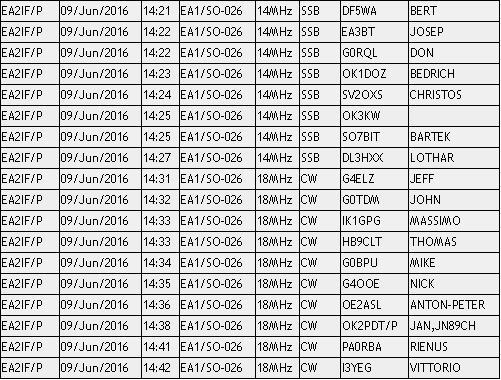 And the S2S log:



Best 73,
Guru