I activated Mt. Lagoa EA1/CR-034 in the morning because it's close to our vacation QTH in Ferrol and also because I wanted to make S2S with Ignacio EA2BD, who was going to activate in EA1/BU area.
I installed the antenna a bit differently. Instead of the usual sloper configuration, I made a L with the endfed wire.
The endfed wire made 7m in vertical hanging from the top of my telescopic fishing pole and about 3m in horizontal to the blue PVC tube in my trypod, where I was operating and the counterpose wire was not elevated but laid on ground this time.
Unless other activations, in which I usually start on 20m CW or 30m, this one started on 40m CW in order to be able to S2S with Ignacio EA2BD.
After a first S2S with F6FTB/P activating F/MC-249, I had a second S2S four minutes later with Ignacio EA2BD/P activating EA1/BU-069.
I logged a total of 6 QSOs on 40m CW, 2 of which were S2S.
After QSY, my next stop was 20m CW, where I logged 11 QSOs in 17 minutes with one being S2S.
19 QSOs were logged on 20m SSB, 2 of which were S2S and one a DX with the USA (W1OW).
When there were not more chasers, I QSYed and went to 17m, where I found a very lively band with strong signals, but I decided not to CQ and QSYed to even higher frequencies.
The next step was 10m because I had seen on Sotawatch a couple of spots for an activator on 10m CW and other on 10m SSB.
When I looked up there, I couldn't hear neither the activator nor the chasers, but I did copy several beacons which told me the band conditions were very good, so I started CQing on 28.060
At 11h23 utc I got chased by HB9BHW with strong signals both ways.
I lingered on 10m CW CQing for about 20 minutes, but I couldn't have any other QSO.
At 11h49 utc and after having changed the endfed antenna wire configuration to a sloper, I QSYed back to 20m CW and logged 13 QSOs, 3 of which were S2S and 1 was the second DX USA of the day (N4EX)
I worked very hard to try to make a S2S QSO with Eva HB9FPM/P activating HB/NE-006, but the very bad QSB made Eva copy my callsign wrongly -she copied EA2FF/P- and despite the many, many repeats, I didn't manage to make her understand the correct callsing with the suffix IF instead of FF.
Unfortunately, I can't consider this as a good contact, so I won't log this QSO.
Before descent, I took a couple of pictures of the great view from this summit on this almost perfect weather day and I'll share them with you.
All in all, 48 QSOs in the log, 8 of which were S2S and 2 were DX with the USA.
This is the full log: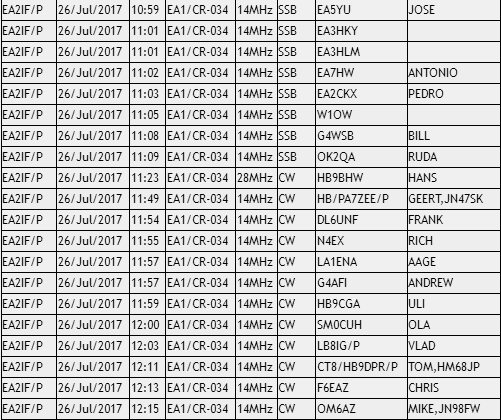 And this is the S2S log:

Thanks dear chasers for your calls and QSOs.
I'll be looking forward to copying you soon from another summit.
Best 73,
Guru