My friends and ex-work mates Susana and Alberto joined me and my family with their respective families for a day in the mountain. We chose Mt. Irulegi, which is an easy mountain very near Pamplona with the remains of what it was an important Mid age castle, which was settled on an oppidum of the Iron Age for the defense of the ancient area of Pamplona.
What a coincidence, in addition to all this, it turned out that Irulegi is also a SOTA summit which I had never activated, so I brought my radio gear…

It rained a little when we left home and again on our way to the meeting point in the small village of Lakidain, but it didn't rain when we met there, so we decided to start the hike with all the kids.
We were 6 adults and 8 children + our dog Lucho, as usual.
During the ascent we got some few drops of rain but nothing too serious and even when we reached the summit some little rain continued.
With that little rain I started my activation on 2m FM with my handheld and soon I collected 5 QSOs in the log.
Shame that José-Luis EB2JU called me and I copied him very well with 55 report. but he didn't copy me despite my moving around the summit extending my arm upwards trying to find an optimal point for him to copy my signal.
After 2m FM I went QRT for a short while just to have a quick lunch with the group while thinking that I might not prepare my HF gear due to the rain and the fact that I had already qualified the summit with those 5 contacts on 2m.
After some few minutes, the rain stopped and it seemed to hold, so I finally decided to set up my 7m fishing pole for a GP antenna with 4 wire radials layed on the ground.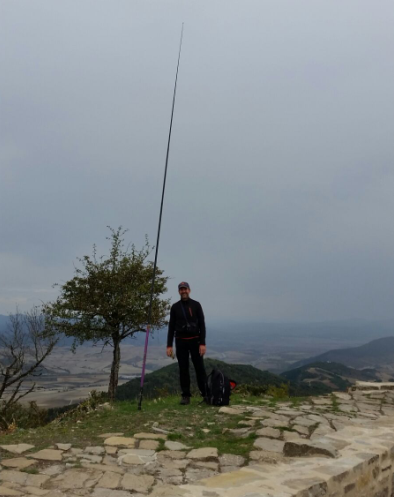 My good friend Ignacio EA2BD was QRV helping me with spotting and my first QSO on 20m SSB was a DX with USA. After this, I logged 10 more QSOs with european stations from Romania, Czeck rep., Austria, Poland, Germany, Slovenia, England, Spain and finally another DX with USA.
I shared my headphones with Nico, my friend Susana's 10 years old son, who sat close to me during the operation while listening and observing everything with attention.
After 20m SSB, I QSYed to 30m CW, where I confess I felt more confortable without having to speak out loud to the microphone, and I logged 17 more QSOs with Wales, England, Switzerland, Germany, Portugal, Poland, The Netherlands, Italy, Slovenia, Austria and Hungary.
All in all 34 QSOs in my log and another nice time on the air.
This is the complete log:


Then we left the summit and had a very good and pleasant descent with no rain at all. In summary, another great time out in the mountain.
Picture of myself with my friends Alberto and Susana at the end of the day when talking about the next outing together. Hopefully very soon.
Thanks a lot dear chasers for your calls and I'll be looking forward to hearing you soon from another summit.
Best 73 de Guru.