I wanted to activate SOTA but I couldn't make it in the morning because I had some few errands to do, so right after lunch I raised an alert for my targetted summit, took my rucksack with the SOTA kit inside, the dog, the car and headed to Mt. Erreniega EA2/NV-092. When I was about half way of the ascent, I found that the road was closed and a security guardian told me that the closure was due to maintenance works in progress on some of the many wind power generators along the ridge. So I turned back and decided to go to another nearby drive-up summit I had activated last June 26th, which is not my favorite one due to the QRM it always has from the close by wind power generators.
>Quería activar SOTA pero no pude hacerlo por la mañana porque tuve unos pocos recados que hacer, así que enseguida después de comer puse una alerta para mi cima objetivo, cogí mi mochila con el kit SOTA dentro, el perro, el coche y me dirigí al Mt. Erreniega EA2/NV-092. Cuando estaba sobre la mitad de la subida, encontré que la carretera estaba cerrada debido a trabajos de mantenimiento en curso en algunos de los muchos aerogeneradores a lo largo de la cresta. Así que di media vuelta y decidí ir a otra cima cercana accesible en coche que ya había activado el pasado 26 de Junio y no es mi favorita debido al QRM que tiene siempre de los cercanos aerogeneradores.
This map shows the whole driving story:
>Éste mapa muestra la historia completa de mi recorrido con el coche.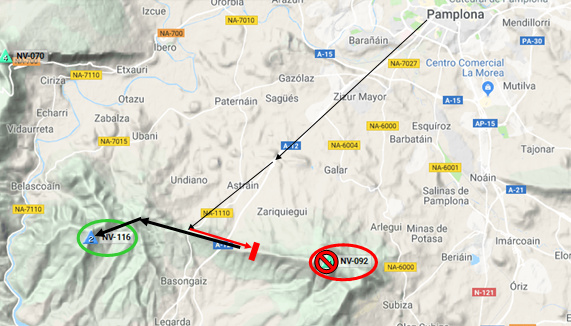 Mt. Iriberri EA2/NV-116 is one of those summits we have with a very tall trig point, so I climbed to its top and installed my 7m long fishing rod as high as I could. From the top end of the fishing rod, a thin 21m long copper wire hang as a sloper to my 9:1 unun and then 6m long of elevated off ground counterpoise wire.
Rig:FT-817ND at 5 watts + MFJ-941B antenna tunner.
Battery: 4200mAh 4S2P LiFePo4.
I took some pictures of this setup but my smartphone has got some problems today and the pics seem to be lost, vanished… Sorry!
>Mt. Iriberri EA2/NV-116 es una de esas cimas que tenemos con un vértice geodésico muy alto, así que trepé hasta arriba e instalé mi caña de pescar de 7m de largo tan alta como pude. Desde el extremo superior, un fino cable de cobre de 21m de largo colgada en pendiente hacia abajo como una sloper hasta mi unun 9:1 y después un cable contraantena de 6m de largo elevado del suelo.
Equipos:FT-817ND a 5 vatios + acoplador de antenas MFJ-941B.
Batería: LiFePo4 4S2P de 4200mAh.
Tomé algunas fotos de mi instalación pero mi teléfono tuvo algunos problemas hoy y las fotos parecen haberse perdido, desvanecido… Lo siento!
My phone was very sluggish and it wasn't doing what I was asking it to do. I was unable to edit my alert in order to inform the new SOTA reference (116 instead of 092). SOTA spotter wasn't working for me either, so I sent a CQ call on 20m and RBNHole picked me up and spotted me with the wrong reference


>Mi teléfono estuvo muy espeso y no hacía lo que le pedía que hiciera. Fui incapaz de editar mi alerta para informar la nueva referencia SOTA (116 en vez de 092). SOTA spotter tampoco me funcionaba, así que envié una llamada CQ en 20m y RBNHole me copió y me anunció con la referencia incorrecta



I kept trying with my 2nd phone, which was also working very slow, not responding to my commands some times, and finally managed to delete my alert. It had taken me so long to do this that I decided not to raise a new alert for the actual reference EA2/NV-116 because it would probably take me ages and my chasers were already waiting for me on the previously spotted frequency.
>Seguí intentándolo con mi 2º teléfono, que también estaba trabajando muy despacio, no respondiendo a mis instrucciones algunas veces, y finalmente conseguí borrar mi alerta. Me había llevado tanto tiempo hacer esto que decidí no poner una nueva alertas para la verdadera referencia EA2/NV-116 porque probablemente me llevaría largo tiempo y mis cazadores estaban ya esperándome en la frecuencia anteriormente anunciada.
Finally, I started working the pile up and informed very carefully of the new SOTA reference EA2/NV-116.
Mario DJ2MX was my 2nd chaser of the day and he kindly spotted me with the correct reference. Thank you!
>Finalmente, empecéa trabajar el pile-up e informé cuidadosamente de la nueva referencia SOTA EA2/NV-116.
Mario DJ2MX fue mi segundo cazador del día y amablemente me anunció con la referencia correcta. Gracias!



Other spots like this one from Mariusz @SP9AMH, which I didn't see during my activation and just found it now when writing this report, showed frustration for not being copied:
>Otros anuncios como este de Mariusz SP9AMH, que no vi durante mi activación y justo he encontrado al escribir este reportaje, mostraron frustración por no ser copiado:


I found this other spot from Mariusz rather annoying:
>Encontré este otro anuncio de Mariusz bastante molesto:


The activation went like this:
20m CW: 21 QSOs in 25 minutes, 2 of which were DX with the U.S.A.

15m CW: 2 QSOs in 3 minutes.

40m SSB: 45 QSOs in 36 minutes.

20m SSB: 2 QSOs in 3 minutes despite several more minutes calling CQ.
>La activación fue así:
20m CW: 21 QSOs en 25 minutos, 2 de los cuales fueron DX con los EE.UU.

15m CW: 2 QSOs en 3 minutos.

40m SSB: 45 QSOs en 36 minutos.

20m SSB: 2 QSOs en 3 minutos a pesar de varios minutos más llamando CQ.
All in all, 70 QSOs.
This is the full log just uploaded through the new SOTA database page.
>En total, 70 QSOs.
Éste es el log completo recién cargado a través de la nueva página de base de datos SOTA.

You can see it on the map:
>Pueden verlo en el mapa:
Dear Mariusz
@SP9AMH
: take a look, please, to the full log with 70 QSOs.
Don't you think I was actually using my receptor?
Don't you know that, whenever I hear you, no matter how weak your signal is, I always pick you up right away?
Don't you know that some summits have high levels of QRM due to commercial or military transmissions, radars or windpower generators close by as it was the case this time?
Your QRP signal is lately coming extremely weak into EA2, but I didn't even hear a dit from you today. It was just impossible with the QRM I had.
My advise is that you better keep these sort of things in mind instead of your frequent moanning on SOTAwatch for not being copied by this or that other activator. Most of us have to suffer for not being copied by some activators from time to time and even for not copying several of the spotted activators, but we are not systematically complaining about that through spots sent on SOTAwatch. This is what we have at the bottom of the solar cycle and we can't do other than being patient and hoping for an improvement of the propagation conditions. Especially when working QRP…
>Estimado Mariusz @SP9AMH: echa un vistazo, por favor, al log completo con 70 QSOs.
¿No crees que estuve realmente usando mi receptor?
¿No sabes que, cada vez que te oigo, no importa cuán débil sea tu señal, siempre te copio inmediatamente?
¿No sabes que algunas cimas tienen altos niveles de QRM debido a transmisiones comerciales o militares, radares o aerogeneradores cercanos como fue el caso esta vez?
Tu señal QRP llega últimamente extremadamente débil a EA2, pero ni siquiera oí un punto de ti hoy. Fue símplemente imposible con el QRM que tenía.
Mi consejo es que mejor que pienses en este tipo de cosas en vez de tus frecuentes quejas en SOTAwatch por no ser copiado por este o aquel otro activador. La mayoría de nosotros tenemos que sufrir por no ser copiados por algunos activadores de vez en cuando e incluso por no copiar a muchos de los activadores anunciados, pero no estamos sistemáticamante quejándonos de ello a través de anuncios enviados a SOTAwatch. Ésto es lo que tenemos en el valle del ciclo solar y no podemos hacer otra cosa que ser pacientes y esperar una mejora de las condiciones de propagación. Especialmente cuando trabajemos en QRP…
Thanks dear chasers for your calls and QSOs. I'll be looking forward to copy you all soon from a summit.
>Gracias estimados cazadores por sus llamadas y QSOs. Estaré esperando copiarles a todos ustedes pronto desde una cima.
73,
Guru