The WX was still great and I decided to try an activation this evening.
>El tiempo era todavía fantástico y decidí intentar una activación esta tarde.
This was today's SOTA to the West of Pamplona:
>Esta fue la SOTA de hoy hacia el Oeste de Pamplona.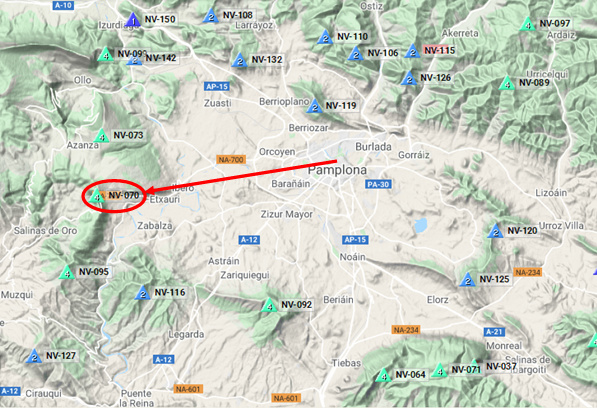 It's located by the village of Etxauri, where my mother, her father and their ancestors were born and lived for centuries.
This summit is part of a long and rocky mountain at only 20Km from Pamplona and has become the Paradise for the rock climbers in the area and beyond:
>Está ubicada junto al pueblo de Etxauri, donde mi madre, su padre y sus antepasados nacieron y vivieron durante siglos.
Esta cima es parte de una montaña larga y rocosa a solo 20Km de Pamplona y se ha convertido en el paraíso para los escaladores de la región y más allá:

Can you see a man climbing this wall?
>¿Pueden ver a un hombre escalando esta pared?
Can you see him now?
>¿Pueden verle ahora?
This is the GPS track I followed.
>Esta es la ruta GPS que seguí.

I didn't take any pictures during the ascent today, as I have already documented that in previous activation reports of this summit.
When I got to the summit, there were nice views with sunshine down in the valley and the plateau of Pamplona.
>Hoy no tomé ninguna foto durante la subida, pues ya lo he documentado en reportajes de activación de esta cima anteriores.
Cuando llegué a la cima, había bonitas vistas con sol abajo en el valle y la planicie de Pamplona.

I setup with a sloper 10m long wire to my 9:1 unun hanging from my 7m telescopic fishing rod tied to the trig point and a 6m long counterpoise wire extended on some bushes. I forgot taking a picture.
>Instalé con una sloper de 10m de largo hasta mi unun 9:1 colgando de mi caña de pescar telescópica de 7m atada al vértice geodésico y un cable contraantena de 6m de largo extendido sobre unos arbustos. Olvidé tomar una foto.
The activation went like this:
10m CW: 14 QSOs in 17 minutes, one of which was a S2S.

10m SSB: 13 QSOs in 13 minutes, one of which was a S2S.

12m CW: 5 QSOs in 8 minutes.

12m SSB: 4 QSOs in 8 minutes.

6m CW: 2 QSOs in 2 minutes.

20m SSB: 10 QSOs in 13 minutes.

20m CW: 10 QSOs in 8 minutes
>La activación fue así:
10m CW: 14 QSOs en 17 minutos, uno de los cuales fue un SaS.

10m SSB: 13 QSOs en 13 minutos, uno de los cuales fue un SaS.

12m CW: 5 QSOs en 8 minutos.

12m SSB: 4 QSOs en 8 minutos.

6m CW: 2 QSOs en 2 minutos.

20m SSB: 10 QSOs en 13 minutos.

20m CW: 10 QSOs en 8 minutos.
This is the full log with 58 QSOs and 2 S2S after 1h 39 minutes:
>Este es el log completo con 58 QSOs tras 1h 39 minutos:

You can see it on the map:
>Pueden verlo en el mapa:

When I arrived to the summit, I found 3 teenagers who were fascinated with everything I told them about ham radio and the SOTA program. They also listened to the first few minutes of my activation on 10m CW and I was telling them the name and the country of each of the chasers I was making QSO with. They were also asking me questions and I was trying to answer. That was the reason why I lost concentration for a moment and wrongly copied GI4ONL when I was actually called by @G4OBK. Sorry, Phil…


>Cuando llegué a la cima, encontré 3 adolescentes que quedaron fascinados con todo lo que les dije sobre la radioafición y el programa SOTA. Ellos también escucharon los pocos primeros minutos de mi activación en 10m CW y yo les iba diciendo el nombre y el país de cada uno de los cazadores con los que iba haciendo QSO. Ellos estaban también haciéndome preguntas y yo intentaba responder. Esa fue la razón por la que perdí la concentración por un momento y erróneamente copié GI4ONL cuando fui realmente llamado por G4OBK. Perdona, Phil…

After descent, when I got to the car, I took this picture of the small village of Muniain de Guesalaz:
>Tras el descenso, cuando llegué al coche, tomé esta foto del pequeño pueblo de Muniain de Guesalaz:

Thanks dear chasers for your calls and QSOs.
I'll be looking forward to copying you all soon again from a summit.
>Gracias estimados cazadores por sus llamadas y QSOs.
Estaré esperando volver a copiarles a todos ustedes pronto desde una cima.
73,
Guru