This mountain is right between Pamplona, my birth town where I currenlty live in and the small village where I own a house and I have my remote station in.
>Esta montaña está justo entre Pamplona, mi ciudad natal donde vivo actualmente y el pequeño pueblo dónde poseo una casa y tengo mi estación remota.

I was feeling like going out to activate SOTA today but it was too cold this morning when I got up at 8 o'clock and I cancelled. By noon the temperature had increased and I decided to have lunch and quickly leave for an activation of the drive-up summit NV-092.
>Me apetecía salir a activar SOTA hoy, pero hacía demasiado frío esta mañana cuando me levanté a las 8 en punto y cancelé. Para el mediodía la temperatura había aumentado y decidí comer y rápidamente salir para una activación de la cima NV-092 a la que se puede subir en coche.
I had been looking at the level contour lines on the map and decided to try a new location for my setup. Instead of setting up close to the trig point, which typically provides good take-off towards the NorthWest (good for contacts with NorthAmerica), as marked by the red arrow in the image below, I'd setup today a bit further to the East in a place where the slope provides a great take-off towards the NorthEast (good for contacts with Europe), as marked by the green arrow in the image below.
>Había estado mirando las líneas de contorno de nivel en el mapa y decidí intentar una nueva localización para mi instalación. En vez de instalar junto al vértice geodésico, que típicamente proporciona buen despegue hacia el NorOeste (bueno para contactos con Norteamérica), según indica la flecha roja en la imagen de abajo, hoy instalaría un poco más hacia el Este en un lugar dónde la pendiente proporciona un magnífico despegue hacia el NordEste (bueno para contactos con Europa), según indica la flecha verde en la imagen de abajo.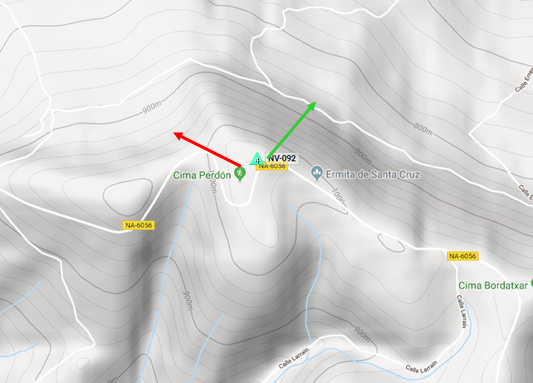 My set up was again the 21m long endfed wire as an inverted vee with the 6m long counterpoise wire slighlty elevated above the ground. Just like this:
>Mi instalación fue de nuevo el cable de 21m de largo alimentado en el extremo en V invertida con el cable de contraantena de 6m de largo ligeramente elevado sobre el suelo. Concretamente así:

The rig was my trusty Yaesu FT-817ND at 5W with an MFJ-941B antenna tuner.
>El equipo fue mi fiel Yaesu FT-817ND a 5W con un acoplador de antenas MFJ-941B.
I don't know whether it was due to the new setup location or due to a sudden amazing enhancement of the propagation conditions, but I managed to log more than 100 QSOs this afternoon-evening in 3 hours and 20 minutes of operation, having worked on the following bands/modes the following number of QSOs.
In order of operation:
40m CW: 29 QSOs in 34 minutes.
20m CW: 27 QSOs in 29 minutes.
20m SSB: 7 QSOs in 13 minutes.
10m SSB: 12 QSOs in 11 minutes.
20m SSB: 1 S2S QSO with EA2DPA/P activating EA2/BI-063.
10m SSB: 10 QSOs in 12 minutes.
10m CW: 5 QSOs in 10 minutes.
20m SSB: 15 QSOs in 17 minutes.
30m CW: 3 QSOs in 5 minutes.
>No sé si fue debido a la nueva localización de la instalación o debido a una repentina e increíble mejora en las condiciones de propagación, pero conseguí anotar en el log más de 100 QSOs esta tarde en 3 horas y 20 minutos de operación, habiendo trabajado en los siguientes bandas/modos las cantidades de QSOs siguientes:
En orden de operación:
- 40m CW: 29 QSOs en 34 minutos.
- 20m CW: 27 QSOs en 29 minutos.
- 20m SSB: 7 QSOs en 13 minutos.
- 10m SSB: 12 QSOs en 11 minutos.
- 20m SSB: 1 S2S QSO con EA2DPA/P activando EA2/BI-063.
- 10m SSB: 10 QSOs en 12 minutos.
- 10m CW: 5 QSOs en 10 minutos.
- 20m SSB: 15 QSOs en 17 minutos.
- 30m CW: 3 QSOs en 5 minutos.
All in all, 109 QSOs, one of which was a S2S. This is the huge full log:
>En total, 109 QSOs, uno de los cuales fue SaS. Éste es el enorme log completo: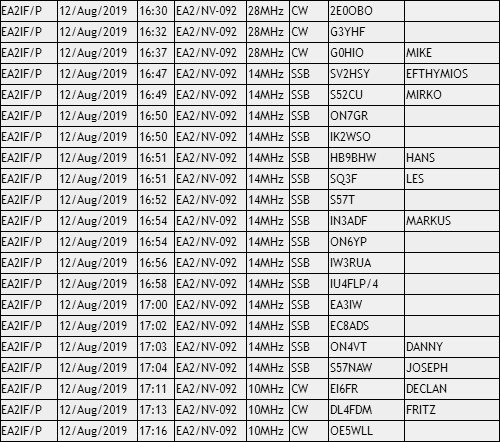 This is the S2S log:
>Éste es el log SaS:


You can see it on the map:
>Pueden verlo en el mapa:

Before finishing off this report, let me share with you a few pictures of the views taken not exactly from the operating place, due to having some trees blocking the view, but from a few meters further down to the East:
>Antes de terminar este reportaje, déjenme compartir con ustedes unas pocas fotos de las vistas tomadas no exactamente desde el sitio de operación, debido a que había algunos árboles bloqueando la vista, sino desde unos pocos metros más abajo hacia el Este:

In this above picture, the city of Pamplona can be seen.
>En ésta foto de arriba, puede verse la ciudad de Pamplona.
Today's was a very enjoyed activation. Thanks very much dear chasers for your calls, spots and QSOs. I'll be looking forward to copying you all again very soon from a summit.
>La de hoy fue una activación muy disfrutada. Muchas gracias estimados cazadores por sus llamadas, anuncios y QSOs. Estaré deseando copiarles muy pronto a todos ustedes desde una cima.
73,
Guru