I had a late dinner out with some friends last night and I got home late, very late, so I was unable to wake up early this morning and go anywhere for activating any SOTA.
I did some chasing from home but there wasn't much activity forecasted for the afternoon, I was kind of missing the pile-up when activating, so I decided to drive up to Mt. Erreniega before dusk.
I parked in the summit parking lot, took my rucksack and fishing pole and walked the 100m or so to the trig point.
It was not too cold but the wind from the SouthWest was very strong and constant.
I wandered a bit around the trig point until I found a slightly lower location to the NorthEast where I had a little shelter from the wind (not much).
I started on 20m CW, went later to 40m CW but found contest activity so I didn't even try to CQ and QSYed right away to 30m CW. When there were no more chasers coming in, I QSYed to 20m SSB for a last QSO with Victor HG7WAV, who had already chased me on CW (20 and 30m) and then a final nice chat with my friend Manuel EA2DT. I didn't even log this final QSO with Manuel following his instructions, as he had already chased me on CW.
After some more unresponded CQ calls, since the sun was already very low and the constant strong wind was starting to make me feel a bit cold, I announced QRT, packed up and descended.
On the way down, I took this picture of the valley where my QTH is located and can be barely seen.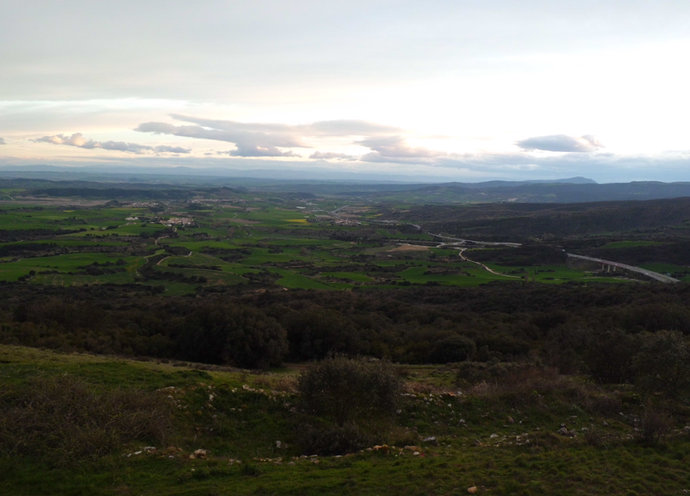 This is today's log, which includes a good number of DX with the USA.: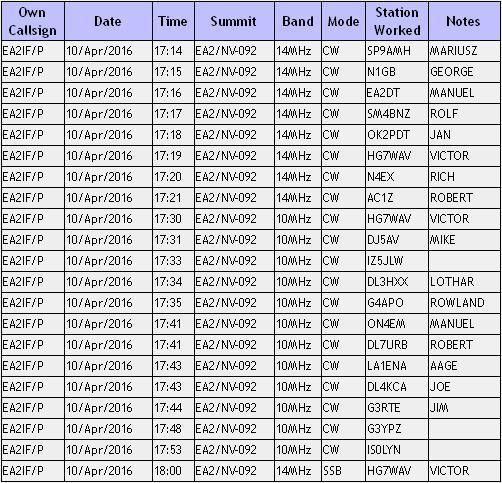 Thanks again for your calls and QSOs.
I'll be looking forward to copying you again very soon.
Have a nice week.
73 de Guru