There were some different things I had to take care of today, so I couldn't go to the mountains in the morning, but the WX was so amazingly nice again today with sunshine and 19 deg. C that, after lunch with my family, I couldn't resist temptation and after getting pass card from my xyl, I grabbed the rucksack, the dog and headed to Mt. Elomendi.
>Había varias cosas de las que tenía que ocuparme hoy, así que no pude ir al monte por la mañana, pero el tiempo estaba tan increíblemente agradable otra vez hoy con sol y 19 grados C que, después de la comida con mi familia, no pude resistir la tentación y tras conseguir el pase de mi xyl, agarré mi mochila, el perro y me encaminé hacia el monte Elomendi.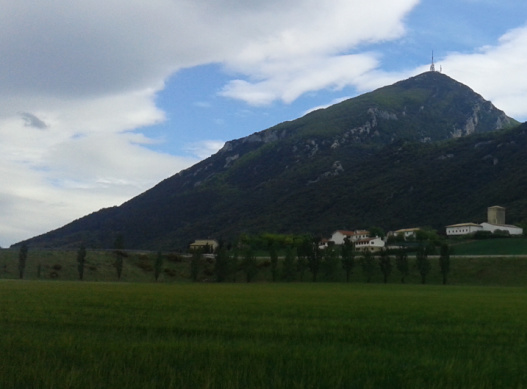 This picture is not from today. The mountain is the same, not the sky, which was absolutely clear today.
>Esta foto no es de hoy. La montaña es la misma, pero no el cielo, que estaba absolutamente limpio hoy.
At the summit (nearly 1300m a.s.l.) the temperature had dropped withe respect to what we had in Pamplona, from 19 to 8 deg C, so I put on some layers of warm clothing because I knew I would feel cold sooner rather than later. I found some people doing paraglide and I, of course, had to explain them what I was going to do with my fishing rod.
I setup my 10m long endfed wire towards the NorthWest looking for possible contacts with North-America.
>En la cima (cerca de 1300m sobre el nivel del mar) la temperatura habia descendido con respecto a lo que teníamos en Pamplona desde 19 hasta 8 grados C, así que me puse algunas capas de ropa de abrigo porque sabía que sentiría frío más pronto que tarde. Encontré algunas personas haciendo parapente y por supuesto, tuve que explicarles lo que estaba haciendo con mi caña de pescar. Instalé mi cable alimentado en el extremo de 10m de largo hacia el Noroeste buscando posibles contactos con Norteamérica.
I started on 20m CW and I offered to the paragliding team a spare set of earbuds I have for visitors and one of them could hear my first QSO with Lars @SA4BLM.
I had a brief run of 10 QSOs in 17 minutes, 3 of which were DX form the USA and 3 more from the Spanish Canary islands in Africa EA8.
On 20m SSB, I also had 3 QSOs with the Canary Islands EA8 and 2 more DX with the USA.
>Empecé en 20m CW y ofrecí a los del equipo de parapente unos auriculares de repuesto que tengo para visitantes y uno de ellos pudo oir mi primer QSO con Lars @SA4BLM.
Tuve una breve serie de 10 QSOs en 17 minutos, 3 de los cuales fueron DX desde los EE.UU. y 3 más desde las islas Canarias en África EA8.
30 and 40m CW were both scarcely productive with 4 QSOs on each band only.
The sunset was very beautiful, but I couldn't take any pictures because I was logging QSOs on 30m when the Sun dissappeared under the low clouds very far away in the distant horizon.
>30 y 40m fueron ambos escasamente productivos con 4 QSOs en cada banda solamente. La puesta de sol fue preciosa, pero no pude tomar ninguna foto porque estaba anotando QSOs en 30m cuando el Sol desapareció bajo las muy distantes nubes en el lejano horizonte.
After having logged my 4 QSOs on 40m, the Sun was already gone and the light was already dimming notably. Several unresponded CQ calls plus the raising of a cool brise gave me the sign to call it a day, so I announced QRT, dismantled, packed up and descended almost in the dark. The good thing is there is a very broken mountain road up to the summit, which seems like taken from a war movie after an air raid bombing, and I had driven up to near the top with my AWD car, so I could descend confortably sat in it with the beam lights on


>Tras haber anotado mis 4 QSOs en 40m, el Sol se habia ido ya y la luz había empezado ya a disminuir notablemente. Varias llamadas CQ sin respuesta más el levantamiento de una fría brisa, me dieron la señal para dar el día por terminado, así que anuncié QRT, desmonté, empaqué y descendí casi en la oscuridad. La buena cosa es que hay una muy rota carretera de montaña hasta la cima, que parece como tomada de una película de guerra tras un ataque aéreo con bombardeos, y la había subido hasta cerca de la cima con mi coche de tracción a las 4 ruedas, así que pude descender confortablemente sentado en él y con las luces largas encendidas

This is the full log of 23 QSOs in 3 bands and 2 modes.
>Este es el log completo con 23 QSOs en 3 bandas y 2 modos.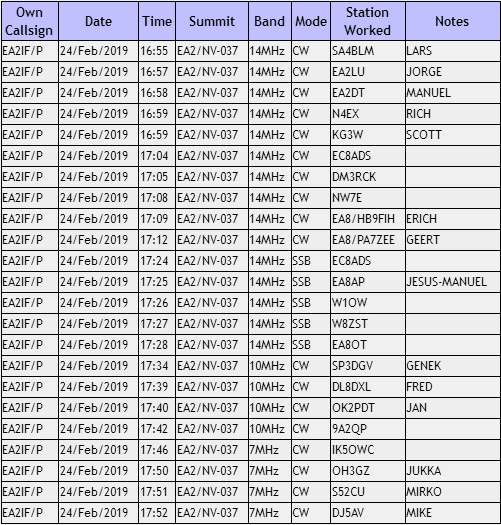 Thanks dear chasers for your calls and QSOs.
I'll be looking forward to copying you all again very soon from another summit.
>Gracias estimados cazadores por sus llamadas y QSOs.
Estaré esperando copiarles pronto de nuevo a todos desde otra cima.
73,
Guru