Within my new target of activating all summits in a 35Km circle around my QTH, I chose Mt Elixato for today. It had been activated on VHF but never on HF, so it would presumably be an interesting one.
The sky was cloudy but temperature was amazingly warm for this time of the year and there wasn't any chance of rain forecasted.
I downloaded from Wikiloc a GPS track to the summit from the little villeage of Gendulain.
You can see the track at the top right corner of this map where you'll see its location with respect to Pamplona, Navarra's capital city.

This is a closer look to the track I followed:

There were some works in progress and despite being a Sunday, the road to the village of Gendulain was closed, so I had to park by the main road N-135 and walk the road up to the village.
While walking up the road I took this picture of the targetted summit and the previous summit close to it, called Otsakaingo Gaina.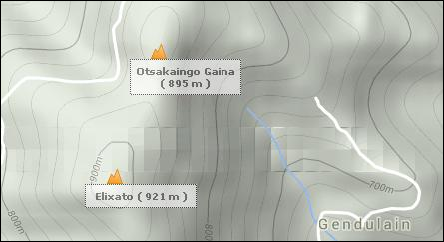 The way to the summit was very easy to follow. It was all time like this:

Sometimes I had to cross some gates like this:

After nearly one hour hike, we got to the summit, which is surrounded by dense forest:

I quickly installed my 7m fishing pole again attached to the top of the trig point cilinder with 2 sets of 2 horizontally elevated wire radials in opposite directions:
I informed some of my friends through whatsapp that I had got to the summit and I was setting up to start on 30m CW. As soon as I made my very first CQ call on 10130.5, Ignacio EA2BD replayed, we completed our QSO and then he raised a spot for me. Thank you


I got a nice pile up and managed to log 22 QSOs in 17 minutes.
Then I QSYed to 20m CW, where Roy G4SSH came back to me after my very first CQ call without having sent any selfspot. Well done!
The pile up was smaller on 20 because there were many chasers who had already worked me on 30m. However, I logged 24 QSOs in 23 minutes.
When the pile up dried up I QSYed to 12m, but I didn't want to stay much longer because time was passing by and It was time for me to get back home as we were expecting some friends coming over for lunch.
I called CQ on 12m but another station from Germany started to CQ on my frequency at the same time. His signal was weak and I could hear him with difficulties due to echoes. It's very likely that he wasn't copying my QRP signal. I only logged one QSO on 12m but, to be honest, I'm in doubt that he really worked me and I fear he might have worked the other German station on frequency. Since I'm not sure but I can't find it out at the moment, I'll keep it in the log, just in case.
This is the full log of today's activation: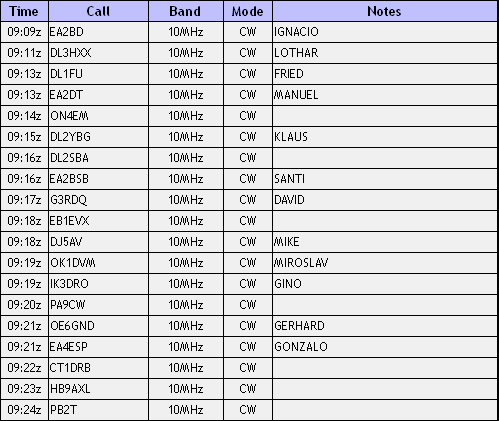 On the way down I enjoyed the views and took some few pictures of the nice countryside:

Thanks again dear chasers for another nice time on the air. I really enjoyed a lot working you all.
Have a nice week and I'll be looking forward to working you again soon from another summit.
Best 73 de Guru