A couple of days ago, I set my new SOTA target, which is activating all the summits within a 30Km radius from my QTH in Pamplona (Locator IN92et). I have already activated many of them, but I found, with the help of the great SMP, there were still 16 summits that I had never activated. These are:
>Hace un par de días, fijé mi nuevo objetivo SOTA, que es activar todas las cimas en un radio de 30Km desde mi QTH en Pamplona (Locator IN92et). Ya he activado muchas de ellas, pero encontré, con la ayuda del fantástico SMP, que todavía había 16 cimas que nunca había activado. Estas son:

So I planned an activation of the closest one for today, Mt. Bordaburu.
This is it's location to the North of Pamplona at 18Km from my QTH:
>Así que planee una activación de la más cercana para hoy, Mt. Bordaburu.
Esta es su ubicación hacia el Norte de Pamplona a 18Km de mi QTH:
And this is the GPS track we followed:
>Y este es el track GPS que seguimos: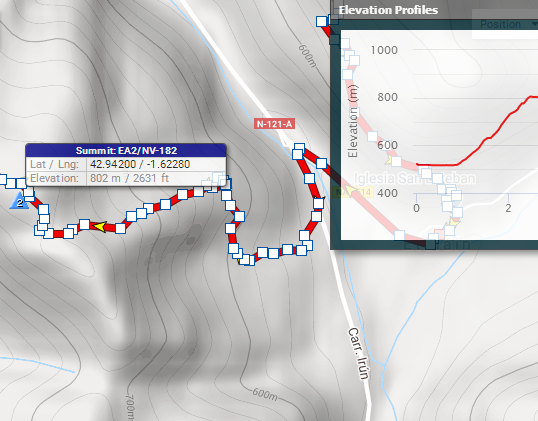 The ascent was through dense forest and quite steep at times:
>El ascenso fue a través de denso bosque y bastante empinado a veces:
After about 45 minutes, we reached the summit , although I found no trig point, cairn or anything marking the summit. After a steep ascent, the summit was quite a wide flat area , so the AZ was quite a big area. But it all was full of trees, so there were not too many places to setup.
>Después de unos 45 minutos, alcanzamos la cima, aunque no encontré vértice, hito de piedras o algo que marcase la cima. Después de un ascenso empinado, la cima era una amplia zona bastante llana, así que la zona de activación era un área bastante grande. Pero estaba toda llena de árboles, así que no había demasiado sitios para instalar.
I tied my fishing rod to a young tree trunk like this as a way to try to get the top end as high as possible:
>Até mi caña de pescar al tronco de un joven árbol de esta manera para intentar tener el extremo superior lo más alto posible:

You can see here the final setup and the operating place with no views:
>Pueden ver aquí el montaje final y el lugar de operación sin vistas:
Rig was FT-817ND at 5W + MFJ-941B antenna tuner.
Antenna was 10m long endfed wire as a sloper to a 9:1 unun and 6m long elevated counterpoise wire.
El equipo fue FT-817ND a 5W + acoplador de antena MFJ-941B.
La antena fue un cable de 10m de largo alimentado en el extremo con unun 9:1 y un cable contraantena elevado de 6m de largo.
The activation went like this:
30m CW: 34 QSOs in 37 minutes, 4 of which were S2S.

40m SSB: 82 QSOs in 40 minutes. I had problems to write that fast on the log.

20m SSB: 20 QSOs in 22 minutes, 2 of which were S2S.

10m CW: 1 QSO. Thanks Jan @OK2PDT.

40m CW: 1 S2S chased.

30m CW: 1 S2S chased.

20m CW: 11 QSOs in 15 minutes, time in which I also chased 1 S2S.
>La activación fue así:
30m CW: 34 QSOs en 37 minutos, 4 de los cuales fueron SaS.

40m SSB: 82 QSOs en 40 minutos. Tuve problemas para escribir así de rápido en el log.

20m SSB: 20 QSOs en 22 minutos, 2 de los cuales fueron SaS.

10m CW: 1 QSO. Gracias Jan @OK2PDT.

40m CW: 1 S2S cazado.

30m CW: 1 S2S cazado.

20m CW: 11 QSOs en 15 minutos, tiempo en el que también cacé 1 SaS.
Here you can see the full log with 150 QSOs and 9 S2S after 2h 37 minutes on the air:
>Aquí pueden ver el log completo con 150 QSOs y 9 SaS después de 2h 37 minutos en el aire:

You can see it on the map:
>Pueden verlo en el mapa:
After QRT and pack up, I took this selfie before leaving:
>Después de QRT y empacar, tomé este selfie antes de marcharme:
This is the only view I had right before starting descent from the AZ:
>Esta es la única vista que tuve justo antes de empezar a descender desde la zona de activación:
Thanks dear chasers for your calls and QSOs.
I'll be looking forward to copying you all again soon from a summit.
>Gracias estimados cazadores por sus llamadas y QSOs.
Estaré esperando volver a copiarles a todos ustedes pronto desde una cima.
73,
Guru