In a warm and sunny day, I have had the pleasure and the privilege to activate another new unique today in my birth and living region Navarra (EA2/NV) with the good company of my University times colleague JAP, who has already joined me in some other SOTA activations before.
It was a 50Km drive to the South-East from my current QTH in Pamplona.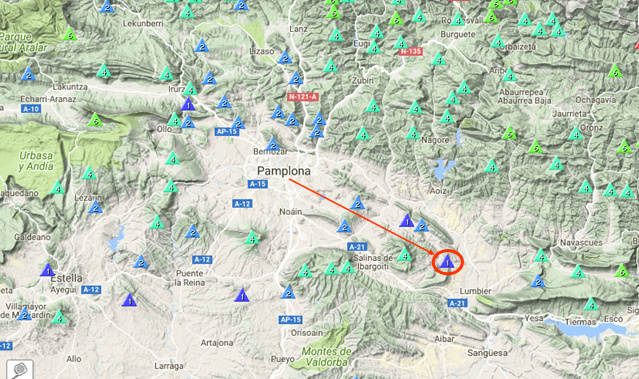 This is the track we should have followed but we only did on our descent,

Since we had not seen each other for quite some time, when we met in the starting point and we started walking on a dirt road, we were so lively chatting, without paying attention to what we were doing, that we missed the track we should have taken to our right.

We kept walking and chatting up to a point where we realized we were on the wrong way not facing the summit and instead of reversing and coming back the same way, since we were able to see the summit behind us, we wrongly decided to try to create a shortcut.
Ah… what a mistake!
This made us get into dense, almost impenetrable forest and it took us more than twice the time and effort it should have taken us just reversing to take the missed track.

On our improvised shortcut way to the summit, we found these remains, which I have no idea what they were in a passed time.

On our way to the summit, we enjoyed the views despite the humidity with not clear air and not too good visibility.

Here is a view of Mt. Itzaga,

With all the time lost during the ascent, I was a bit pressed to be back home in time for a family lunch with my wife and kids, my mother and siblings, we had scheduled for that Mothers day Sunday, so we forgot taking any picture of the SOTA activation setup. Sorry…
I started on 20m CW and got only 6 chasers, then a similar situation on 20m SSB with only 5 chasers logged. On the other hand, 30m seemed a totally different story and it took me a while to find a clear frequency. I logged 9 chasers on this band. The best performing band was 40m with 13 QSOs logged.
RBN wasn't working, but I had phone signal at the summit, so I could selfspot.
All in all, I logged a total of 33 QSOs, 5 of which were S2S.
This is the full log:


And this is the S2S log:


Thanks dear chasers for your calls and QSOs.
73,
Guru