The alert I raised last night was for EA2/NV-??? because I felt very much in doubt about the summit or summits I would activate today. I got up at 5h45 utc this morning and left home almost sure about the target, but I found thick, dark, low clouds when I was on my way which made me change my mind. I changed destination to Mt. Artxueta EA2/NV-032, which is about 45Km NorthWest of my QTH.
Here you can see it on the map:
>La alerta que puse anoche fue para EA2/NV-??? porque sentía muchas dudas sobre qué cima o cimas activaría hoy. Me levanté a las 5h45 utc esta mañana y salí de casa casi seguro sobre el objetivo, pero encontré unas espesas, oscuras y bajas nubes cuando iba de camino que me hicieron cambiar de opinión. Cambié mi destino al Monte Artxueta EA2/NV-032, que está a unos 45Km al Noroeste de mi QTH.
Aquí pueden verlo en el mapa:

It's one of the SOTA summits I can see from the kitchen balcony in my rental appartment.
>Es una de las cimas SOTA que puedo ver desde el balcón de la cocina de mi apartamento alquilado.

This is how it looked like as I was driving towards the parking spot near the Sanctuary of San Miguel de Aralar:
>Así es como se veía mientras iba conduciendo hacia el punto de aparcamiento junto al Santuario de San Miguel de Aralar:

And this is how it looked like after having parked and just about to start the hike.
>Y así es como se veía tras haber aparcado y a punto de empezar la subida

As you can see, the parking spot is so high that there's only a short and easy hike to the summit, which only took me 20 minutes, including some stops to take pictures like these:
>Como pueden ver, el punto de aparcamiento está tan alto que solo hay una subida corta y fácil hasta la cima que solo me llevó 20 minutos, incluyendo algunas paradas para tomar fotos como éstas:

You can see the Sanctuary of San Miguel de Aralar in this above picture.
>Pueden ver el Santuario de San Miguel de Aralar en esta foto de encima.
I reached the summit and I was the only human there at that time, but I setup with my 10m long endfed wire as a sloper towards the North-East instead of the 21m long wire in inverted vee configuration because this last one takes up much more space and being this quite a popular summit, I knew there would be groups of mountaineers arriving to the summit at a later time and I didn't want to disturb anyone.
>Alcancé la cima y yo era el único humano allí a esa hora, pero instalé en "sloper" mi hilo de 10m de largo alimentado en el extremo hacia el Nordeste en vez del de 21m de largo en V invertida porque éste último ocupa mucho más espacio y siendo ésta una cima bastante popular, sabía que habría grupos de montañeros llegando a la cima más tarde y no quería molestar a nadie.
I installed myself quite confortably sitting on a rock as you'll see in this picture a special mountaneer kindly took for me. This totally unexpected mountaineer was no least than my former boss. He is now retired and enjoying mountains, but he was the Industrial Director at the production plant of the company I'm currently employed by.
This is me at the operating spot.
>Me instalé bastante confortablemente sentado en una roca como verán en esta foto que un montañero especial me tomó amablemente. Este totalmente inesperado montañero fue nada menos que mi anterior jefe. Él está ahora retirado y disfrutando de las montañas, pero fue el Director Industrial en la planta de producción de la compañía por la que estoy actualmente empleado.
Éste soy yo en el punto de operación:

The activation went like this:
30m CW: 24 QSOs in 27 minutes, 1 S2S with Fabio IK2LEY/P at I/LO-199

40m CW: 20 QSOs in 33 minutes, 1 S2S with Juerg HB9BIN/P at HB/SZ-021. Very severe QSB and several callers never came back to me after having come back to them with their callsing and signal report several times.

20m SSB: 10 QSOs in 15 minutes, 2 S2S with SV1RVJ/P at SV/AT-002 and Stavros LZ/SV2RUJ/P at LZ/RO-072.

20m CW: 7 QSOs in 18 minutes. Several unanswered calls were sent. No DX at all.

60m CW: 3 QSOs in 5 minutes, 1 S2S with Fabio IK2LEY/P at I/LO-198. I knew that my 10m long piece of wire would perform horribly on 60m but at least I gave it a try and 3 QSOs being one of them a S2S in just 5 minutes is quite successful to me.
>La activación fue así:
30m CW: 24 QSOs en 27 minutos, 1 S2S con Fabio IK2LEY/P en I/LO-199

40m CW: 20 QSOs en 33 minutos, 1 S2S con Juerg HB9BIN/P en HB/SZ-021. QSB muy severo y varios cazadores que nunca volvieron para mí tras haber vuelto yo para ellos con su indicativo y reporte de señal varias veces.

20m SSB: 10 QSOs en 15 minutos, 2 S2S con SV1RVJ/P en SV/AT-002 y Stavros LZ/SV2RUJ/P en LZ/RO-072.

20m CW: 7 QSOs en 18 minutos. Varias llamadas quedaron sin respuesta. Ningún DX.

60m CW: 3 QSOs en 5 minutos, 1 S2S con Fabio IK2LEY/P en I/LO-198. Sabía que mis 10m de cable rendirían horriblemente en 60m pero al menos lo intenté y 3 QSOs, siendo uno de ellos un S2S en solo 5 minutes is bastante exitoso para mí.
At this point I was about to finish my activation when I decided to look at SOTAwatch and try to chase some of the activations spotted at the time.
I managed to chase 3 of them for S2S QSO. I must note how difficult it was for me to break the pileup of TK5EP/P, where the chasers calling didn't seem to pay any attention to my repeated S2S, S2S, S2S, /P, /P, /P and even with my full callsing EA2IF/P S2S, EA2IF/P S2S. It's a shame that chasers in the pileup behave sometimes like elephants in a china store. The same applied some (several) times during my previous part of the activation when I was calling to one specific callsing and some other stronger stations called their callsings on top of him making QRM, not letting me copy him and forcing me to ask for repeats. Those breakers waste my time and that of all the rest of the hams in the pile-up, demonstrating that they don't hear, they don't listen much and they don't have a slight idea of what's actually going on on the frequency. A real shame…
>En este momento estaba a punto de terminar mi activación, cuando decidí echar un vistazo a SOTAwatch e intentar cazar algunos de los activadores que estaban anunciados en ese momento.
Conseguí cazar a 3 de ellos para QSO Cumbre a Cumbre (S2S). Debo hacer notar lo difícil que me resultó romper el pileup de TK5EP/P, donde los cazadores que llamaban no parecieron poner ninguna atención a mis repetidos S2S, S2S, S2S, /P, /P, /P e incluso con mi indicativo copleto EA2IF/P S2S, EA2IF/P S2S. Es una lástima que a veces los cazadores en el pileup se comporten como elefantes en una tienda de porcelana. Lo mismo es aplicable algunas (bastantes) veces durante la parte anterior de mi activación, cuando yo llamaba a un indicativo concreto y otras estaciones más fuertes enviaron su indicativo por encima de él creando QRM, no dejándome copiarle y obligándome a pedir repeticiones. Estos "breakers" echan a perder mi tiempo y el de todos los cazadores en el pileup, demostrando que no oyen, no escuchan mucho y no tienen la mínima idea de lo que está realmente pasando en la frecuencia. Una verdadera lástima…
After 3 hours in the summit, I collected 67 QSOs (1 was duplicate) and 9 S2S.
This is the full log:
>Después de 3 horas en la cima, anoté 67 QSOs (uno fue duplicado) y 9 Cumbre a Cumbre (S2S).
Éste es el log completo:


And this is the S2S log:
>Y éste es el log Cumbre a Cumbre (S2S)


Before leaving the summit, I took a few more pictures:
>Antes de dejar la cima, tomé unas pocas fotos más:

My logs are already loaded in the SOTA database, of course, and upon uploading, the system gave me the news that I have just passed the 22K chaser points today



>Mis logs están ya subidos a la base de datos SOTA, por supuesto, y al hacerlo, el sistema me dió la noticia de que justo hoy acabo de pasar los 22K puntos de cazador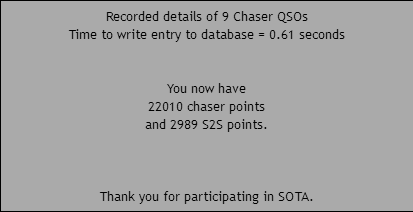 Thanks dear chasers for your calls and QSOs. Apologies to those who called me, I came back to them, but the QSB and the QRM didn't finally let us complete the QSO.
I'll be looking forward to copying you all again soon from another summit.
>Gracias estimados cazadores por sus llamadas y QSOs. Pido disculpas a aquellos que me llamaron, volví para ellos, pero el QSB y el QRM finalmente no nos dejaron completar el QSO.
Estaré esperando copiarles a todos pronto desde otra cima.
73,
Guru