I spent Christmas day with my in-law family. I had so much food that I couldn't have more than half an apple an a yogourt for dinner. I had a brief beakfast this morning and proposed my xyl to skip today's lunch and go out to play some SOTA instead. She gave me her green card

So I topped my LiFePo4 battery and headed for the close and easy to get to summit of A Lagoa EA1/CR-034, the same one ponter I activated just 3 days ago. Since I already activated all SOTAs around Ferrol last summer I won't get any points from any of these now, so I just went to the closest and easiest to get to with the aim of working as many stations as possible and a good number of DX.
Equipment was my usual SOTAkit with FT-817ND, antenna tunner MFJ-941B, Palm Radio minipaddle and home made EARC antenna as a slopper from the top of a 7m fiberglass telescopic fishing rod with an elevated counterpoise wire on top of some bushes.
I started the activation on 20m CW, where I logged 14 QSOs in 14 minutes, 5 of which were DX with the USA.
After a number of unresponded CQs, I QSYed to 17m, but several CQ calls were all unresponded.
After my pero contacts experience on 17m, I QSYed to 12m and again the same series of unresponded CQs. I soon understood this wasn't going to work, so I QSYed back to 20m, but this time on SSB. I logged 10 QSOs in 13 minutes, being one of them a DX with the USA. When I call CQ SOTA on SSB, since I know I'm probably a very tiny signal with my QRP, I tend to speak out loud to the microphone in order to squeeze out the maximum of those 5 watts, which soon results in my voice being quite exhausted. When no more chasers answered my CQ calls, I QSYed to 30m CW, so my voice would be able to get a rest.
I logged 16 QSOs in 25 minutes, 2 of which were S2S.
When 30m dried up, it was till good time for DX with Northamerica, so I decided to QSY back to 20m CW, where I logged 6 more QSOs in 14 minutes, being the first of them a DX with the USA and another a S2S.
The nice sunshine I had had since the begining of the activation was now over as the Sun had lowered a bit and had got covered by some distant low clouds, so the cold and humid breeze had increased and I was starting to feel a bit cold.
However, I decided to give 40m CW a try as I was pretty sure there would be really good conditions for inter EA as well as for EU.
So it was indeed, as this run let me log 34 QSOs in 47 minutes.
By that time, between the setting up time and the on air operation, I had been more than 3 hours in the summit and having skipped lunch plus not having anymore sunshine and the constant humid wind in this summit by the Atlantic Ocean, I was feeling pretty cold, so I packed up and descended to go home and find something to eat.
Here you can see today's log with 80 QSOs: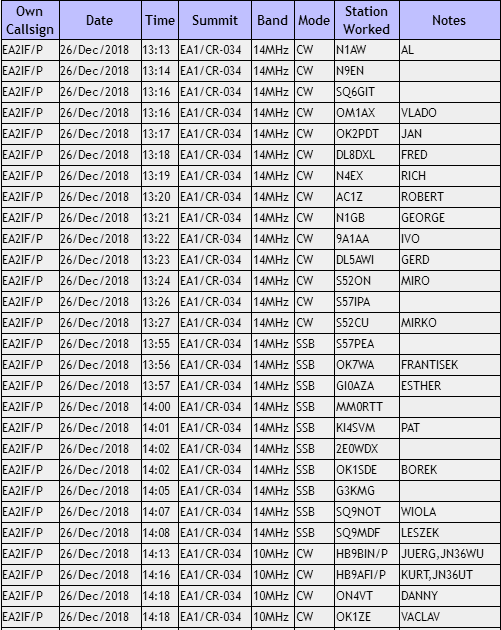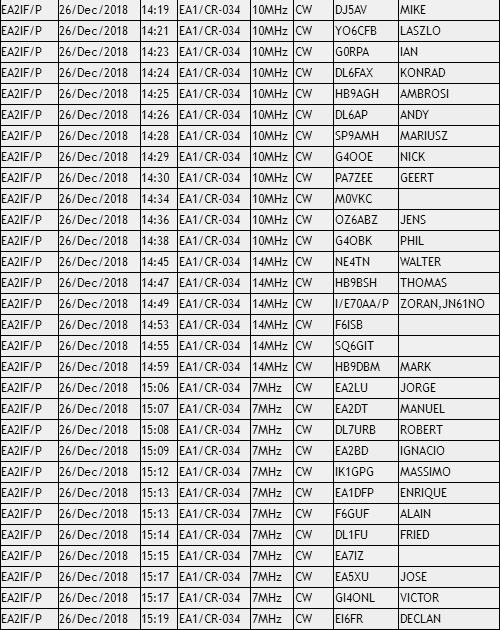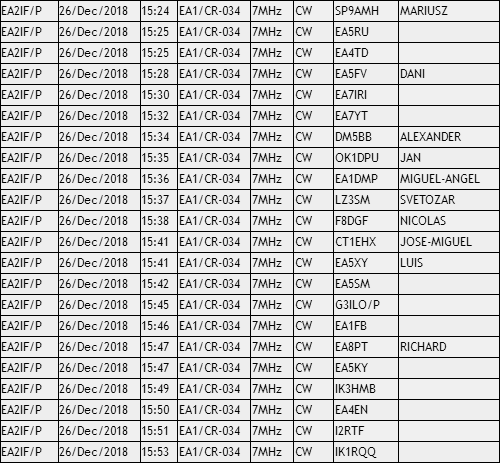 And this is the S2S log:


I enjoyed very much this activation. Thank you very much for your calls and QSOs.
73 and Happy New Year,
Guru