It was a beautiful SOTA day with huge activity. All the Swiss Cantons were present and the hunters very numerous.

After my recovery in 2016-7 and more seriously in 2018 I had set myself the goal of reaching 5000 summits starting from the number 928 !

My working conditions at that time were an Icom IC-706 Mk1
5W
with a Windom FD4 antenna and a multi doublet (20m-30m-40m), but given the success of the SOTA program and the increase in chasers, I stopped the QRP at the end of August 2018 running now
100W
! Here was my last worked QRP summit :
25 December 2019 my old IC-706 has been replaced by a brand new IC-7300 and the 13 February 2020 the multi doublet was modified (20m-30m-
60m
)
Back now to this fantastic day 27/06/2020. Started early at 06:32Z with Boris @9A2GA and ended at 16:35Z with Einar @TF3EK on FT8, I had to be away between 11:03 and 15:50 to go buy a new pair of glasses, and yes we are getting older …

So you're going to ask me why this day was special ?
First : because after 23 days 2 months and 2 years I went from 928 to 5005 unique peaks!
Second : worked for my 5000 milestone Vlado @Z35M at E7/Z35M/P on E7/BO-003, Bjelašnica !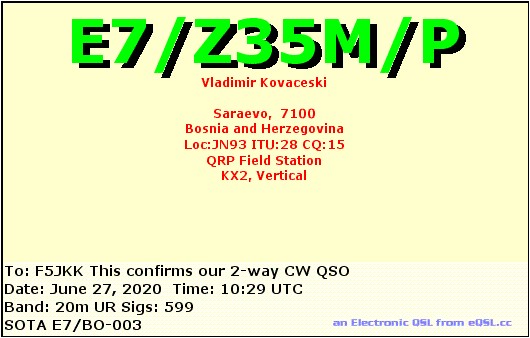 So you're going to ask me why this contact is special ?

Because this photo :
That's me in Bjelašnica E7/BO-003 meddle 1998 making UN radio but no Hamradio, yes was 22 years ago !
I'm sure the TV tower has returned to its original position since !

I know it's not much but I wanted to share my joy with you !
73 Éric F5JKK