As a complete contrast to lovely conditions present on my last winter sports activation of Snezhanka a few days ago, the weather today was around -12 degC on the summit of Mechi chal, not taking into account the windchill. I did manage to get a couple of photos of the communications hardware present on a hut near the summit.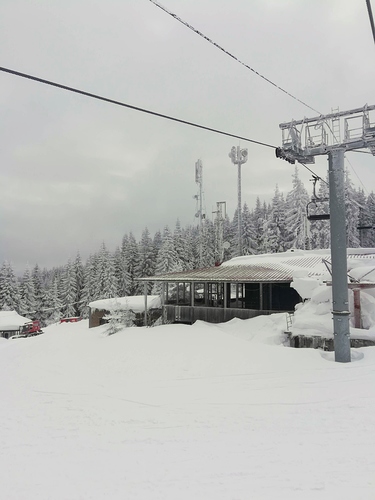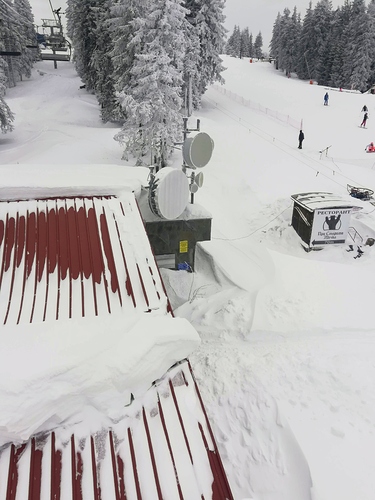 This time round - in contrast to my activation last year which resulting in me having to scale pylons to get an antenna in the air - the 10m compact travel mast was setup right on the top of the summit, around 50m from the top of the chairlift.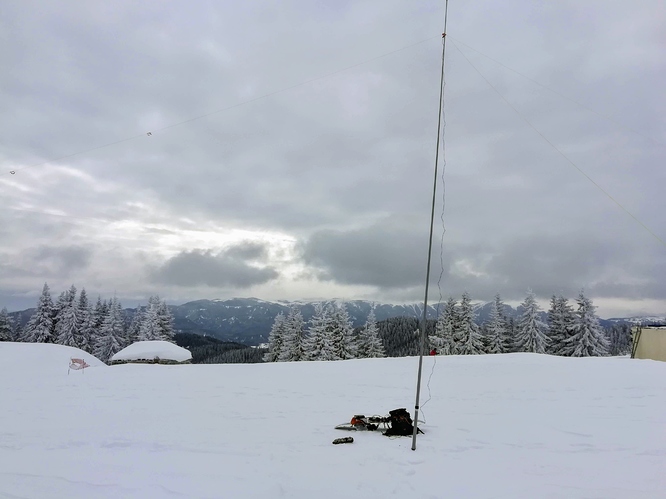 The reusable cable tie that I use to attach the dipole centre to the SOTABeams pole snapped, brittle with the temperature. The dry bag I keep the radio in was uncharacteristically crunchy too. The setup and drop of the SOTABeams quad-bander was possible almost completely with thick gloves on - a testament to the thought put into the design of this excellent antenna.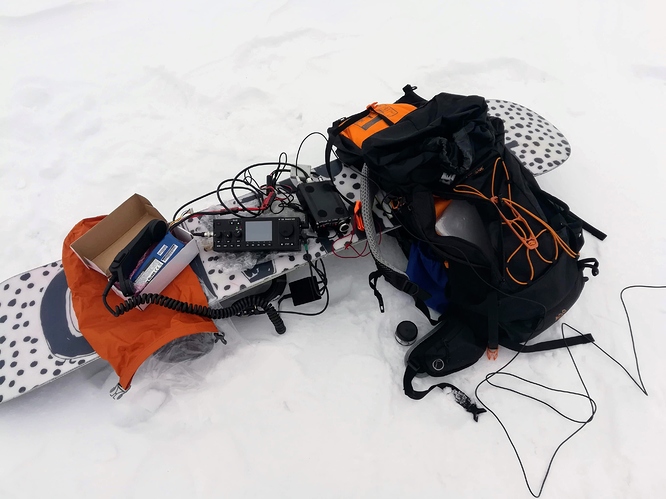 On 20m I found massive interference above 14.275 Mhz forcing me to use a lower frequency. Initially I didn't have internet access so tried to use the UK SMS gateway and suspected this wasn't going to work (due to general issues calling back to the UK), but it may have as RN3QN came back to my call fairly quickly. He offered to add a spot in the cluster but as that happened I had +20 QRM 1khz up forcing me to find a new frequency. This brought in four more contacts in about 10 minutes. I linked for 40m as there were a few S2S opportunities but none were found and I gave up soon after as I could feel the cold penetrating. My phone battery went from 70% to 0% shutdown within 10 minutes of being left in the cold!
Not sparkling radio - I had higher hopes given the low K-index that conditions would be better than a few days ago, but I was glad to get enough contacts to qualify the summit. By the time I was back on the ski bus I already had an eQSL confirmation from shortwave listener Anatoly US-M-125 who had heard me working @SA4BLM.
Date: 24/Feb/2019 Summit: LZ/RO-023 (Mechi chal) Call Used: LZ/M0NOM/P Points: 8 Bonus: 3
| Time | Call | Band | Mode | Notes |
| --- | --- | --- | --- | --- |
| 11:51z | RN3QN | 14MHz | SSB | Thx for SOTA chase from LZ/RO-023 |
| 11:59z | F1RYW | 14MHz | SSB | Thx for SOTA chase from LZ/RO-023 |
| 11:59z | OK1SDE | 14MHz | SSB | Thx for SOTA chase from LZ/RO-023 |
| 12:01z | HB9AGH | 14MHz | SSB | Thx for SOTA chase from LZ/RO-023 |
| 12:02z | SA4BLM | 14MHz | SSB | Thx for SOTA chase from LZ/RO-023 |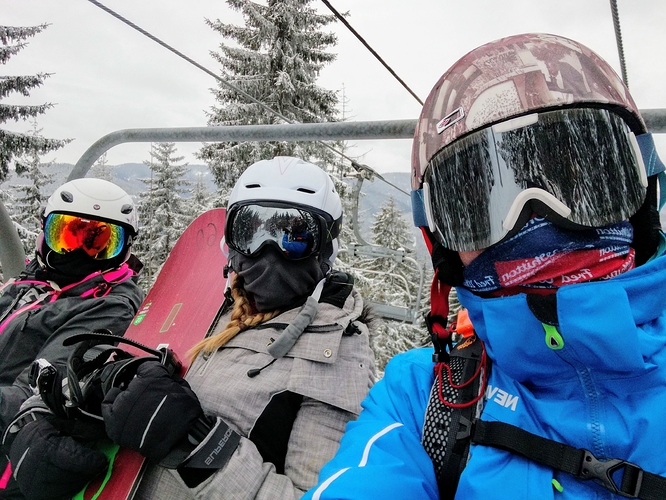 Thanks to the chasers, sorry I wasn't able to work more. All photos here.
Regards, Mark.
LZ/M0NOM/P