Another awesome day in the Lakes today - starting at 05:00 from home I was ascending from behind the Patterdale Hotel at around 05:45 and on St Sunday Crag by 07:30. Two mountain bikers were feeling the burn on the steep ascent up Black Crag - they sensibly took the low path that skirts to the North of Birks, I doubled back and then followed the OS map track which hit the ridge line of Birks and thankfully didn't lose too much altitude before the grind to the top of St Sunday Crag - a classic blind summit ascent.
On St Sunday Crag Fairfield doesn't look such a trek - maybe 1/2 hour each way, but you don't see the loss in altitude and somehow Cofa Pike doesn't look that steep. I decided to press on with the allure of another 8 point activation, but of course this was to add significant time to the trip.
I'm no fan of Fairfield Summit itself - it's like stepping on to the moon, but the take off is great and the views awesome. There was a slight chilly breeze from the West that required the addition of layers as the activation went on. First 2m on the handheld to catch the early risers. By the time HF was done I dropped the pole to take some photos of a couple of fell runners and then after the 2m activation I had my photo taken by a local lass who was also doing an early morning horseshoe run.
Back on St Sunday Crag the plan was to do a quick activation of HF bands then drop the SOTABeams quad-bander and attach my new antenna, a 10m dipole which is a new band to me. The plan is to add links to this antenna to support 12m, 15m and 17m but I hadn't go there yet and anyway I was already running around an hour behind schedule. After 5 minutes of calling CQ without the antenna plugged in to the amp (summit brain!) there were a couple of unconfirmed contacts on 10m before we got one in the log with MW0ISC at 10:37, so that is now another band ticked off on this summit.
Other highlights were a conversation with EA1/GR1VQI/P who I think might have just been monitoring the 40m frequency I chose - he was using a Clansman PRC-320 with 1/4 wave whip - a rig I thought of briefly for SOTA before I tried one on my back.
Thank you to all the chasers, it was a real adventure which my knees are keen to keep reminding me of.
QSO's from Fairfield G/LD-007
QSO's from St Sunday Crag G/LD-010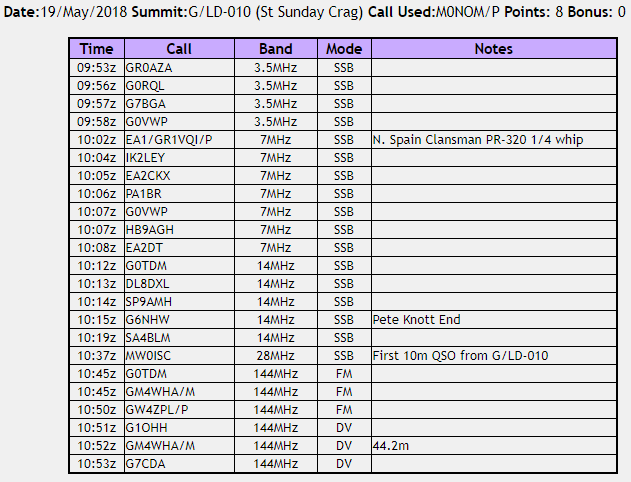 Mark. M0NOM



The scores on the doors
Southern-most (harder) track taken on the ascent
Profile showing little mercy!
The view from Kirkstone pass down to Ullswater
Public footpath is behind the Patterdale Hotel
Lovely wooded walk before the horror of the ascent
The path is undergoing maintenance in this section
Colourful flowers (can you tell I'm no expert!)
Looking back to a sleepy Ullswater
Finally on St Sunday Crag, looking towards Fairfield
Selfie time!
Grizedale Tarn with early morning swimmers
Harsh moonscape that is Fairfield summit
Snapped holding the Slim-G aloft by a local Fell Runner
Awesome view of St Sunday Crag from Cofa Pike
Grizedale Beck from St Sunday Crag
Sailors are now enjoying Ullswater
Who's in the barrel?