I'm planning for this weekend and I see that W3/PT-007 Death Valley Mtn and W3/PT-003 Seven Springs Mtn are the same summit.
I want to play fair by the spirit of SOTA, but I don't want to miss an opportunity- if I've found an acceptable loop-hole. Can I do both, one right after the other? Long/Lat is same, but altitude is different. By the comments, I see others have noticed it too, but not activated Seven Springs.
I'm thinking it's not OK

- but I'd love to do it - if it is.

W3/PT-003 Seven Springs Mtn 40.3465 -79.2260 8pts Alt=909m
W3/PT-007 Death Valley Mtn 40.3466 -79.2261 8pts Alt=798m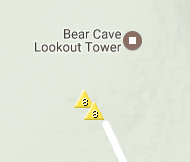 Jill