SOTA? …what's SOTA?! …where'd you guys come from!!!
First licensed in 1987 in the US and in Canada in 1989 I was always asking friends to join me operating outdoors beyond Field Day. But in truth our gear was too big to do any more than to drive somewhere, set it up, get a generator running, operate for a few hours, take it down, and haul it home. I bought an MFJ 9020 in the 1990's so that I could more easily operate outdoors, but I found out that it was the wrong band on which to operate QRP as I did not make one contact and gave up on it…my signal was consistently overrun by more power.
After decades of moving my family all over North America in 2000 I settled on this farm in northwest Manitoba. Initially active I have not been on the air for the past five years. This winter I sorted out all of my ham gear, disposing of most of it in anticipation of putting up four 40' poles and an 88' commercial tower. I am still in the process of considering the configurations of the wire antennas that I shall install.
But I am buying and building new ham gear. Going all QRP I am much more convinced that good antennae are the solution to consistent contacts than power.
And I am shifting to SDR technology.
So in the midst of all of this I stumble across SOTA! What a tonic to my ham-soul!!!
For many years I was a licensed guide here using llamas as ultra-low impact pack animals to lead people on day hikes into the local backcountry. We have elk, moose, whitetail deer, and black bear in abundance here. I often thought at those times how great it would be to transmit from some of the beautiful areas to which we hiked and picnicked.
Manitoba escarpments were raised sympathetically with the Rocky Mountains 170 - 40 million years ago 1300 km to the west of us. They are technically mountains…but you have to think horizontal, not vertical. Within an hour's drive I have access to several of the highest points in Manitoba (I know it's like being the tallest Lilliputian, but it's something!). And I have a P100 right outside my back door in this remote setting where we live. Best of all, there's nobody here.

You can bet your rig that I'll be out activating these 'peaks' regularly in the future as they become registered. I'm just so glad to have finally made it to the party…and I think I may have another local interested in this as well…
Here's a satellite 3-D map of the province, which for those of you not familiar with the topography of the province runs in latitude from Paris to Oslo and encompasses nearly 648,000 square kilometres. We live between the northern-most escarpment and the next one south.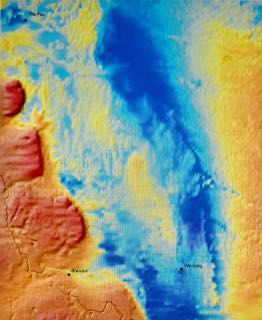 Later
73
Craig
VA4SR
PS - Winters are long and harsh here…here's my walk the other day along the road that accesses our farm…we are cut off regularly…which we find quite lovely…