I'd only done Whitfell on QO-100 two days ago. I awoke late this morning 08:00

and opening the curtains I saw sunshine and not much movement of the trees. A quick look at the weather app revealed the forecast had improved overnight.
My good mate Chris M0KPW has been itching to do Whitfell again. I thought why not do it on the Fat Bike as it's on my SOTA uniques list to do by bike. I hadn't planned to take any kit and just crash in on four QSO's using Chris's kit.
But last minute I decided to take 23cm's
My battery was not even charged (NOTE to oneself charge batteries as soon as I get home in future). I bung it on the USB charger in the Van and hoped for the best.
We got to the parking spot on the Corney Fell road and unlike Sunday when there was 11 cars there, we were the only ones, Hooray


Chris set off walking I caught him up on the bike, but soon the gradient steepened and it was not long before he over took me walking. By the time he got the Buckbarrow he waited to take an action shot of me, I carried on and just beat him to the summit.
I was soon setup on 23cms FT-817, SG-Labs transverter and a 16 ele.
First contact was Brian G4ZRP waiting for me and then Andrew G4VFL/P, I then worked GI6ATZ on SSB and was thinking, 3 contacts not bad, when Chris shouted out that he had just worked GW4ZPL and he wanted to try on 23cms.
So after a bit of Yagi waving we worked 5/3 each way. So there it is, my third SOTA on a bike and only the 2nd time I've qualified on 23cm's, so a real result.
Hopefully we will be out tomorrow if the weather stays fine.
Chris made a nice little video of me on my Fat Bike today.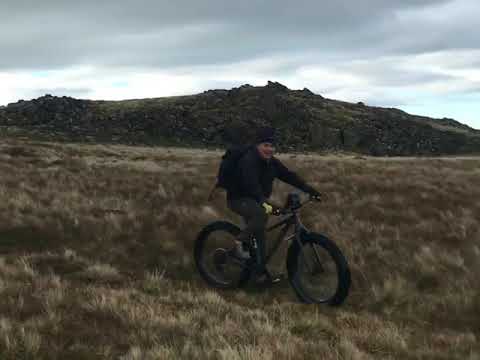 73's
Nick G0HIK