This was my second visit to Ladylea and I used exactly the same route up as described in my previous report: Ladylea Hill GM/ES-049
WX was cloudy with a stiff breeze from the SE and the summit has no sheltered areas at all - the cairn is about knee high, so I used my tent for the first time in a while. While providing good shelter, its pretty noisy, so for future windy activations I will try a lightweight tarp I think.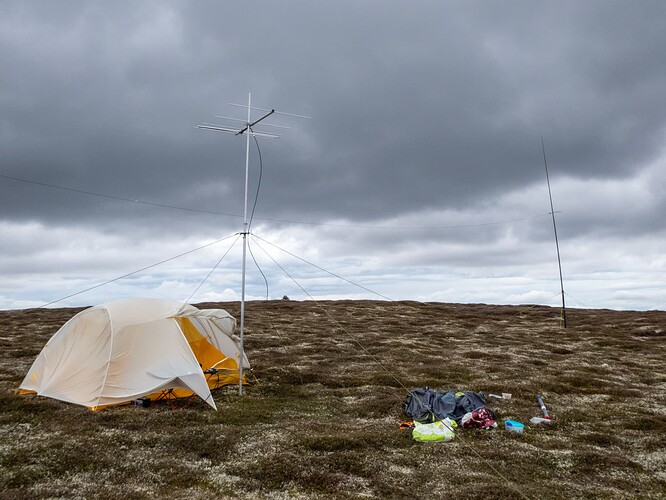 Activation
I went for an early-ish start, hoping for some VK/ZL on 20m and set up my delta loop first. No DX materialised though - I did hear VK being worked but signals were not very strong. Chris, F4WBN , was first in the log at 0712z, followed by 24 more EU including a S2S with OE6TTF/P.
My tent then blew in on me and I discovered I had oriented it with the wrong end to the wind - Doh!
The enforced break to turn it round was interesting, as the wind was a steady 20-30mph. I also took the opportunity to set up my end-fed.
Back on 20m a hour later, I chased a couple of Italian S2S and then heard Manuel EA2DT request a QSY, which I did and as the frequency was clear,put out a spot after completeing with Manuel and also F4IFZ who had followed us up. Another 20-odd EU in the log including 7 S2S and LX1FF.
I then tried 40m and this was easily the worst 40m result I've yet had. The band was full of German contesters but although I found a clear spot, it resulted in a grand total of 3 UK QSOs and that after quite a few CQs.
Back to 20m I chased a few more summits, including GM5AIB/P on GM/ES-035 Mount Blair for a Complete.
Swapped the 20m loop for 17m and had a very good run of 39, including UA7D who was my furthest East of the day, plus 4 more S2S.
15m was open to JA so I tried a spot and Gavin, GM0GAV/P on GM/ES-059, Kerloch, just under 30 miles away, was first in the log

. Only one more EU after several CQs, and then I saw a spot for Andrew OE/VK1AD/P on 20m, so did a quick QSY for a S2S using my end-fed this time. 15m then brought just 2 more EU contacts.
Nothing heard on 12 or 10m.
Took a short break to put my new 2m yagi together and raise the mast and was rewarded by hearing some activity for a change - backpackers contest. First in the log was G8T down in JO01kj Sheppey, at 698Km ODX on 2m for the day. I then put out a spot but CQs brought no chasers, just contesters, so I gave out a few points. Another spot and CQs - again no chasers, so I went looking for more contest stations. Worked 9 in all, with one incomplete. I then worked Fraser MM0EFI/P on GM/ES-027 on 2m FM to the West of me.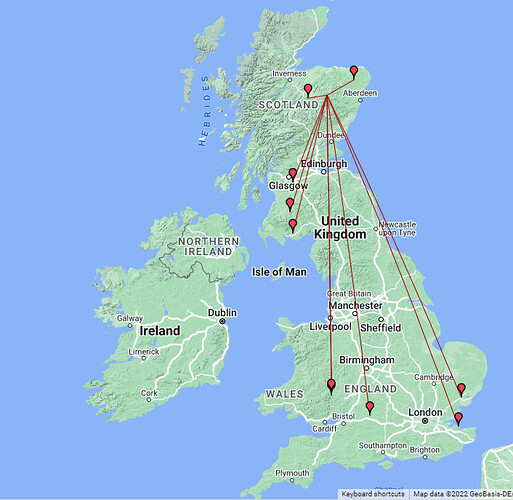 As 2m activity dropped away, I returned to 15m and was rewarded with best DX of the day in a chase from FY5KE, followed by another 10 EU including a S2S with 9A8RA/P.
Called it a day and packed up in sunshine at 1400z, although still breezy.
126 QSOs and 23 S2S for the day - thanks to all. Didn't hear a single US station all day.