Hi everyone,
here is the report of today's activation.
Abstract:
Wx: Cloudy, approx 6°C, light winds, later rain and wind gusts
Walking time: approx. 2 hours up, unknown down
Ascent/ descent: approx. 770 vertical metres
Rig: Rockmite 30 @ ~ 500mW
Ant: Linked EFHW for 40, 30, 20m
25 QSOs on 30m in 20 minutes
Highlight: First activation with the 30m Rockmite
Ativation report:
Less than a week ago, I had completed a Rockmite for 30 metres and was looking for an opportunity to use it on an activation. I intended to bring additional equipment for backup, so the hike had to be not too long. Hence, the activation of DL/AL-049 seemed reasonable. The weather forecast announced cool but dry weather in the morning. Towards noon, rain had to be expected.
The yl accompanied me on this trip, on which we set off directly from our accommodation. We reached the first summit of the day after about 90 minutes: Iseler, former DL/AL-048. From here, we had the first view of Kuehgundkopf: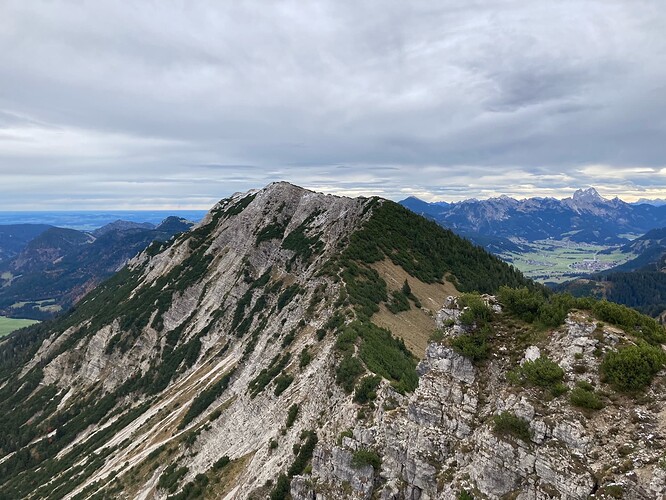 30 Minutes later, we reached DL/AL-049 and I set up the antenna on a slope. First transceiver to be used was - of course - the Rockmite. The backup rig stayed in the rucksack.
After a few initial calls, RBN had picked up my CQ and the first familiar chasers could be heard. To my big surprise they could hear me as well! Thanks for having such good ears, guys!
Unfortunately, too soon I noticed that the weather rapidly deteriorated. Some neighboring peaks were already covered in grey clouds and the wind grew stronger. The QSOs were now contest style and as soon as there were no more callers, I pulled the plug and packed up in a hurry. I felt sorry, that I couldn't play a bit longer with this nice ittle rig. But we had to get going because to the west the first rain showers were approaching.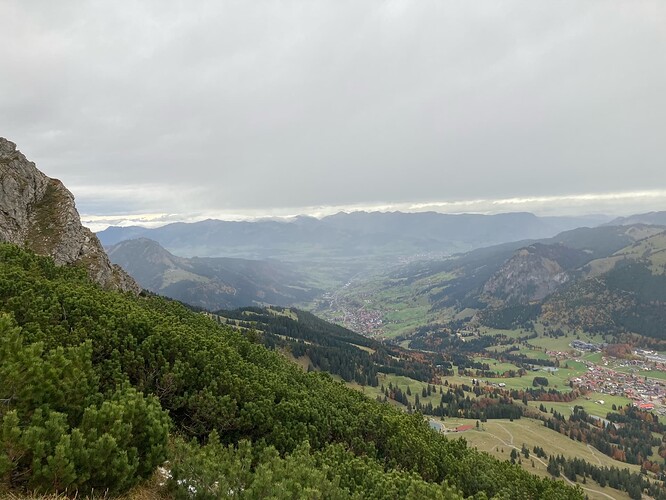 The weather held up until about half way down, then it was pouring with rain. But with the prospect of a warm hotel room and a good meal, this was no big issue.
It was lots of fun! Thanks for the QSOs and your patience! Sorry if I couldn't pick up your call. The bandwith of the audio signal is fairly big and at times I could hear strong nearby stations in a QSO wiping out weak chasers. Operating with the Rockmite needs definitely more practise.
73, Roman